Teacher In Germany Collects 'Happiness' Letters From Children - And She's Looking For More Letters From Bhutan
Karina Sillmann hopes to collect what she loves: The honesty and clear perspective of children.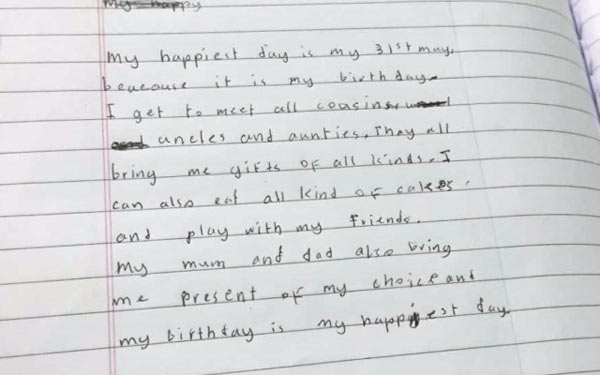 (Source: Karina Sillmann)
By Kinley Yangden | Bhutan Times
They say children say the darnedest things. But children also say the most innocent and purest things too.
A dance teacher from Germany is on a mission to collect letters from children all over the world on what a "happy day" means to them.
Karina Sillmann started her blog "Children's Happy Days" in February this year, hoping to collect what she loves: The honesty and clear perspective of children.
Besides teaching dance to children between six and 12 years old, the 33-year-old loves to travel and discover different countries in the world. This inspired her to start documenting what children in different countries can tell us about happiness.
Sillmann has received 44 letters so far, from 14 countries ranging from the Dominican Republic to Uganda, and even Cuba. So far, she's received just one letter from Bhutan, written by a nine-year-old boy named Yugsang.
Yugsang wrote that his birthday is his "happiest day" as this is when he meets his cousins, uncles and aunties, and also gets to play with his friends and "eat all kinds of cakes".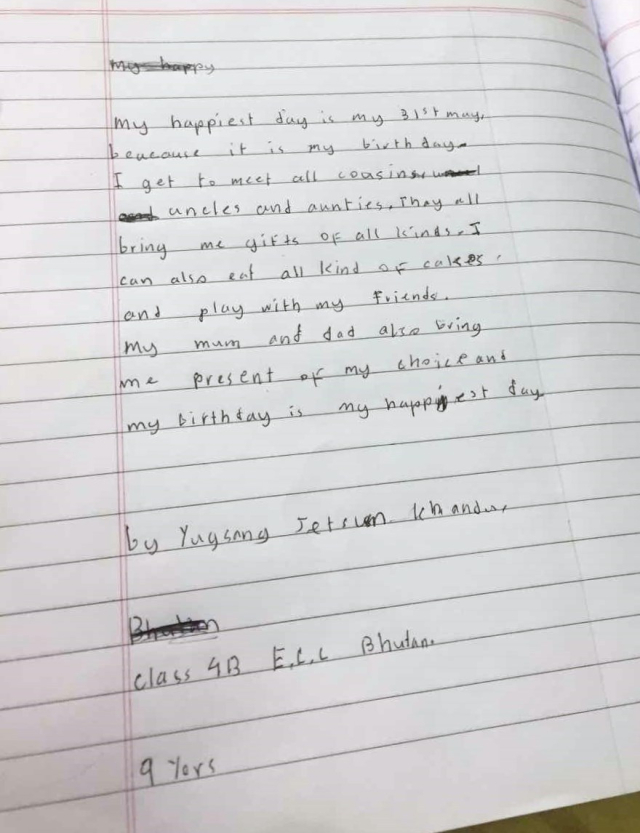 Photo: Karina Sillmann
Sillmann said she hopes to get more letters from Bhutan.
Most memorable letter is from Afghanistan
A letter which Sillmann said truly touched her heart was one that was written by 12-year-old Aisha from Afghanistan. In it, Aisha wrote about how there were no schools in the war-torn region that she lives in, there were only a few books and their exercise books were reused over and over again.
Sillmann said Aisha's letter "truly touched" her heart and "showed me a perspective of this country I never got from the news".
Yet to visit Bhutan
When asked if Sillmann had the visited Bhutan, she said not yet.
"Not yet, but I would love to. I once read an article about Bhutan and the so-called Gross National Happiness, and I was so fascinated about that. I think Bhutan must be a very special country," she said.
What is happiness to her?
To Sillmann, happiness is being able to write, dance and travel.
"Dancing and especially dancing with children brings a lot of joy to me and travelling and discovering different places in the world makes me happy too."
Sillmann has also written letters in five languages: German, English, Spanish, French and Portuguese, for children to reply to her and tell her about their happy day.
She also receives letters to her email address [email protected]
---