Reasons why one should visit Druk Wangditse Lhakhang
The temple is reconstructed to its glory and is dedicated to his majesty the king of Bhutan.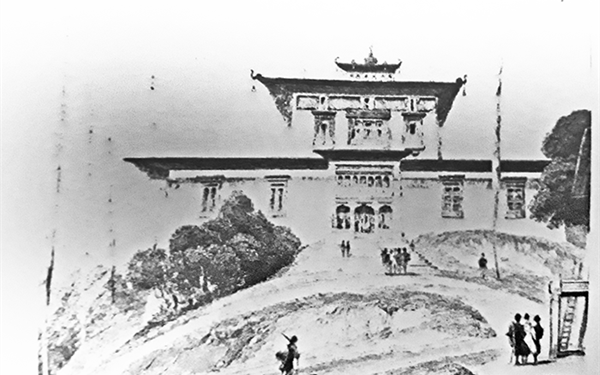 Many people across the country didn't know the sacramental significance of Druk Wangditse Lhakhang until February 5th 2020. On the morning of February 5th 2020, to mark the fourth birth anniversary of Gyalsey Jigme Namgyal, a royal prince born to King Jigme Kheser Namgyal Wangchuck and Queen Ashi Jetsun Pema Wangchuck. The temple is reconstructed to its glory and is dedicated to his majesty the king of Bhutan. 
Ever since Druk Wangditse Lhakhang is visited by hundreds of hikers, pilgrims and tourists (before COVID 19 situation).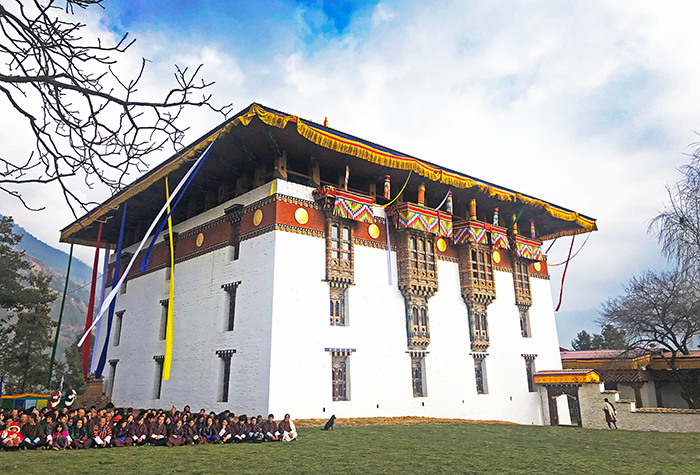 There are numerous routes to reach up to Druk Wangditse Lhakhang. However, pilgrims have to hike. The temple is not accessible with roads but the hiking trail is well built. The trail is considered one of the easiest and most succinct hiking route around Thimphu. One can either start hiking from Sangaygang which is popularly known as BBS Tower or from and Zilukha Nunnery or Dechen Phodrang. Many nature enthusiasts choose to hike from BBS Tower. 
Architecture 
Through scientific studies and based on drawings of the Lhakhang by Samuel Davis which was mentioned in Micheal Aris Book. Under the patronage of Her Majesty the Queen Mother Ashi Tshering Yangdoen Wangchuck, the Wangditse Lhakhang conservation project (WLCP) took five and half years to complete the entire renovation, until January 2020.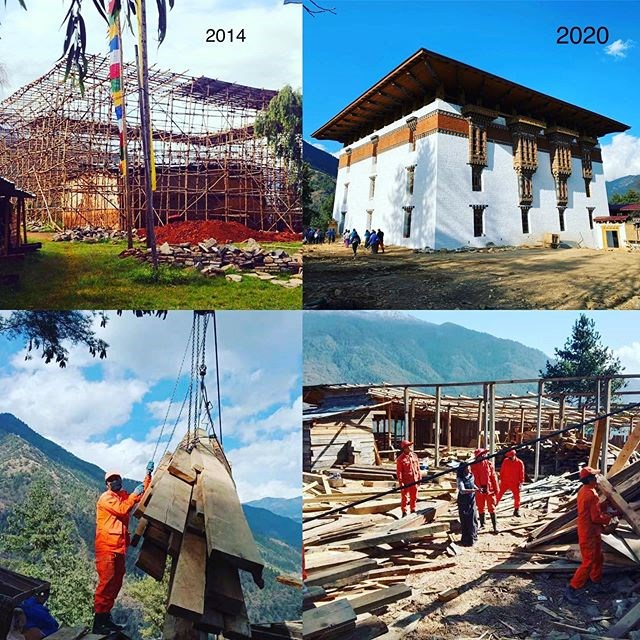 The construction was built using mud and stones brought from Dawakha, Paro and wooden columns from Punakha. The materials were transported from Samtenling to Wangditse using cable ropeway. The Goemba was reconstructed by the craftspeople and graduates of Zorig Chusum. People from 20 dzongkhags including volunteers, the team of labourers from Dorokha, Samtse also contributed labours.
Restoration works included enlarging the Lhakhang, adding a shakhor (surrounding structure), and cleaning and renovating the main Shakyamuni Buddha statue, Choeten Deshey-Gyed (eight kinds of stupas), and wall paintings. Today the architecture of the temple rather looks like one of the dzongs (fortress) from far. After dawn, Druk Wangditse Lhakhang even looks glorified and captivated commanding downtown especially from the northern part of Thimphu.
Importance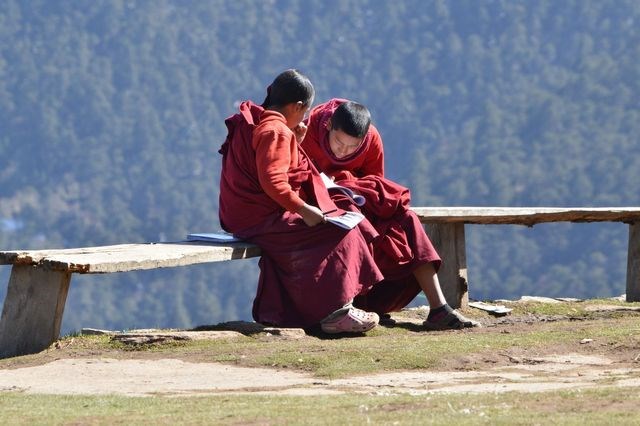 Legend has it that Zhabdrung Ngawang Namgyel (1594-1651) sanctified the area where the three-storied Wangditse Lhakhang stands today when he was travelling from Pangrizampa to Paro through Wangditse, Choekhortse, Puemola pass, and Drela pass. Later it became the center of religious and secular activities when the 8th Desi Druk Rabgye built the Wangditse Lhakhang in 1715 AD.
Druk Wangditse Lhakhang said to have been built in 1715, to serve as the seat of the 8th Druk Desi. It is among the oldest temples in Thimphu, and an important national heritage site today. 
The inner chapel also enlarged to house all choesungs (protecting deities) of 20 dzongkhags.
It is also the place of origin of Rigzhung studies in the country.
The vicinity provides excellent views of the Samteling Palace, home to the fourth King, Tashichhoedzong and whole of Thimphu Valley. 

 

Best spot for yoga 

Nature Enthusiasts

Picnic Point

Cycling Trail 
---
---