Technology-based Conservation in Bhutan
Bhutan homes around 11,248 species making us one of the biodiverse countries in the world. With the digital age, how is Bhutan using technology to solve the problems in the field of conservation? We use SMART (Spatial Monitoring and Reporting Tool) to combat poaching and illegal activities. Studying some of the most elusive, declining, and widely dispersed species in Bhutan is difficult. Using modern technology can prove useful for this seemingly impossible task.
What is technology-based conservation?
Technology is advancing at a rapid pace around the world. The application of technologies has taken by storm influencing our lifestyle and decisions on a daily basis. Modern digital technologies are basically electronic tools, systems, devices, and resources that generate store, or process data. Well known devices that use digital information includes our personal computer, mobile phone, GPS, camera, a communication satellite, and so on. These technologies enable an immense amount of information to be compressed on small storage devices that can be easily preserved and transported.
These various applications of technology have also gained prominence in nature conservation, making it a prerequisite for any modern conservation work. Typical examples being the use of camera trap and radio-collar for studying wildlife population, their status, distribution, and occurrence. Satellite telemetry and GPS tag on bird/animal for analyzing their movement and behavior, drone and geography information system (GIS) for better mapping and visualization of the natural landscape, and surveillance camera for anti-poaching activities. The conservationists around the world have now generously capitalized the technology revolution to its abode for research, enforcement, management, and education.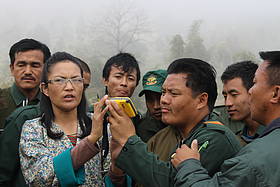 Where does Bhutan stand?
Bhutan, on the other hand, synonymous with Gross National Happiness and archetype for Environmental Leadership to the world outside has come a long way to be considered as commendable conservation model befitting in modern times. Keeping conscientious management of natural resources as our national priority, we have delved into socio-economic development taking baby steps. According to a recently published "Biodiversity Statistics of Bhutan 2017" by the National Biodiversity Centre, Bhutan is home to 11,248 species. The question is, where Bhutan stands with the rapid advancement of technologies happening globally? To answer, in these past few decades, Bhutan has embarked on a journey to understand, access, and deploy modern technology for wildlife and environmental conservation.
Simply put, recent ground-breaking and innovative management technology designed to help rangers on the ground to deal with poaching and illegal wildlife trade, a SMART (Spatial Monitoring and Reporting Tool) was rolled out in Bhutan. All the collection and management of field information with a custom report generated from the site-based conservation data model and a provision to share real-time data has been captured in SMART. This adaptive management approach has helped us in improving the effectiveness of protecting our wild animals. Getting smart with SMART conservation!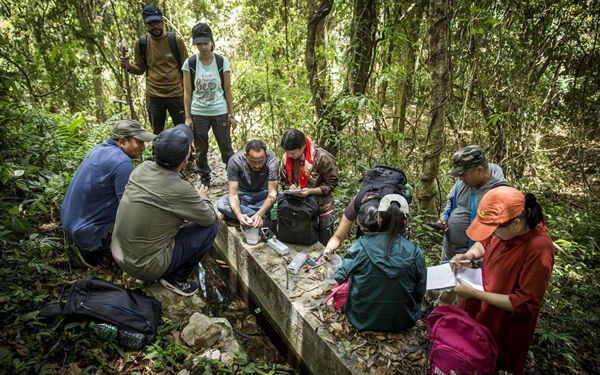 The biggest challenge for the forest department and research centers has been the studying of species that are often rare, declining, and widely dispersed in some of the most remote and difficult landscapes in Bhutan. However, the use of modern digital camera-traps has proved to be an efficient method in studying population estimates of the most elusive and solitary animals like tiger and snow leopard.
Tigers have natural markings (stripes) and stripes of each individual are different. Using photographs obtained from the cameras are compared to identify each individual tiger, thus making estimates reliable and easier. It rapidly records and stores many digital images on a single SD card, thus facilitating the rapid sharing of data. The technology like camera trapping has allowed us to make discrete and non-intrusive observations of a variety of wild animals, in different habitats, at any time of the day, transforming how wildlife is surveyed even in an isolated area and condition in Bhutan.
The ongoing satellite telemetry and GPS collaring of tigers are done by a team comprising purely of Bhutanese biologists and foresters. These non-invasive techniques are devised allowing automated capturing of more promising data and better information access. It will give insight into the tiger movement pattern, help in identifying key corridors, and mitigating human-tiger conflicts.
The use of GIS and remote sensing technology helps in detecting and determining land use/land cover changes in the different areas over the period of time. It has become crucial for risk management, analyzing, and displaying areas likely to be prone to disasters. When such disasters are identified, preventive measures are deployed thereby protecting and conserving our natural landscape in general and wildlife habitats in particular. This adaptive management approach has helped us in improving the effectiveness of protecting our wild animals. Getting smart with SMART conservation in Bhutan!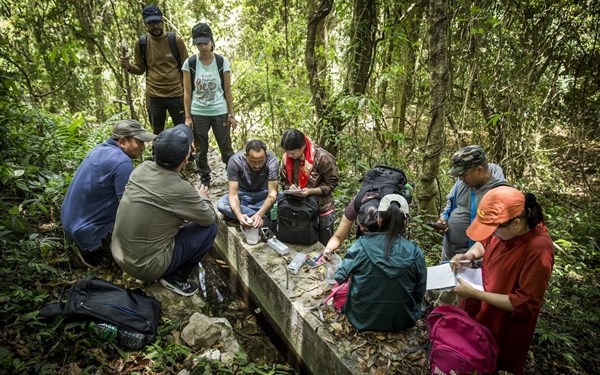 ---
---