Taiwanese Athlete Tommy Chen Endures Huge Sores On Feet During 200km Marathon In Bhutan
The sores were so bad he said he could see flesh.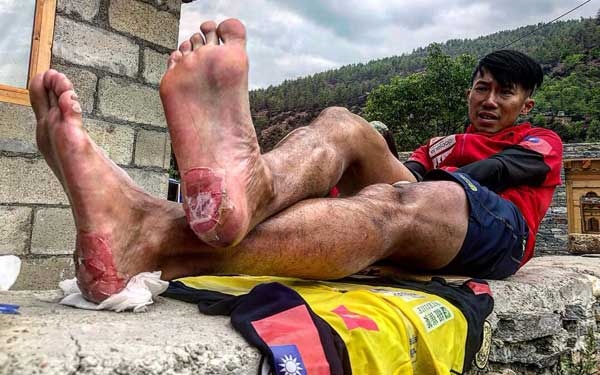 (Source: Facebook/陳彥博 Tommy Chen)
By Kinley Yangden | Bhutan Times
He's done some of the world's most challenging marathons that span across deserts and the North Pole, and was also the first and only Taiwanese man to run across seven continents in five years.
Nothing proves to be too difficult for extreme athlete Tommy Chen. However, this time round, it was a test of not just physical endurance, but physical pain as well.
Chen - who was also the first Asian and youngest athlete to finish the Yukon 700km Race in Canada - took on a gruelling 200km marathon that spans across one week, taking athletes to high altitudes and through rough terrain.
The 31-year-old is currently participating in the Bhutan The Last Secret marathon that began at Punakha Dzong last Friday (May 25), crossed three passes at 3,500m-high and is slated to end at Taktsang or Tiger's Nest in Paro tomorrow (June 1).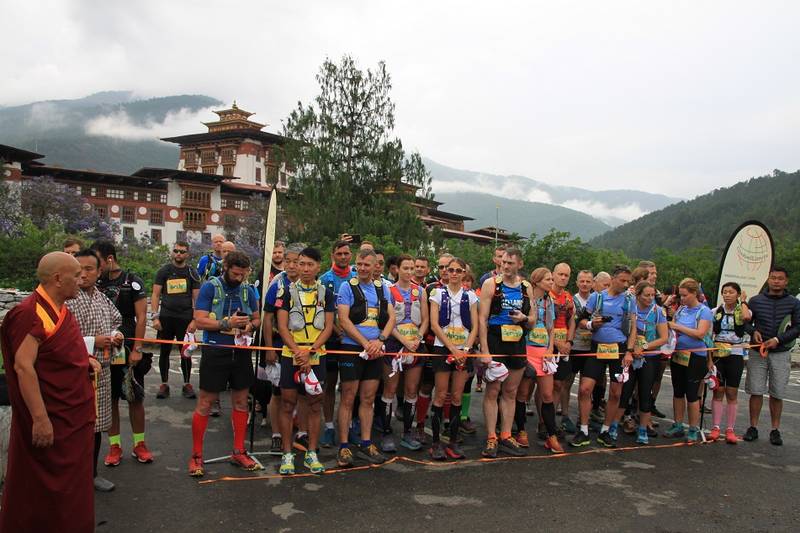 Source: Global-limits.com
Participants are put up in tents, monasteries and farmstays, and according to the website, toilet facilities are available but mattresses are not provided.
For someone who won the Atacama Crossing ultra marathon in Chile in 2016 and took third place in the 2010 North Pole Marathon, attempting to conquer the treacherous terrain of the Himalayas seems to be too much for Chen.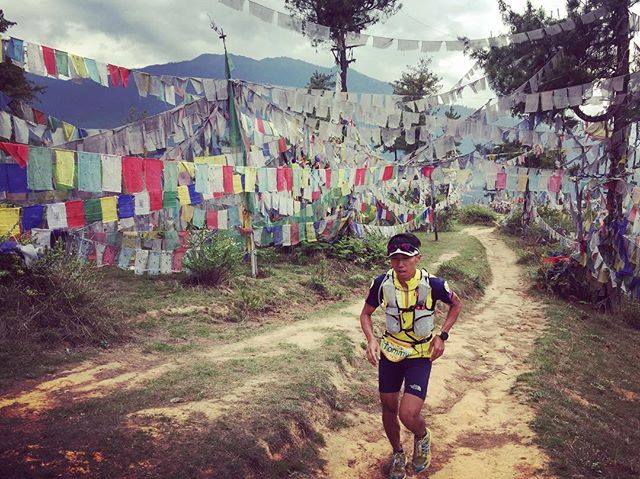 Source: Facebook/陳彥博 Tommy Chen
 A small pain that turned into a disaster
The marathon is split into six stages. While attempting the fourth stage, huge blisters started to form on the soles and heels of Chen's feet.
He posted a photo of his injured feet on Facebook yesterday, describing his 38km run from Phajoding Monastery to Paro, which required marathoners to run up to 3,734m, then descend to 2,600m and up again to 3,400m.
"The body is getting more tired as the days pass. Today we went up to 3,734m. I'm not sure if it is due to the high altitude, but I started to feel fatigued and dizzy.
"I started to speed up and after 20km at the second checkpoint, my heels started to hurt. I didn't know if it was a branch or a small stone, but I didn't have time to take off my shoes.
"Little did I know that the pain would become a serious disaster."
Chen said he continued on with the race but the pain started to increase and every step he took was so painful that he felt that his "head was bursting".
Sores so bad he could see his flesh
About 28 minutes later, he reached the finish point for stage four. He stopped to check his feet and after he took off his shoes, he saw multiple blisters and sores.
"There were serious abrasions on both feet and I could see the flesh. My socks were all bloody and the pain was so excruciating that I couldn't walk," described Chen, who added that even the doctors who were present were shocked to see his condition.
After treating his injuries, a doctor told Chen that each step he takes will be painful, and also advised Chen to go for a check-up before he attempts the next stage of the marathon tomorrow.
Leading the marathon 
According to the latest race results, Chen is currently leading the marathon, followed by French runner Guillaume Degoulet.
The next stage will be the longest stage of 54km, where they will enter into Paro valley.
With the sores on his feet, it is not known if Chen will continue on to complete the race.
"The other participants know that I'm already injured and there's no way I can go on, but I'm going to have to do everything I can to continue on tomorrow.
"I can only bite on my teeth and go through with it. Two more days! I hope I can go on. Please let me go on!"
Some fans advised against continuing the race
Despite his persistence, some fans have written on his Facebook post, advising him not to push on with the marathon because of his injuries.
"I don't think that's a good idea, what if your wounds get infected? The priority of an extreme athlete is to look after his own well-being", wrote a fan known as Anna Tu.
In an update to his Facebook post, Chen commented that he will continue on with the race.
"Although my feet are injured, but in order to attain my dreams and goal, I will continue on with the race. Please support me and my two feet!"
---