Lhop Community Of Bhutan Tries To Save Their Traditional Songs From Vanishing
Started by the Tarayana Foundation, the local radio programme which plays recorded Lhop songs, has given new hope for conservation.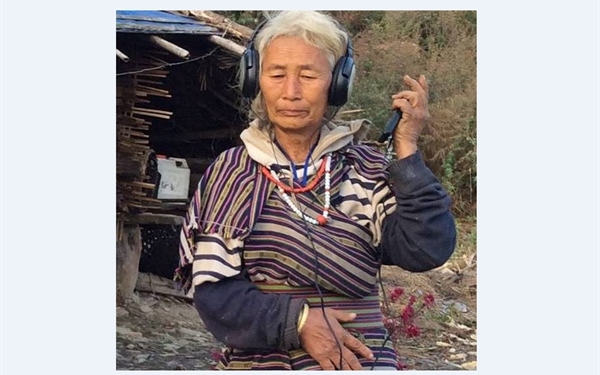 (Source: Facebook/Lhop-Community-Radio-911-FM)
By Rajesh Rai | Kuensel
The Lhops have a song about a black-necked crane and a hoopoe. It compares the two birds, about the crane's intelligence and elegance in contrast with the hoopoe's stupidity.
Kunti Doya, 58, from Lhotokuchu Jigme, is effortless in singing this song. Today, she has taken time out from her dairy work to sing the song. Sitting beside her younger sister and father, amidst bouts of laughter, she explains the meaning of the song.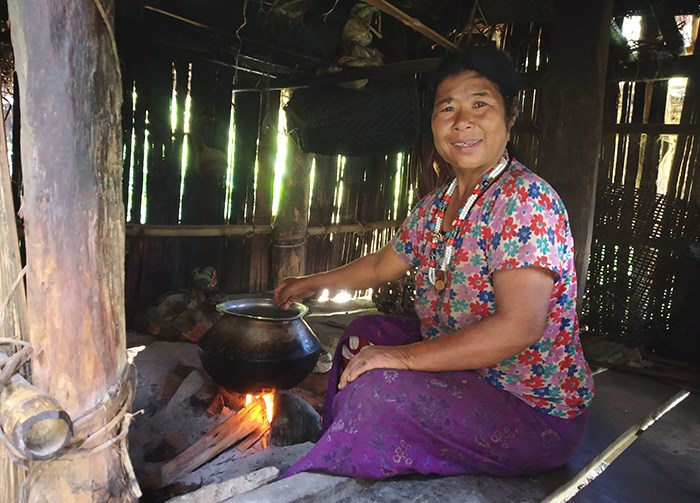 Kunti Doya, who continues singing Lhop songs
and keeps them alive today.
Photo: Kuensel
"Black-necked crane knows it needs to fly south during cold," she said. "It knows it needs to fly north during summer."
But the hoopoe would go south during summer and north during the cold, Kunti continues.
"I used to sing from a very young age," she said, adding that she has learned singing from her elders.
Traditional songs of the Lhops are in danger of extinction
The Lhop, popularly known as 'Doya' is regarded as one of the first and oldest aboriginal inhabitants who settled in Samtse, the southwestern region of Bhutan.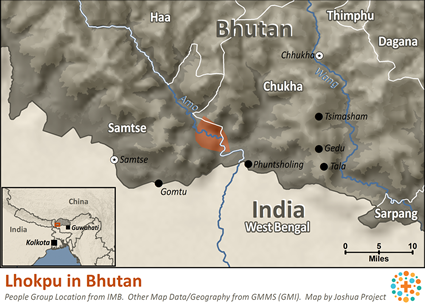 Photo: Joshuaproject.net
Today, the Lhop's cultural and indigenous songs are in danger of extinction. The Lhop inhabitants on the slopes of Lhotokuchu Jigme and Lhotokuchu Singye are aware of this and are concerned about the impending risks of losing their songs forever.
One of the main reasons why the Lhops worry about this is that the younger generation is not keen on singing their songs and they are not keen in learning.
Namgay Tshering Doya, 22, said he had tried to sing the Lhop song many times.
"But it is difficult," he said.
The responsibility lies with the elders. Seta, one of the oldest Lhops from the community is among the very few left today who has mastered the Doya songs.
The 100-year-old from Lhotokuchu Jigme has his own worries about their songs slowly losing the battle to extinction.
Challenges in keeping the traditional Lhop songs alive
"I don't sing anymore," he said. "People think I curse them through the songs."
Seta recalls that it was his grandmother, who has lived for 120 years, who taught him the Lhop songs. He was an orphan and his grandmother would always sing songs to him.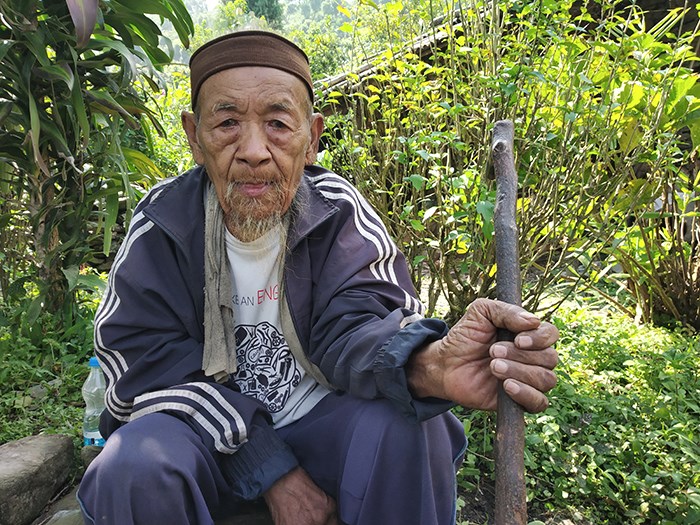 The Lhop song master, Seta.
Photo: Kuensel
"Lhop songs are vanishing now," Seta said, adding that it was also difficult for him to teach the younger generation due to his age.
However, Kunti Doya is his hope. She learned from him and has been able to grasp just 50 percent of what he has taught.
"I think other songs and skills would die along with me," Seta said.
"I cannot teach because of old age and people take my songs as curses."
Tarayana Foundation and its role in the Lhop community
After its inception in 2003, the Tarayana Foundation took its first field office to the Lhop community of Lhotokuchu Jigme, Lhotokuchu Singye and Lhotokuchu Wangchuck in 2004 for its first intervention project.
The foundation has helped construct 85 houses so far. The Lhops were also trained in the construction of typical stone houses and were provided free CGI sheets.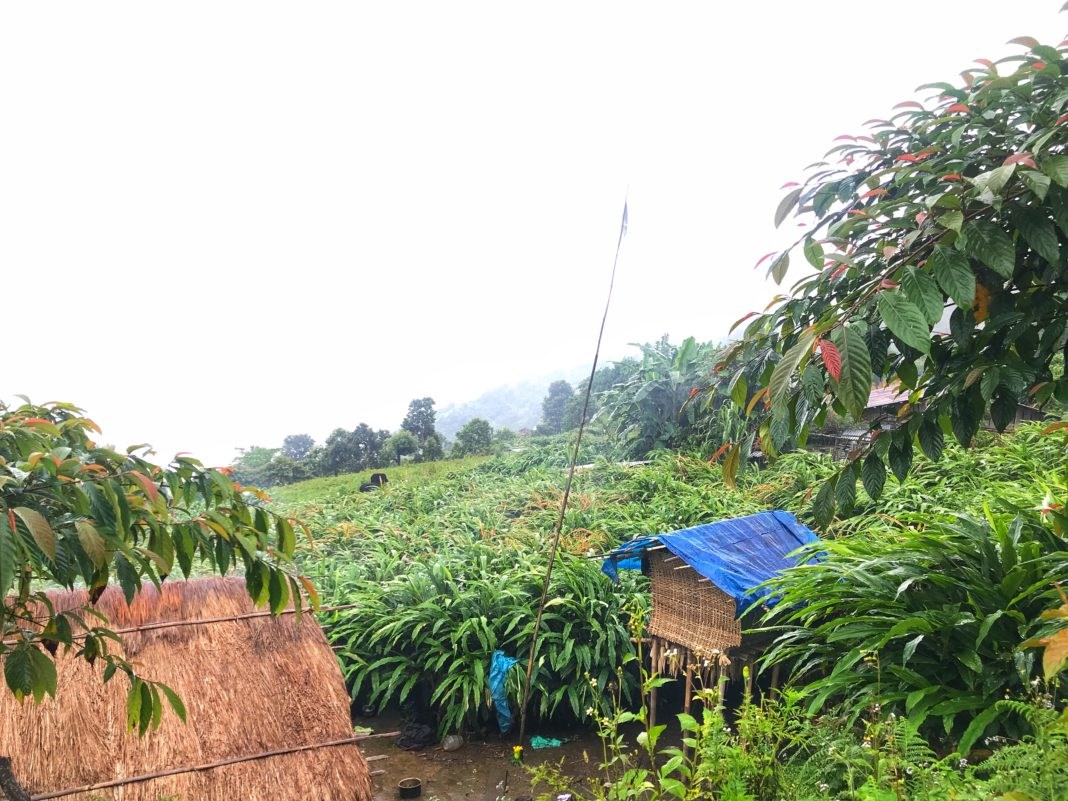 Cultivation of cardamon by the Lhops.
Photo: Denkarsgetaway
For the generation of income, the foundation has also facilitated micro-credit from which the Lhops started growing cardamom.
All those who availed of the credit facility have since paid back. Today, cardamom is the main cash crop cultivated on the slopes of the Lhop community.
Three Early Childhood Care and Development (ECCD) facilities were provided. On top of that, a desho factory and a flour mill were also opened. These facilities are now run by the Lhops themselves.
How the radio community programme help to preserve traditional songs of the Lhops
A Lhop Radio Community has also been started. This has helped the community to preserve their language through entertainment. The Lhops can even tune in to live calls and dedications.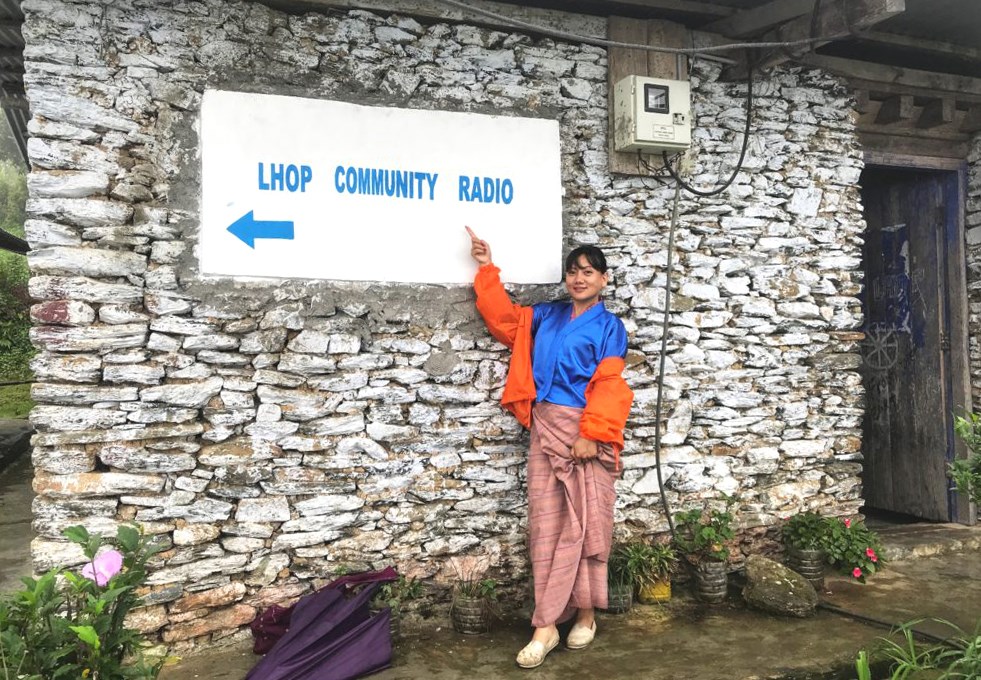 Photo: Denkarsgetaway
The radio programme which plays recorded Lhop songs has given the local songs a new hope for conservation.
Kunti Doya revealed that she has recorded about 20 songs through the radio community programme.
"There are chances our songs will vanish," she said.
Meanwhile, outside his stone house, Seta sits while holding on to a walking staff. He gets ready to sing.
It is difficult for him to breathe easily and occasionally, he takes sudden gasps. Suddenly, Seta snaps his fingers for a cue. An energetic, loud sound bursts forth.
Then a melody, as primitive as it is original, fills the air.
This article first appeared in kuensel and has been edited for the Daily Bhutan.
---