Celebrating Bhutan's Entrepreneurs: Tshewang Dema Of Tshejor's Ayzey
This story is part of an exclusive feature by Yeewong Magazine in Dec 2018 on celebrating entrepreneurship in Bhutan.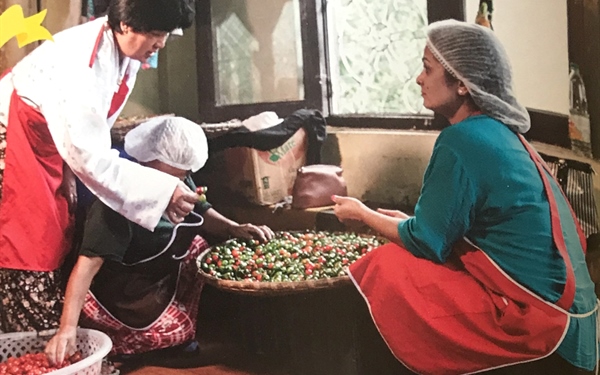 (Source: Yeewong Magazine)
By Tshewang Dema | Yeewong Magazine 
Truly deserving of the 'Women Entrepreneur of the Year Award' in 2013, Tshewang Dem is the proprietor of Tshejor's Ayzey, a manufacturing company which produces ayzeys (Bhutanese chilli paste/pickles).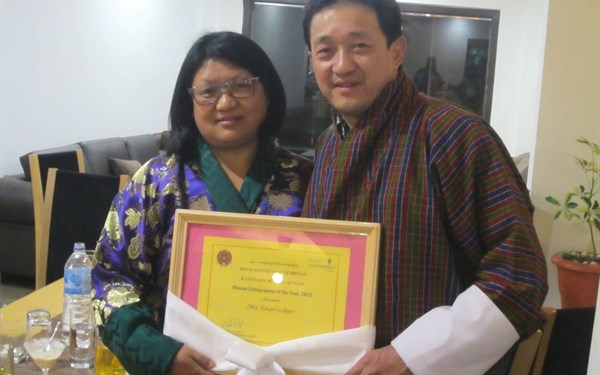 Photo: Facebook/Tshejor's Ayzey
Her products are made using fresh, local ingredients and comes in different varieties.
Origins of Tshejor's Ayzey
Initially Tshewang was concerned about the marketability of her products, as azyey is something which many Bhutanese make at home themselves.
However, she heeded her friends' advice to run a business since she has a knack for making ayzeys. Tshewang started her company in the year 2000, and it was officially registered with the Ministry of Economic Affairs in 2011.
"It started with a capital of Nu. 650, I used the small amount to buy the necessary ingredients. Other basic equipment such as crockery and cooking devices were used from home," Tshewang said.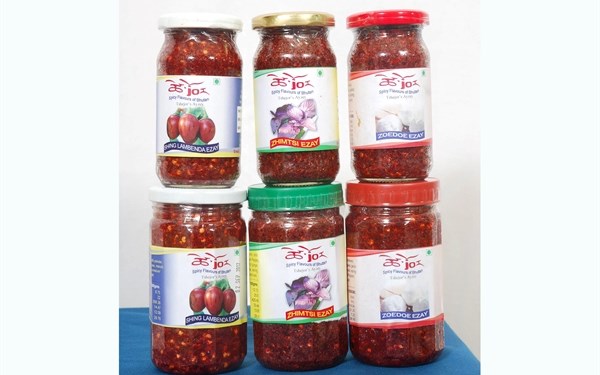 Photo: Facebook/Tshejor's Ayzey
In July 2011, she received her business license as well as Nu. 340,000 of interest free loan to expand her business. Hence, Tshewang set up a shop in Mothithang with a partner.
Challenges which Tshewang faced and how she managed to overcome them
Things were not plain sailing at the beginning. Tshewang faced many obstacles such as the lack of proper packaging and marketing strategies. To compound her problems, there were also issues with staff training and recruitment.
On top of that, she had to grapple with fungal growth in her products and she could only manage to sell around 12 bottles of azyeys per month.
Not one who succumbs to setback easily, Tshewang learnt the hard way – through trial and error. With a passion for learning, she took the initiative to upgrade her skills by attending courses and workshops conducted by the Loden Foundation and other organisations such as DHI and MoEA.
Luckily, she overcame her problems with fungal growth in her products with guidance from the National Post Harvest Centre in Paro and the Bhutan Agro-Industry in Thimphu.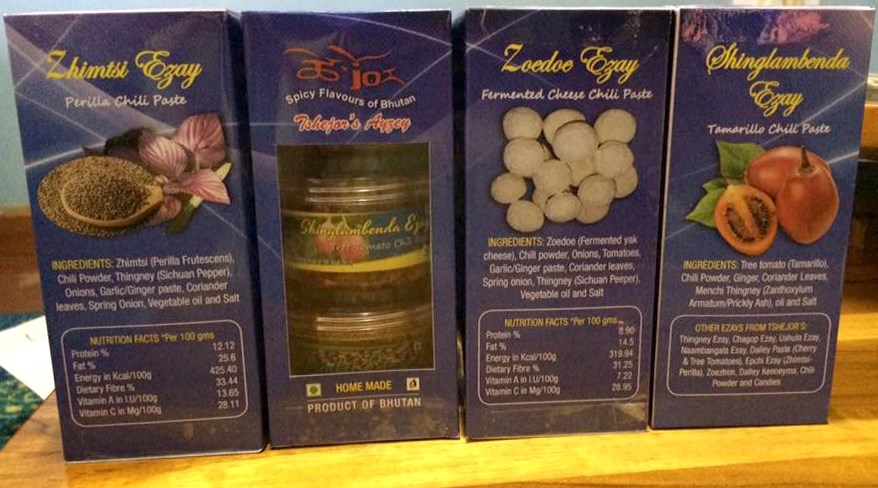 Photo: Facebook/Tshejor's Ayzey
Tshewang has certainly come a long way. After 18 years of running her business, she finally rose above the difficulties and is now at a 'stable' place.
Reaping the fruits of her success
From her humble beginning of selling just a meagre 12 bottles a month, business has boomed. Tshewang's company now makes a minimum of 100 bottles and a maximum of 300 bottles a day.
Tshejor's Ayzey has also widened their range of products, she sells 13-15 types of azyeys, out of which 7 are sold throughout the year.
Some interesting varieties include: zhimtsi (perilla), zoetoe (fermented cheese), thingay (Sichuan pepper), dalley (round chilli) and kinima (fermented soybean).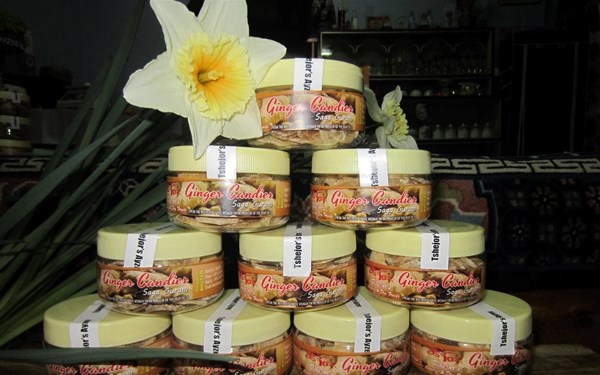 Photo: Facebook/Tshejor's Ayzey
For the sweet tooth, Tshewang also produces candied pears and bananas as well as ginger candies. She is experimenting with other ingredients such as zucchini, sweet potatoes and apricots.
Tshewang even went the extra mile to source for the best local ingredients from far flung districts of Bhutan such as Tsirang in the South and Sakteng in the North. This is why, in order to cover her costs, she had no choice but to price her products higher.
Despite her success, Tshewang is not one to rest on her laurels. Once she is able to meet local demand, she aims to export her products overseas in future.
Tshewang's thoughts on entrepreneurship in Bhutan
Concerning the state of entrepreneurship in Bhutan, Tshewang thinks that Bhutanese society is slowly changing their mindset as the government is encouraging and paying more attention to this sector.
However, she pointed out that there should be more programmes implemented to promote businesses in Bhutan.
As a parting advice, Tshewang believes that people must not only follow their passion, they must also persevere.
"First, you must be very passionate about what you do, secondly you have to be persistent and lastly, you need patience."
This article first appeared in Yeewong Magazine and has been edited for Daily Bhutan.
---