Bhutan's 'Judo Girl' Fighting For Her Sport Back Home
By competing at the Youth Olympic Games Bueno Aires 2018, 16-year-old Yangchen Wangmo is blazing a trail for judo in the small archery-mad Himalayan nation of Bhutan, with some help from an unlikely source.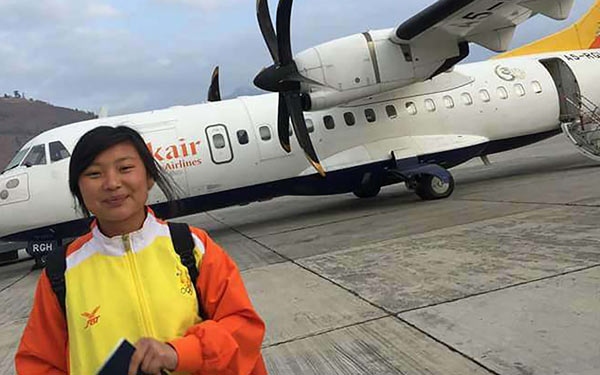 (Source: International Olympic Committee)
By Olympic Information Service | International Olympic Committee
 Wangmo is known simply as 'The Judo Girl' in her home city of Thimphu, the capital of Bhutan. Archery is the number one sport in this tiny country, where the mere mention of judo, a sport which did not even exist in Bhutan 10 years ago, tends to elicit a mixture of curiosity and mystified glances. 
The fearless Wangmo is intent on changing all that, however. She took a major step towards her goal when competing in the women's -44kg category at Buenos Aires 2018 on Sunday 7 October, becoming the first judoka to represent her country in an Olympic competition.
"Not many people know about judo in our country," said Wangmo, who took up her sport at the age of nine, after trying her hand at archery.
"There's only one club with just 50-60 members, which only started in 2010. And it's mostly boys. Only 15 or 16 of those members are girls. I thought it would be good for self-defence because girls face many risks."
Wangmo has proved so adept at the sport that she won a bronze medal at the Hong Kong Cadets Asian Cup 2018. And though she lost her two bouts at Buenos Aires 2018, falling in one of them to eventual silver medallist Tababi Devi Thangjam of India, it is hoped that her mere participation in the competition will help raise awareness of the sport in Bhutan. 
Bhutanese are unfamiliar with judo
"One of the problems we've faced is that while people in Bhutan are familiar with martial arts like karate, kung fu and taekwondo because of famous movies, judo doesn't have any well-known movies associated with it, so people haven't heard of it," explained Bhutan Judo Association President Karma Dorji.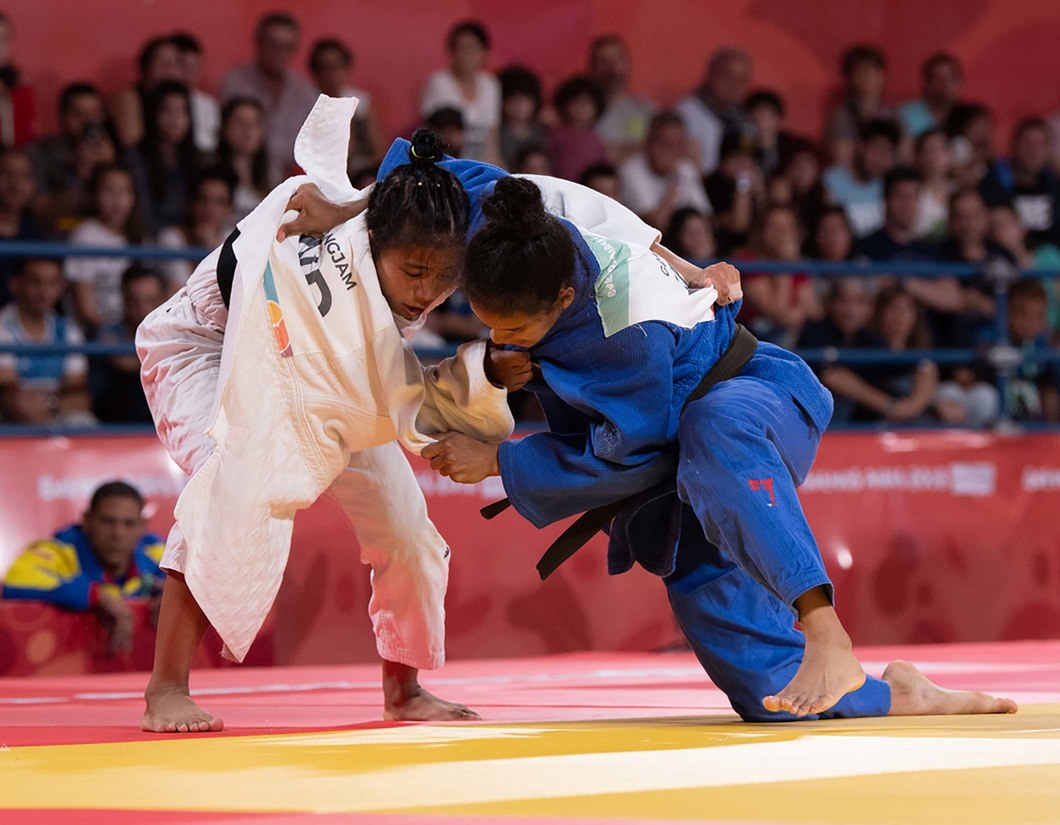 Wangmo lost on Sunday to eventual silver medallist Tababi Devi Thangjam (IND), pictured left in action. (Photo: Jonathan Nackstrand for OIS/IOC)
"We've tried to get some old Japanese films about judo, such as the anime movie Yawara, and dub them in the local language to inspire people, but it's been very difficult to get the rights," he added. "Judo is all about speed and timing, and I need to practise more," Wangmo said. "I'm not getting so many opportunities because in Bhutan we only have one club, so our athletes don't have the chance to develop. We need more experience against stronger competition."
But with little funding available, Bhutanese judokas have to make do with only a few regional competitions a year. "We're one of the newest sports associations affiliated to the Bhutan Olympic Committee," Dorji said. "So we don't receive much financial support, only 11,000 (US) dollars per year, which we use to help athletes like Yangchen compete outside of Bhutan." 
Japan to help promote judo in Bhutan
Help may soon arrive, however, from an unlikely source, with the Japanese government showing an interest in promoting judo in Bhutan. 
"At the moment our only judo hall in Bhutan is provided by a local private school for free, but it's very small and we don't have capacity to take on new members," explained Dorji. "However, we are currently in negotiations with Japan, who have agreed to sponsor the construction of a new hall. Once built, hopefully by 2019, it will dramatically transform the situation and we will be able to more than quadruple our current capacity."
One of his main aims is to encourage girls to follow in Wangmo's achievements and take up the sport: "Having girls practice martial arts is a good way to change perceptions and opinions. Women have traditionally been homemakers in Bhutan and many of them still suffer from low expectations. But when a girl throws a boy on a judo mat it can turn that logic on its head."
This article was first published here by the International Olympic Committee.
---
---