Bhutan Is A Second Home For Me: Nadir Patel, High Commissioner for Canada In Bhutan
"We feel that Bhutan is special in our hearts."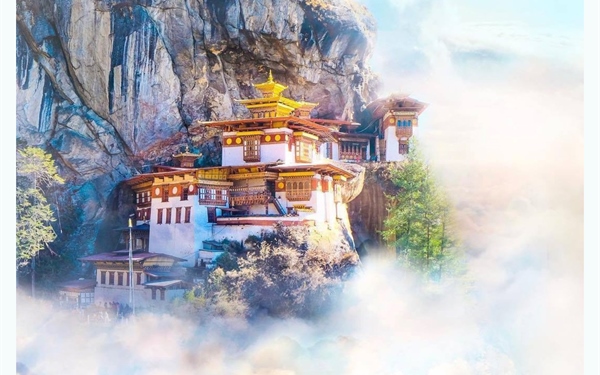 (Source: @thepetitewanderess)
By Chencho Dema | Business Bhutan
Interview with Mr Nadir Patel, High Commissioner for Canada in India, Nepal and Bhutan who talked about his achievements, and describes his views and feelings towards Bhutan.
Q: Could you tell us about yourself?
I love spending time in Bhutan and I am the longest serving Canadian Ambassador to Bhutan in our 16 years of diplomatic relations. It is natural that I feel a certain special affinity to Bhutan.
My very first visit to Bhutan was with my wife when she was eight months pregnant and I have been back several times with my family since then. We feel that Bhutan is special in our hearts.
For me I don't think I can be in this role as an ambassador if it wasn't for education and this is one reason why among the many different areas of focus for Canada, Bhutan's education is one that I feel very strongly and personally connected to.
Q: Three achievements of yourself with regard to Bhutan?
My focus in the last few years is to build on the legacy of the Canadian-Bhutanese relationship that goes back to the 1960s and 70s, especially the education system established by Father Mackey and to ensure that our legacy will be continued in future.
This is why the first thing we achieved was the agreement between Canada and Bhutan - the annual foreign consultation.
I think it is very important and it does not matter who the ambassador is (as ambassadors come and go), but the ministry to ministry mechanism for regular dialogue, I think is long lasting, therefore the consultation mechanism is the major achievement.
The second thing is that in the period of time which we have been here, we have expanded the Bhutanese-Canadian relationship.
 Source: Facebook/Bhutan Canada Foundation
Besides focussing mostly on educational ties for the most part, we are now also actively collaborating in a number of other areas such as agriculture, the organic sector, as well as trade and investment.
It also includes greater collaboration in the health sector, such as placing more focus on women and child health in particular.
And the third area is for greater engagement at the political level between the governments of Bhutan and Canada.
For example, concerning the New York in United Nations in the General Assembly, your Foreign Minister met with our delegation and we have had an extensive interaction, between myself and your ambassador to Canada in the UN; and we would like to see if we could arrange more high level collaborations between our two governments.
Q: Best thing about Bhutan and its friendship?
Without any hesitation, the best thing about Bhutan by far is the people; the people of Bhutan are extremely warm, welcoming, friendly, smart, and capable.
We feel that Canadians are also known around the world to be warm, welcoming and friendly and I think, I would say that the Bhutanese are probably the closest match to Canadians, in comparison to many other countries which I have been to.
Source: BBS
Bhutan itself also share very similar characteristics and features to Canada. We have mountainous terrains and green environment and we are focused on preserving our environment as well as tackling climate change issues.
This morning (25 November 2019) we told Bhutan's Prime Minister that it seemed just like an autumnal day in Canada, therefore we feel that Bhutan is just like our second home.
Q: What more can Bhutan expect from the Canadian government?
I think there is more value in focusing on many small things than just concentrating on one big thing. So what we are doing now is that we are sending technical experts to work with Bhutan's Ministry of Health in the areas of 'high altitude' medicine.
We are working with Bhutanese NGOs to address early cancer detection and to manage primary health care workers in the rural and remote areas. We are also looking into nutrition for maternal healthcare.
As Bhutan is also looking at enhancing its tax system, Canada can help provide advice on best practices and the relevant technology needed.
In addition, Canada is known for its sustainable and responsible mining practices which Bhutan can learn from.
In the realm of organic agriculture, we have sent Canadian experts to work with the Bhutanese government to see how we can certify organic products for export to Canada and other markets around the world.
Q: What can Bhutan learn from Canada?
I think Bhutan has identified its priorities and goals to be fulfilled while Canada has the knowledge and expertise to help Bhutan realise them.
It is also important to mention that not only can Bhutan learn from Canada, Canada can also learn from Bhutan.
So we view it as a two way street and I think Bhutan is far more influential and far more experienced in some areas. For example, Bhutan's focus on its eco-system, the preservation of its forest has been extremely notable. I think it is very impressive.
Thus far, Bhutan has been a very responsible and trusted multilateral partner and we really want to take our relationship further.     
This article first appeared in Business Bhutan and has been edited for Daily Bhutan.
---