Australian Doctors Yet To Set Surgery Date For Bhutanese Twins Nima And Dawa
Doctors are expected to get a better idea next week as to whether and when the surgery can proceed.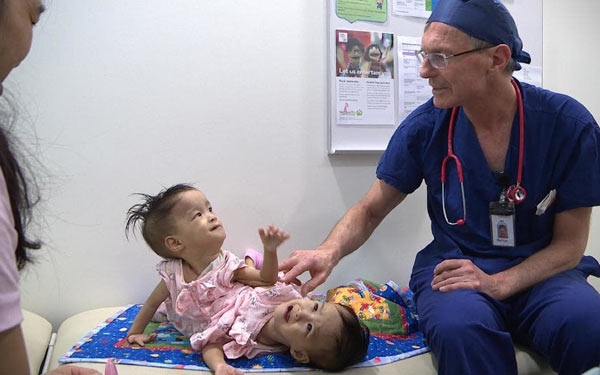 (Source: RCH)
By Kinley Yangden | Bhutan Times
Bhutan's first recorded conjoined twins, Nima and Dawa Pelden, have undergone a series of health tests in Australia, where they are expected to undergo surgery to be separated.
However, doctors have yet to determine a surgery date, although they remain optimistic that the 14-month-old twins will be successfully separated, reported Australian media SBS.
Doctors are expected to get a better idea next week as to whether and when the surgery, which is expected to take up to eight hours, can proceed.
The procedure will include splitting the girls' shared liver.
"They're pretty small, they're fragile and we'll be taking the best care we can," lead anaesthetist, Dr Ian McKenzie said at a media conference Thursday.
"We expect it should go very well."
Nima and Dawa's MRI scans taken at the Royal Children's Hospital in Melbourne have helped to provided a clearer picture to surgeons on what organs they share. The girls also underwent blood and general health tests.
Dr McKenzie also said they need to ensure that the twins did not get a "surprise illness we haven't thought of, that might not be very common here".
Anxious mother
According to SBS, the twins' mother Bhumchu Zangmo expressed through an interpreter that she hoped the surgery would happen soon.
"So the girls can get on, in her mind, a normal life and hopefully get home," she said.
The Herald Sun reported that she was extremely worried when the test procedures stretched for four hours and she burst into tears when her daughters had their first anaesthetic.
"I love and care for them now even more than before," she told Herald Sun.
The Victorian government said it will fully fund the A$250,000 that is required for the procedure, reported SBS.
If surgery is a success, the girls will require months of post-care treatment in Australia before they can return to Bhutan.
Here's how you can help Nima and Dawa
1: Donate by phone on Australian toll-free number +61 1800 99 22 99
2: Text TWINs to +61 437 371 371 to make an online donation
3: Visit childrenfirstfoundation.org.au/donate and select Twins18 as the campaign name
4: Donate by electronic transfer via your online banking system to the account details below.
Bank: Bendigo Bank
Name: Children First Foundation (CFF Gift Account)
BSB: 633-000
Account number: 163045552
Reference: Enter your full name and "twins"
To receive a tax receipt for donations made by electronic transfer please email [email protected] with the transaction details.
---
---