Ashi Tashi Chodzom Dorji Becomes First Bhutanese To Be Honoured With Order Of Australia Award
She was instrumental in strengthening the relations between Bhutan and Australia.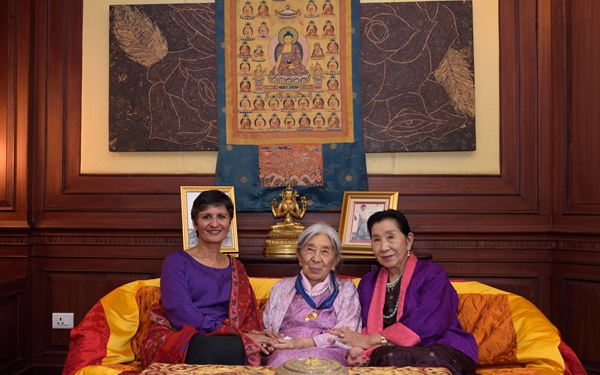 (Source: Thinley Namgyel)
By Kinley Yangden | Bhutan Times
Ashi Tashi Chodzom Dorji was invested as an Honorary Officer of the Order of Australia on Wednesday (July 11) by Australia's Ambassador to Bhutan, Ms Harinder Sidhu.
The Honorary Awards in the Order of Australia are made to persons who are not Australian citizens but have given extraordinary service to Australia or humanity at large.
Ashi Tashi is the first Bhutanese to receive the award. The 94-year-old was instrumental in strengthening the relations between Bhutan and Australia.
In 1962, Ashi Tashi secured Australia's support to include Bhutan as a
member of the Colombo Plan, a centrepiece of Australian foreign policy aimed at strengthening ties with Asia, by providing aid to countries in need of assistance. This was Bhutan's first membership of any international organisation.
Ms Sidhu said: "From her advocacy of Bhutan's inclusion in the Colombo Plan in 1962, Ashi Tashi Chodzom Dorji sowed the seeds of the deep friendship between Australia and Bhutan that lasts till this day."
Ashi Tasha also helped establish the Australian Government's development programme in Bhutan, which has developed into an enduring education relationship - 1,450 Bhutanese students are currently studying in Australia.
She also assisted with the establishment of the Australian-Bhutan Friendship Association.
"It is my great privilege to confer the Order of Australia honour to Ashi Tashi Chodzom Dorji for her immense contribution to the Australia-Bhutan relationship. This award is an indication of the respect and value that Australia places on its relationship with Bhutan," said Ms Sidhu.
---
---