Artist's Drawing Of Crown Prince's 'Cute Moment' During National Day Featured On 2019 January Calendar
The calendar is available on smartphones and desktops.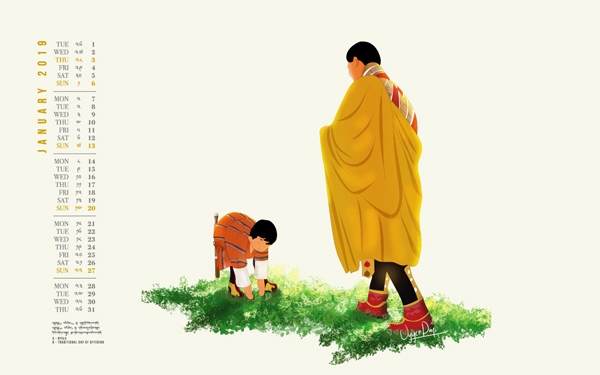 (Source: Yellow Bhutan)
By Kinley Yangden | Bhutan Times
It was a moment that touched the hearts of the Bhutanese and an image that will remain etched in their memories for a long time.
When His Royal Highness the Crown Prince bowed to His Majesty the Fourth Druk Gyalpo, during National Day celebrations in Samtse on Dec 17, it immediately became the talk of town. Social media was rife with people sharing videos and photos of the two-year-old Crown Prince paying respects to his grandfather, saying it was the "cutest thing" they had seen.
Artist Ugyen Dorji, known on Instagram as "Home Based Illustrator", decided to immortalise this moment into a colour drawing, which has been widely shared on social media.
It is now featured in Yellow Bhutan's 2019 calendar for the month of January.
Yellow Bhutan said Ugyen Dorji was "amazed by the popularity of his newest drawing."
"When I saw His Royal Highness bowing to His Majesty the Fourth Druk Gyalpo while watching the National Day Celebrations on television, I was deeply moved. I felt that was a historic moment, something that will linger in the minds of people for ages. It was heartwarming and beautiful, and I knew that everyone who witnessed the moment felt the way I did – and I knew I had to illustrate it, to immortalise that very special feeling," said Ugyen Dorji.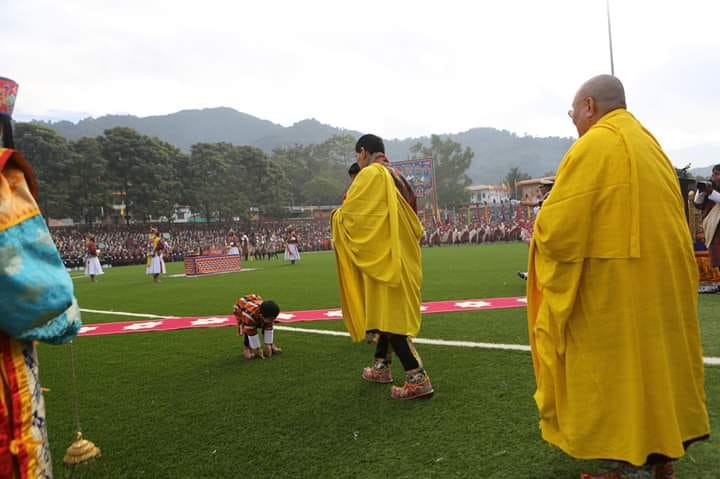 Photo: Facebook/His Majesty King Jigme Khesar Namgyel Wangchuck
Yellow Bhutan said they hope the January calendar will "bring you joy and warmth as the winter chill sets in, and wish you a very Happy New Year."
The calendar has also been shared on the Facebook pages of Their Majesties King Jigme Khesar Namgyel Wangchuck and Queen Jetsun Pema.
The free calendars from Yellow Bhutan include both the Gregorian calendar dates and Bhutanese lunar calendar dates.
Downloads are available for smartphones, tablets, and Mac or PC laptops and desktops.
---
---