World Cup Mania Grips Some Teenagers, Adults And Monks In Bhutan
A huge crowd has gathered in front of the massive TV screen to witness the 2018 FIFA World Cup.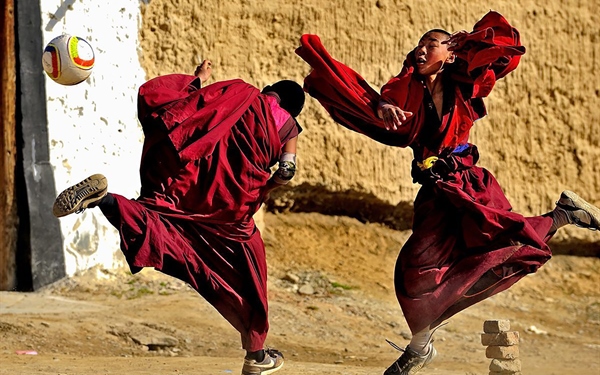 (Source: LJR)
By Jigme Wangchen | Business Bhutan
Everyone in Sangay Tenzin's TV room in Kanglung is waiting with bated breath for the clock to strike nine.
The atmosphere is charged with visible excitement. A huge crowd has gathered in front of the massive TV screen to witness the 2018 FIFA World Cup, four years after Germany last triumphed in Brazil, this time debuting on Russian soil.
The football fans range from pre-teen kids and adolescents to adults, some of them dressed in their favourite team jerseys. As the first match between Russia and Saudi Arabia kicked off, the onlookers' eyes were glued to the TV as cheers and jeers escaped their lips.
Football fans and betting craze in Kanglung, Bhutan
The World Cup kicked off in Russia on Thursday at Luzhniki stadium in Moscow and the finals will be played at the same stadium on July 15.
The event has fanned the football fever in town and football enthusiasts are now in a betting frenzy, laying stakes on their favourite teams. This, in fact has become a trend in Kanglung in recent times with the Chancellor's Cup in Sherubtse fuelling the football craze over the past two months or so.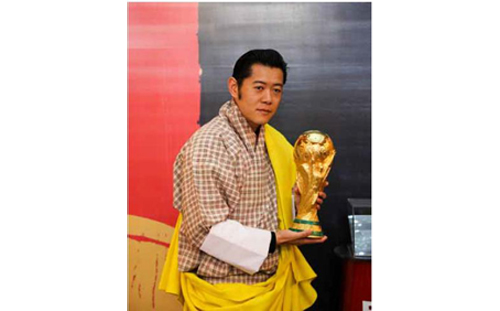 Source: The Bhutanese
Though Bhutan has never made it to the World Cup so far, the event is one that holds football fans in feverish excitement, almost to the point of obsession.
The football mania is evident in the TV room where an amount of Nu 2,000 has been collected from more than 30 football fans who have laid bets on their teams.
"The collected amount will be given to those who win the bet," says Sangay Tenzin adding that FIFA World Cup is a special occasion when people of different-age groups gather to support their favourite teams, bonded by solidarity or healthy rivalry.
"I have placed my bets on Germany this time," said Sangay Tenzin. "Just like any other football fans, I too wish to see Bhutanese play in the FIFA World Cup but till that happens, we have our favourite teams that we are supporting."
He said his all-time football player is Ronaldo. "However, Brazil didn't do well in the last World Cup. So, this time I have placed my bets on Germany."
Even monks have caught the World Cup fever
An ardent football fan, Dampa, a monk from Kanglung said, "It's finally here. I have been waiting for this month for a long time now." He said that in the absence of a home team to support, most Bhutanese have adopted their own second home teams.
However, Dampa said that more than placing bets on their favourite teams, they simply enjoy watching the matches along with other football fans.
For some, the reason to support a team is that their favourite player is in it. Some fans, on the other hand say that the players are immaterial and they support a team for its style of playing.
Yoezer, 12, is supporting Portugal as his favourite player Cristiano Ronaldo is a part of it. "I have placed my bets on Portugal and I hope to win the bet so that I can give the money to my mother."
Additionally, Sonam, another football fan said that she had supported Brazil ever since she knew and understood football.
"I feel when we have been supporting a team for ages, we tend to form a bond with them which is difficult to break."
This article first appeared in Business Bhutan and has been edited for the Daily Bhutan.
---