With Grants From Japan, Traditional Papermaking Centre Opens In Bhutan
With the centre opened in Trashiyangtse town, it can help to promote traditional papermaking and eco-tourism.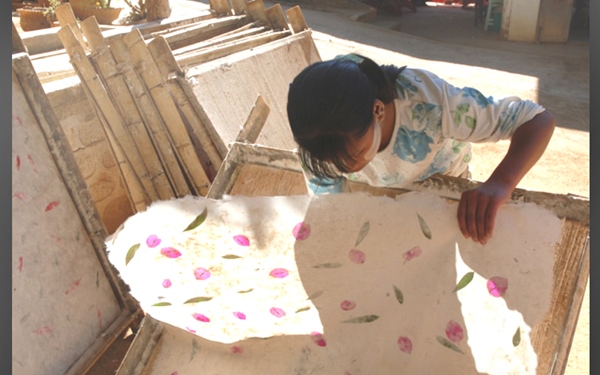 (Source: Travel and Living in Bhutan Blog)
By Neten Dorji | Kuensel
The art of papermaking is popular in Bumdeling and Rigsum Goenpa in the district of Trashiyangtse.
Historically, paper has been made to provide Buddhist monasteries with paper for making woodblock and manuscript books as well as for writing prayers and mantras. 
On 12 April, the Trashiyangtse dzongdag, Thuji Tshering and the Economic and Development Minister, Kenko Sone from the Embassy of Japan inaugurated the Common Facilities Centre for traditional handmade papermaking. 
Photo: Kuensel
Thuji Tshering said that the local hand-made paper facility is among the many important activities that the Japanese government has supported.
Under the Grant Assistant for Grassroots Human Security Project (GGP) scheme of Japan, the Government of Japan funded Nu.4.69 million which started in June 2018 and was completed in February this year.
Benefits which the centre can bring for the residents of Trashiyangtse
With the centre opened in Trashiyangtse town, the residents are hoping to boost their economy while preserving and promoting this age-old tradition. 
The centre can help to promote traditional papermaking and eco-tourism.
Source: Youtube/Alvin Mark
"It can also improve the farmers' income, sustain the use of local resources and generate employment opportunity," said Thuji Tshering.
The centre will benefit the traditional paper making group called the Trashiyangtse Desho Detshen. It was formed in 2014 and today the centre has 15 members. 
The Group's Chairperson, Gembo said that due to the lack of a proper space, they could not make quality products. He has been involved in traditional papermaking for 20 years and it has been challenging.
"The installation of machines can ease the artisan's work and reduce labour cost."
One of members, Pema Rinzin said that a resource person from Japan has been training them in the art of papermaking since 2002.  
"We are trained twice a year and all of us are well trained in making paper. In the past, we used to beat the pulp to manufacture the paper till our hands hurt and we used to get cramps."
"Now it will be much easier to work," said another member Karma Kinzang Wangmo.
This article first appeared in Kuensel and has been edited for Daily Bhutan.
---