VAST-Yangtse has VAST Ambitions
The VAST-Yangtse, also known as Visual Artists Studio of Trashiyangtse is non-profit art club founded by two art enthusiasts – Mr Jigme Dorji and Mr Chojay Tshering, both school teachers of Trashiyangtse Dzongkhag.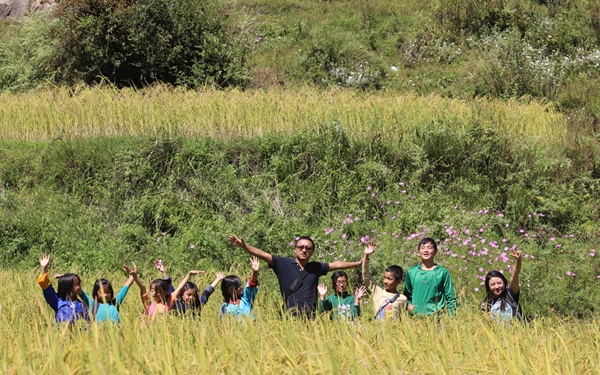 (Source: Courtesy of My Jigme Dorji.)
About the VAST-Yangtse or Visual Artists Studio of Trashiyangtse
The VAST-Yangtse, also known as Visual Artists Studio of Trashiyangtse is non-profit art club founded by two art enthusiasts – Mr Jigme Dorji and Mr Chojay Tshering, both school teachers of Trashiyangtse Dzongkhag.
The club was set up in line with VAST Bhutan in Thimphu under the guidance of artist Azha Kama Wangdi in mid-2012. 
The main aim of the club is to create a platform for the young art enthusiasts of Trashiyangtse to exercise their creativity and to keep them engaged during their weekends and holidays through artistic explorations and other socially useful and productive work.
Within a short period of time, the club has inspired more than 100 students to learn basic drawing and sketching. Currently, there are more than 55 members, including 5 destitute students (Kidu) and a boy with special needs from Tshaling village.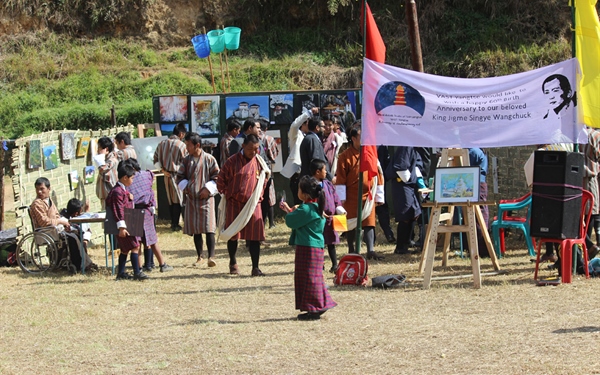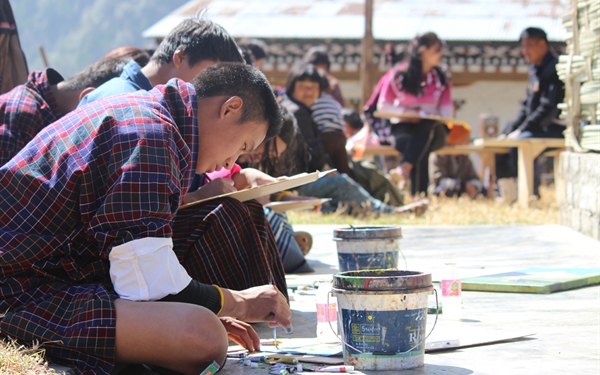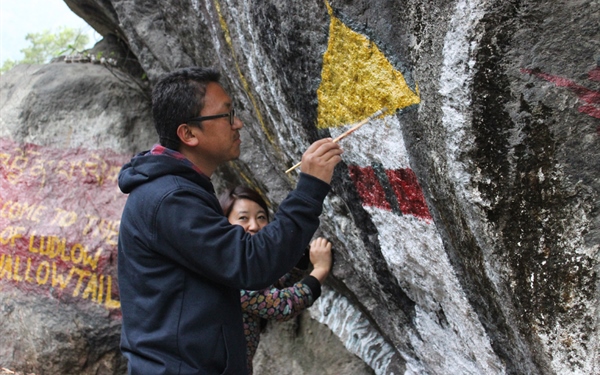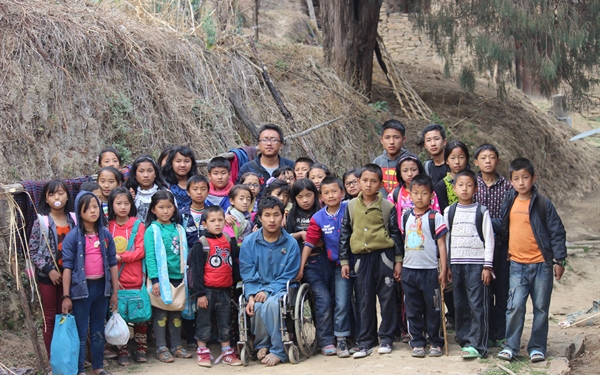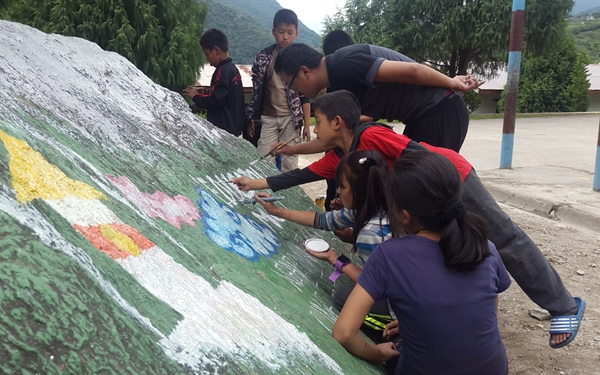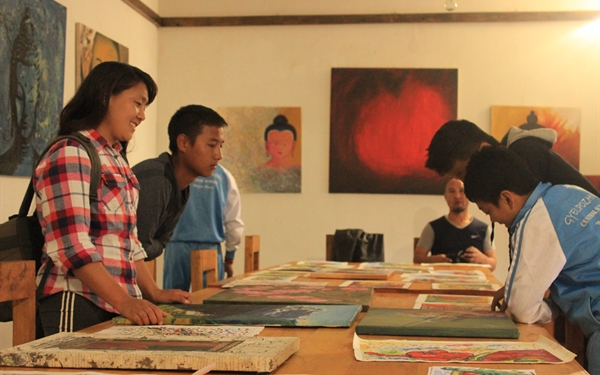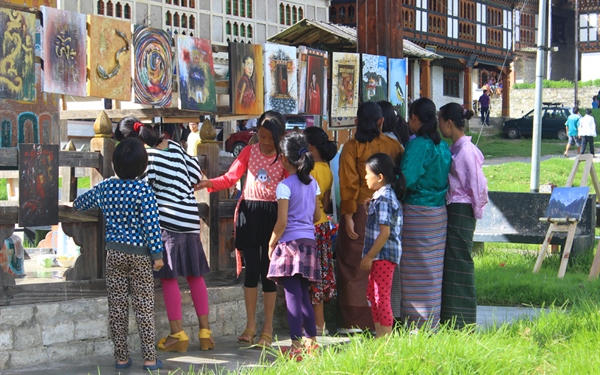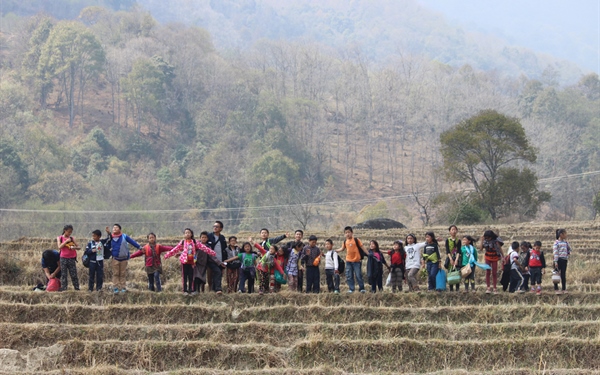 Meet Mr Jigme Dorji – one of the man behind VAST-Yangtse
Originally from Mongar Dzongkhag, Mr Jigme Dorji was born and bought up in Thimphu where he was educated.
After his graduation in 2009, he was posted as a regular teacher to Trashi Yangtse, a two day journey from the capital. It was very difficult to adapt to a remote place like Yangtse where there are few basic facilities. With time, he started to love the beautiful landscape of Yangtse Village.
Jigme admits that he is not a professional artist but he has the passion for the arts. He takes every opportunity to attend workshops and trainings related to art in order to enhance his artistic skills.
Jigme's inspiration to start VAST in Trashiyangtse
While working in one of community primary schools, Jigme noticed the students' great interest in drawing and playing with colors. There were no recreation facilities for kids to engage themselves other than playing in the dusty football ground. He was always thinking of opening an art space but it remained as a dream until he met his friend Mr. Chojay in 2012.
Jigme and Chojay founded VAST-Yangtse under the guidance and support of Asha Karma. Initially the art club was known as the Chorten Cora Art Club. The Chorten Cora is a famous monument in the eastern region and it is supposed to be the replica of the Boudhanath stupa in Nepal. Later Asha kama instructed Jigme to change the name to VAST-Yangtse to benefit the club in future.
Personal sacrifices made by Jigme
Ever since Jigme co-founded VAST-Yangtse, he has invested his precious time for the kids to teach them basic art and painting for free during the weekends and holidays.
In 2014, Jigme completed his Masters degree and all his friends were engaged in good institutions in western Bhutan. Jigme decided to come back to Yangtse to continue to serve with his utmost dedication and sacrifice. 
In 2016, Jigme applied for a transfer to Thimphu or Paro for his personal growth and for health reasons. Upon second thoughts, he cancelled his transfer as there was no one to take care of VAST Yangtse. If he had left, then VAST Yangtse will be closed for ever.
Support from his family members
Jigme's family has always been his strength. They have always been supportive and sacrificed many things in their life just for one reason – to support Jigme's love and passion to promote contemporary art in eastern Bhutan.
Jigme had some difficulties managing his family life and VAST Yangtse at the beginning. Now his family understands his vision of establishing VAST Yangtse and they fully support what he does for the community.
Jigme's most memorable achievement for VAST
He has achieved a lot since the inception of VAST Yangtse. His students have won many national and international prizes and certificates including the certificate of distinction from the 19th Kanagawaga Biennial World Children Art Exhibition in Japan.
Dawa Yangchen Drukpa and Ugyen Sangay Dema, are the recipients of the prestigious ICCR Scholarship to study B.A. fine Arts at the Maharaja Sayajirao University of Baroda, India.  
Tshewang Rinzin, another awardee, received a full Art Scholarship to study B.A. fine Arts in Dhaka Art University, Bangladesh.
He has facilitated a month long Winter Youth Engagement Program, organised by the Office of Gyalpoi Zimpon, His Majesty's Secretariat and the Department of Youth and Sports.
Yet, the most memorable achievement for VAST Yangtse is when they received a special audience from their Majesties during their eastern tour to Trashi Yangtse. They were blessed to receive Nu. 50,000/-   as a gesture of love and appreciation from their Majesties of Bhutan for promoting contemporary art in eastern Bhutan.
Reaching out to convince the parents in the villages to allow their kids to participate in VAST activities
At the beginning, parents were quite reluctant to send their kids to Jigme's art club. They had little knowledge about VAST-Yangtse programs.
In order to win their trust, Jigme organises art competitions among schools under the Trashi Yangtse with little fund received from the donors. He also organises art excursions around the villages and he tries to render community services in small ways in order to bring about changes in society through social work.
He tries to connect with students from the different Dzongkhags of Bhutan by conducting art camps and art workshops with them. Last July, he was so lucky to have funds to organise the Summer Youth Interaction Art Camp with Draktsho Students (Students with Special needs) with the financial support from the India-Bhutan Foundation. 
These artistic activities help to break down barriers and build friendships. Parents also actively participate in VAST-Yangtse's activities by sending their kids to attend the club's programs.
Slowly VAST-Yangtse flourished and gained its popularity within a short period of time. There were lots of members joining and it was difficult managing them as he did not have a proper space and materials. Jigme sought the support and guidance from Asha Kama. He was keen and supported the house rent for a year from his own pocket.
The biggest challenge facing VAST-Yangtse
The biggest challenge faced so far is the house rental. The organisers have rented a space in the heart of Yangtse town. Every year the rental keeps climbing due to the upcoming Kholong Hydro Project at Trashi Yangtse.
For the past two years, they were quite lucky as one of the French artists offered to pay the rental and helped to purchase furniture for the club.
Reaching out to the international communities and donors
VAST-Yangtse has a facebook page and Jigme is very active in social media. He uploads whatever activities and programs he has done. Some of his facebook friends appreciate his effort and he shares his dreams with them. They have been generous in supporting Jigme with art materials, art books and most importantly, financial support for the monthly rental of VAST-Yangtse.
Another challenge is man-power. Jigme is volunteering at VAST-Yangtse alone. It is very difficult to handle both, managing the club and teaching at a school. 
The number of members has been increasing every month and currently there over 35 registered members.
Jigme reveals that he barely gets financial support to conduct art exhibitions. He is looking forward to getting sponsorships from donors to exhibit the members' artworks in Thimphu and also at the international realm. This will enable the members' works to gain exposure while building their confidence.
Written by Zann for the Daily Bhutan.
If you will like to extend a helping hand to VAST-Yangtse, please get in touch with Jigme at VASt-Yangtse FB Page
---