Tshechus (Festivals) In Bhutan Becoming A Platform For The Dissemination Of Social Messages
"The impact will be a thousand times more powerful. When a spiritual figure conveys a social message in line with religious belief, people do take them seriously."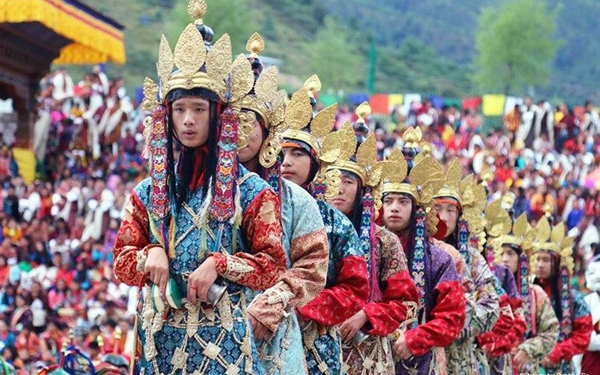 (Source: DrukAsia)
By Sangay Chizom| BBS
Traditionally, Tshechus (festivals) have usually been a celebration of Bhutanese culture and traditions. However, from now on it will also be a platform to disseminate social messages. The aim is to create a just, equitable and happy society in Bhutan.
The Central Monastic Body, the Royal Academy of Performing Arts (RAPA) and Respect, Educate, Nurture and Empower Women (RENEW) are jointly working on the initiative.
Representatives from the dzongkhag rabdeys and cultural officers from 10 western dzongkhags attended a five-day training in Paro.
Significance of mask dances and their social messages explained
The participants are briefed on the contents of the book "Druk Gi Tsechu-yi Gar-cham Ge Shaypa" launched last year. The book not only explains the significance of mask dances, but also the social messages it carries.
 Source: DrukAsia
"Every year, we have tshechus in all the 20 dzongkhags of Bhutan. During that time, we explain our mask dances from a religious perspective. But from now on, we want to blend such perspectives with social messages for better dissemination of information," Kunzang Dorji, a Research Officer with RAPA said.
At the training, the participants will also discuss ways to incorporate more social messages in the second edition of the book.
RENEW says that tshechus are the best platform to create awareness on social issues like gender based violence among others.
Festivals are great platforms to disseminate social messages in Bhutan
"People are usually too busy to attend the awareness meetings we will conduct. But many people do make the effort to see the tshechus, so it is the right place for us to create awareness," Meenakshi Rai, the Director of RENEW's Community Outreach said.
  Source: DrukAsia
"Moreover, the impact will be a thousand times more powerful. When a spiritual figure conveys a social message in line with religious belief, people do take them seriously."
Similar trainings will be conducted in Bumthang for the remaining 10 dzongkhags.
This article first appeared in BBS and has been edited for the Daily Bhutan.
---