Ten Years Since The Inception Of Democracy, Bhutan Has Made Steady Progress In Human Development
The National Human Development Report highlights positive results during ten years of democracy in Bhutan.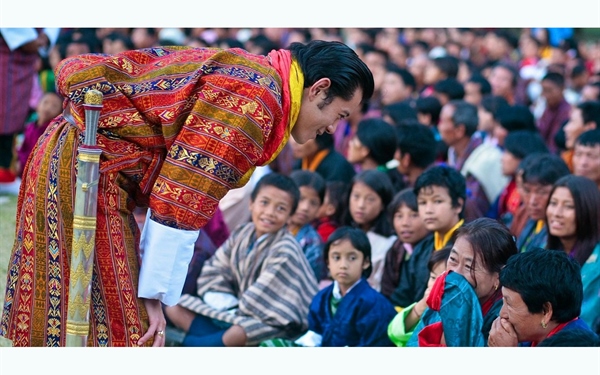 (Source: Facebook/His Majesty King Jigme Khesar Namgyel Wangchuck)
By Dechen Dolkar | Business Bhutan
As measured by various indexes and indicators, Bhutan has made steady progress in human development since democracy was introduced in 2008; implying that democracy provides an environment for people to flourish.
This is according to the National Human Development Report (NHDR) titled 'Ten Years of Democracy in Bhutan' launched on 12 March 2019.
The report highlights positive results during ten years of democracy in Bhutan. It states that growing democracy has helped advance development in the country - with an independent judiciary, a vigorous parliamentary structure, an accountable and transparent government, and an emerging civil society.
How has democracy influenced the Bhutanese?
The report, launched by Bhutan's Prime Minister Dr. Lotay Tshering, the UNDP Administrator and UN Under-Secretary-General Achim Steiner, states that democracy has made Bhutanese citizens more conscious of their fundamental rights as well as their duties as citizens.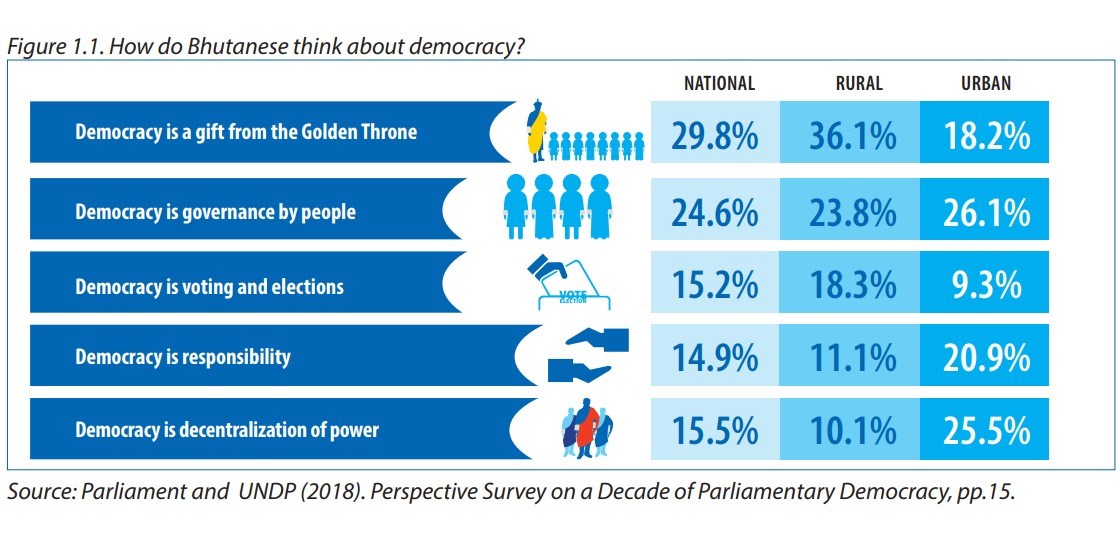 Photo: Parliament and UNDP (2018)
"While the people were entirely dependent on the King for their welfare, well-being and even happiness, they are now empowered to be active in governance, human development and the national vision of Gross National Happiness," states the report.
The National Assembly Speaker, Wangchuk Namgyel said that the report reflects the resonance between the pillars of Gross National Happiness (GNH) and Sustainable Development Goals (SDGs) as broad visions of human progress and development.
"Just as the SDGs echo the pledge to 'leave no one behind', the values of GNH require us to reach every section of our population by strengthening the process of decentralisation," he added.
The UN Under-Secretary-General, Achim Steiner said a simple, yet powerful idea - people are the real wealth of nations, led to the development of the first Human Development Report in 1990.
"Instead of focusing only on income, human development measures people's choices, opportunities and their freedom to take advantage of them. It also measures whether they live long lives, whether they are healthy, educated, and have sufficient income," he said.
What the Human Development Report show
By measuring people's satisfaction with the government and freedom of expression, based on the philosophy of Gross National Happiness, the report provides a robust picture of human development in Bhutan.
 Photo: UNDP (2018)
Meanwhile, the report also stresses on the importance of improving gender balance and points out that there have been crucial gains for the women of Bhutan since 2011.
Before democracy, a little more than ten years ago, there were no women in Bhutan's parliament. Today there are 11 women parliamentarians.
The report also states that democracy is a path to good governance, which is a pillar of Gross National Happiness, as well as Bhutan's vision for human development.
It looks at the first decade of democracy in Bhutan, its impact on national governance and therefore, on human development.
The report presents Bhutan's unique context, where democracy was initiated by Their Majesties the Kings in 2008, after 100 years of monarchy.  It also considers the path ahead for the nation.
Recommendations given by the Human Development Report
The report recommended that political parties should continue in their attempts to balance regional representations in the cabinet as an effective strategy.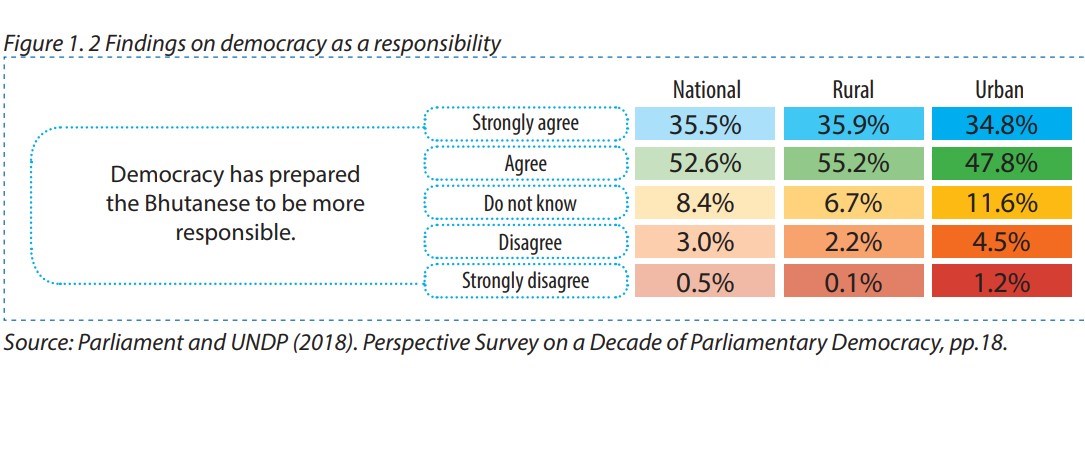 Photo: Parliament and UNDP (2018)
This is to support national harmony and to develop a clearer definition of the term 'apolitical'.
The Election Commission of Bhutan has also been asked to set up facilities for people to vote from their place of residence. It has also asked for a lift on the ban on voting by lay monks and nuns.
It has also suggested a revision on national tax policy to enhance local self-sufficiency and to develop strategies to monitor party expenditure as well as the source of funding.
Meanwhile, Bhutan has launched three national reports in the past and this is the fourth one. The first report focused on 'Gross National Happiness' and was launched in 2000. The second report was on 'Youth Employment' which was produced in 2005, whereas the third report was on the theme 'Sustaining Progress: Rising to the Climate Challenge', launched in 2011.
This article first appeared in Business Bhutan and has been edited for Daily Bhutan.
---