Symbolism Of The Colourful Prayer Flags Of Bhutan
Learn about the rich symbolism of the colourful prayer flags of Bhutan.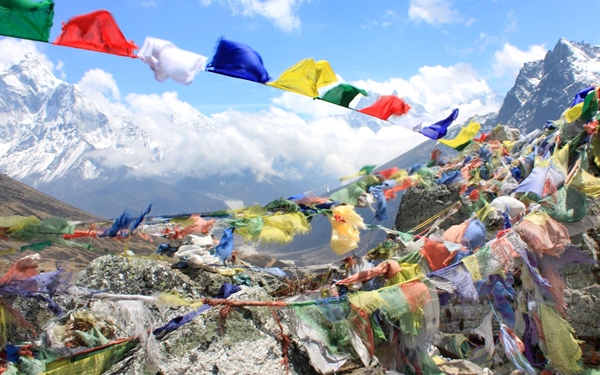 (Source: Flickr/Abdelrahman Hassanein)
By Zann Huizhen Huang | Daily Bhutan
The vivid and colourful prayer flags fluttering in the wind are a photographer's delight. Ubiquitous in Bhutan, these iconic flags can be found around monasteries, chortens (stupas), llakhangs (temples), on the railings of bridges, mountain passes as well as some homes.
Infused with religious and cultural significance, these flamboyant red, green, blue, yellow and white flags can also be seen dotting the Bhutanese landscapes and near the summit of some mountain peaks.
In the Kingdom of Happiness, these symbolic flags not only add colour to a place, they are often hung high for the wind to blow as much compassion and blessings to all sentient beings as possible and in return, the blesser of the prayer flags will also receive good karma.
Why do the Bhutanese fly prayer flags?
Regarded as good deeds for Buddhists in Bhutan and Tibet, not only is the sound of prayer flags fluttering in the wind surprisingly soothing, they also channel goodwill and merits as the wind scatters them around for the benefit of all.
Source: Youtube/Tapping In Show
Prayer flags in Bhutan exists in various forms:
1. Lung Dhar - horizontal strings of small, colourful flags commonly hung on a diagonal line from high to low between two objects such as trees or stupas.
The centre of a prayer flag traditionally features a Lung Dhar (Wind horse) bearing three flaming jewels on its back.
The 'Dhar' is a symbol of speed and the transformation of bad to good fortune, while the three flaming jewels represents Buddha, Dharma (Buddhist Teachings) and the Sangha (Buddhist community).
The different colours used in prayer flags represent the five elements of nature: red for fire, blue for water, yellow for the earth, white for the sky and green for vegetation. 
Buddhists believe that keeping these five elements in good harmony is also beneficial for the mind and body.
Each flag also carry special meanings as follows:
White – Purification of karma by getting rid of negativity (Vajrasattva)
Blue – For health and longevity (Tsa La Nam Sum)
Red – For fulfilling your wishes (Sampa Lhundrup)
Yellow – For victory over obstacles (Gyaltsan Semo)
Green – For compassion (Praise to the 21 Taras)
 Source: Youtube/Meg Gilbert
2. Darchog - vertical prayer flags which are usually rectangular in shape and attached to poles along their vertical edge. They are mostly found huddled close together.
They are commonly planted in mountains landscapes and forests. Darchog are also symbolically related to the Dhvaja (Victory banner).
3. Mani: Usually white in colour without any image or diagram on it, this kind of prayer flags are raised after the demise of a person.
The mantra 'Om Mani Padme Hum' which is related to Chenrezig - the God of Compassion, is printed on this prayer flag.
4. Vajra Guru Dhar: These prayer flags are usually white in colour and they carry the image of Guru Rinpoche and the mantra 'Om Ah Hum Vajra guru Pema Siddhi Hum'.
There are also other prayer flags imprinted with mantras, texts, images of Buddha, the Goddess Dema (Tar), a Chorten, a lion or a dragon.
5. Gyeltshen Tsemo (Banner of Victory): This prayer flag symbolises victory with an image of a cylindrical banner printed at the centre.
Mantras are also printed around the Gyeltshen Tsemo, including the Tashi Tagye or 'Eight auspicious signs' which are used in rituals to proclaim the victory over evil.
---