Sherza Ventures Limited Launched IPO, Aims To Establish Brand Bhutan Products Globally And More
Sherza Ventures Limited aims to be a hyper retail and wholesale trading venture using e-commerce.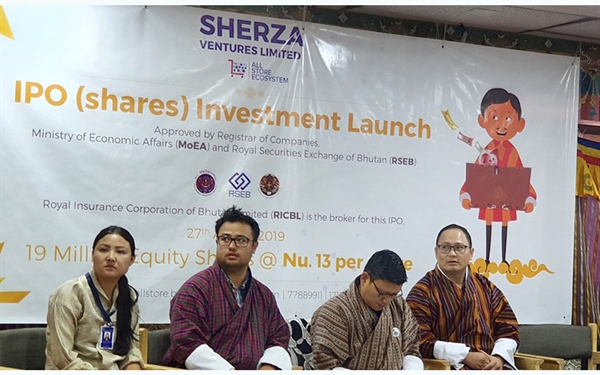 (Source: Facebook/Royal Securities Exchange of Bhutan)
By Damchoe Pem | The Bhutanese
Sherza Ventures Limited (SVL), an e-commerce and trading company, has launched its Initial Public Offering (IPO) on 27 Aug to invite the public to invest in its shares with the aim of raising Nu 247 million.
SVL is the first comapny going for IPO after a gap of five years in Bhutan's Stock Exchange, the last one being GIC-Bhutan Reinsurance Company in 2014.
SVL aims to be a hyper retail and wholesale trading venture using e-commerce. It hopes to provide a platform for young entrepreneurs and farmers to market their products and establish Brand Bhutan of local products in the international market.
SLV also plans to become the market leader in terms of product pricing thus making their products cheaper than the existing market prices.
Source: Youtube/Allstore Ecosystem
Nu 19m equity shares will also be made available at Nu 13 per share to attract micro investors.
Of the Nu 247m, SVL has plans to spend Nu 97m as its stock and working capital, Nu 8m for HR training and development, Nu 130m for fixed asset development and Nu 12m for its IT infrastructure.
What Sherza Ventures Limited offers for customers, employees and producers
Founder and CEO of SVL, Jurmay Chophel said, "I believe that every business runs on certain core ideas. Sherza Venture's flagship brand 'All Store Ecosystem' is based on the very idea of creating a sustainable business ecosystem encompassing our customers, employees and producers."
He said that every year, on average, Bhutanese spend approximately Nu 30b on food commodities alone. As the current trading market is unorganised, it gives them huge first mover advantage.
"We aim to capitalise on this market scenario with effective operations – strongly driven by technology, and we plan to capture 10 percent of the market share in three years alone, which will generate Nu 3b of revenue every year (beyond our financial projections)," he added.
A person can invest in this company, and tomorrow they can buy products from the same company and make the company sustainable.
Meanwhile, CEO of the Royal Securities Exchange of Bhutan (RSEB), Dorji Phuntsho said that it is, for the first time in the history of the capital market of Bhutan, that they have a new generation of entrepreneurs tapping into the true potential of the capital market today.
Opportunities which Sherza Ventures Limited will bring
What has been the practice until now is, we have only those influential business houses and prominent figures who would only come for the IPO and its scheme.
Source: Youtube/Allstore Ecosystem
"But today, we are witnessing something, which is a landmark milestone for us, because that is where the capital market is – to serve as a platform for businesses to scale up, not only in terms of fund-raising activities, but there are affiliated benefits too."
However, he also noted that till date, there are only 21 listed companies Bhutan. By design, most of these companies are mandated either by the regulation or laws to get listed on the Stock Exchange.
In addition, he said that in order to qualify for the IPO, companies need to have a track record of three years, with the condition that for two years it has to be profitable. SVL fulfilled the criteria.
After the investment by shareholders, SVL will ensure that the details of the shareholders are updated at all times. This will facilitate the delivery of dividends into the shareholders' individual accounts without any hassle.
SVL was incorporated on 11 June 2015 as a private limited company with a capital investment of Nu 30m. Currently, the capital is further raised to Nu 109m.
The shares are on sale for a one-month period through the Royal Insurance Corporation of Bhutan Limited and subscriptions will go on till 27 September 2019.
This article first appeared in The Bhutanese and has been edited for Daily Bhutan.
---