Plants Endemic to Bhutan Himalaya
Bhutan has been described as a natural paradise. Even as the world mourns the loss of its ecology, this small Himalayan Kingdom is emerging as an example to the international community, with 72 per cent of its land still under forest coverage and a great variety of rare plant and wildlife species.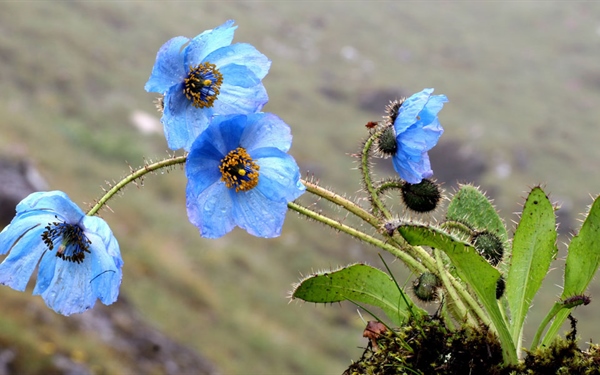 Wedged between China and India Bhutan's terrain ranges from the subtropical foothills to as low at 1500 Meter above sea level through the temperate zones to dizzying heights of over 7300 meters. In historical records, Bhutan was known as Lhojong Menjong ' the southern valley of medicinal herbs'. Besides these rare herbs, the Bhutanese seasons are reflected in full colour by wildflowers and plants which carpet the mountainsides.
Although Bhutan is a mountainous country it doesn't welcome Mountaineers. It may sound absurd for many. Bhutan has a total of 18 peaks among which the only one is open for tourists to climb. Several attempts were made by climbers to climb Bhutan's second-highest peak 'Gangkhar Phensum' in the past. However, they failed because Bhutan chose to remain closed for mountaineers. Bhutan clearly understands that if climbing in Bhutan was entertained then in future, Bhutan will experience so many natural hazards and there would be a disturbance to flora and fauna endemic to Bhutan. The eastern Himalayan global biodiversity hotspot.
Many species in the past considered to be endemic to Bhutan are now known to be distributed beyond its political boundaries. The flora of Bhutan and later publication have recorded some 212 species of plants as endemic to Bhutan. Over 5600 species of vascular plants occur in Bhutan of which 423 are orchids including 54 species of new records and some 46 Rhododendrons.
Considering the small size of the country in the region, 144 plants is a great diversity of endemism attributed to Bhutan's high altitudinal and climatic variation and strong conservation ideals of the country under the dynamic leadership of Nobel kings. The great fourth king of Bhutan, King Jigme Singye Wangchuck is widely known as the father of conservation in Bhutan.
Today Bhutan's protected area spread over the 10 different locations representing various ecological zones and covers more than 50% of the total land area of almost 20,000 square kilometres making Bhutan a crown jewel of the eastern Himalayas.
The parks astounding beauty attracts thousands of international tourists to relish its rich biodiversity. Major trekking routes and majestic mountain peaks such as Jomolhari, Masagang, Jichu drakey, Tsherinmgang and many more glories trek are found in the park. For the trekking enthusiasts, contact Druk Asia.  
Writer- Tshering Denkar 
---
---