Norman Bücher – German Athlete Ran In Bhutan As Part Of His 7 Continents World Tour
Norman aims to gather the thoughts and hopes of the children and young people he will meet on his tour.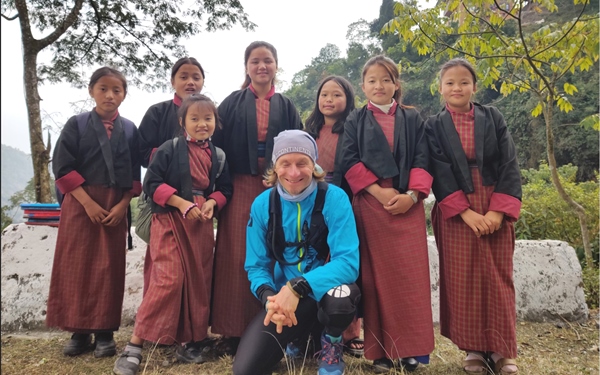 (Source: Facebook/Norman Bücher)
By Sonam Pem | BBS
Running on foot across seven continents to seventy countries in seven years to seek out the concerns of young people, the 7 Continents World Tour has brought Norman Bücher to Bhutan.
A German extreme athlete and a top global speaker, Norman Bücher embarked on this special journey to give young people around the world a voice. He has crossed the Atacama desert in Chile on foot and even ran a gruelling 600 km through the Gobi desert.
Kick-starting his 7 Continents World Tour, he began the run from his homeland in May last year and has already completed his first stage in Europe.
Photo: Facebook/Norman Bücher
Embarking on the second stage, he will run through Bangladesh and will continue to India and Nepal. Bhutan is the tenth country on his itinerary and he started his tour in the Kingdom from Thimphu to Siliguri on 9 February.
What inspired Norman Bücher to do the 7 Continents World Tour?
"It starts with my daughter who is nine years of age. And four years ago she asked me why do we adults do too little or almost nothing for the future generation. So that inspired me to do something and what I do best is running so I created this project but I will not be running by myself but running to inspire people, to listen to the young people," said Norman Bücher.
Norman started his run from Buddha Point and covers 35 kilometres in Thimphu with other enthusiastic runners.
Source: Youtube/inpunctoeinsplus
This is his second visit to Bhutan. During his first visit, he ran non-stop for 265 kilometres from Trongsa to Paro Taktshang (Tiger's Nest Monastery) to raise funds for the Save the Children project in 2013.
Fast forward seven years later, another important expedition, the 7 Continents World Tour, brought him back to the country and this time, with a bigger purpose.
Why did Norman Bücher choose to do the 7 Continents World Tour in Bhutan?
"My first visit, I was so fascinated and I said to my friends that I want to come back here for a project. You have such wonderful people and you have amazing landscapes and wonderful nature and also His Majesty The King of Bhutan. So a lot of different things actually inspired me to come back," he shared.
Norman enjoys taking on extreme sporting challenges and conducts his own expeditions all over the world. To him, running is one of the best medium to reach out to young people.
"Running, I would say is the basic movement for us, not in a car, not by bike, not by motorcycle, just basically on foot. And it's easy to get to know other people if you are not on a tourist bus. I am really close to the people when I am running and that's what I love, to be in the street and not in a luxury hotel," he explained.
What Norman Bücher hopes to achieve through his 7 Continents World Tour
Within seven years, he plans to run through 70 countries on seven continents, covering almost 20,000 kilometres. And while doing so, he will gather the wishes, thoughts and hopes of the children and young people that he will meet on the way.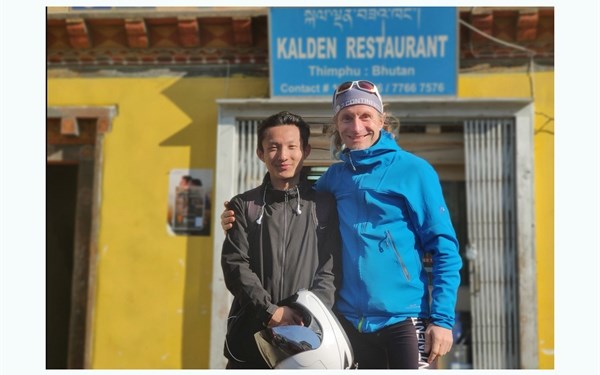 Photo: Facebook/Norman Bücher
And through the 7 Continents World Tour, he intends to give them a voice and plans to hand over his collected comments to the 79th United Nations General Assembly in New York in 2024.
"I think that everyone and every person can do change and there's a sentence from a song of Michael Jackson, a man in the mirror, and he sings 'if you want to make the world a better a place, take a look at yourself and then make a change.' So I think that the change will start from every person. You can ask yourself what I can do, not a big change, maybe a small step. So that's what I want to bring it to the world and to other people," he added.
His 7 Continents World Tour will focus on topics such as education, globalisation, personal development, the environment and the future.
Why does Norman want to reach out to young people around the world?
Through this tour, he expects to bring about a long term positive change and awareness among young people around the world concerning the issues mentioned above.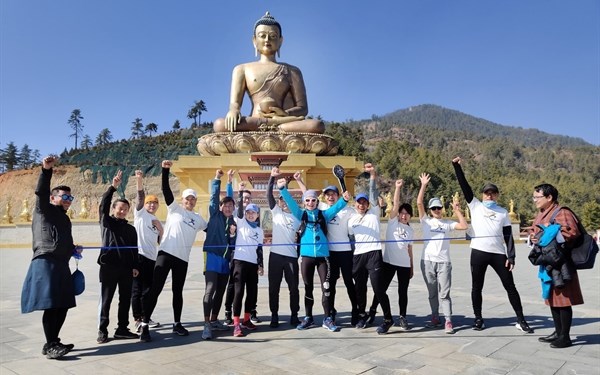 Photo: Facebook/Norman Bücher
Last but not least, Norman believes that the future of our planet lies in the hands of children and young people. What and how they learn, their attitudes, values and fundamental convictions determine how they live as adults and what decisions they will make.
For example, how they understand and relate to nature, how they interact with each other, or how they think fundamentally about the world, has profound implications for our future and collective well-being.
He also emphasised that the 7 Continents World Tour is not about being 'higher, faster and further', for Norman, the idea of athletic performance has increasingly receded into the background in recent years.
"Running is a medium and vehicle to reach young people and to move and effect something in them," said Norman.
This article first appeared in BBS and has been edited for Daily Bhutan.
---