New Airbus A319 for Bhutan Airlines Is Open To Exploring New Routes
"For now we are open to Thailand, India and Nepal but if the market demands, we will definitely increase our destination to new sectors."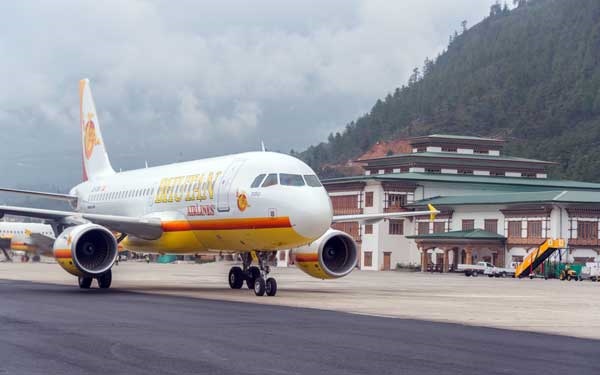 (Source: Bhutan Times)
By Karma Cheki | Kuensel
One of the two-leased Airbus A319 of Bhutan Airlines (Tashi Air Pvt. Ltd) set to replace the current fleet, landed at the Paro international airport on June 23. The second airbus will arrive next month. 
Bhutan Airlines signed the aircraft lease agreement for two airbus with AerCap, a global leader in aircraft leasing and aviation finance on September 28, 2017 in Thimphu.
The Chief Executive Officer of Bhutan Airlines, Phala Dorji said that the current fleet would be replaced, as they would have completed their four-year lease deal by next month.
Bhutan Airlines leased the current aircraft from the Sumitomo Mitsui Banking Corporation (SMBC) Aviation Capital in 2014.
HRH Princess Kesang Wangmo Wangchuck and senior government officials attended the reception ceremony and the consecration of the aircraft. 
The two new aircraft are leased for four years instead of two years. Phala Dorji said that the lease period have to be longer.
"Otherwise every one to two years, there will be lots of documentation and procedural matters. Four years is always the ideal period for leasing aircraft."
Facilities of the new aircrafts which will enhance passengers' flight experience
He said that the new aircraft with its CFM engines would give the clients and passengers confidence as CFM has the best engines. The new aircraft also has good configuration.
"Earlier we had only eight business class seats. Now we have increased it to 12. The economy class has about 114 seats and the aircraft has 126 seats in total."  
Phala Dorji added that the new aircraft also do not include premium seats which were available in the previous aircraft. The new aircraft is also currently ready for operation. 
He said that with the arrival of the new aircraft, the airline would explore new routes.
"For now we are open to Thailand, India and Nepal but if the market demands, we will definitely increase our destination to new sectors."
This article first appeared in Kuensel and has been edited for the Daily Bhutan.
---