National Geographic Photo Camp Team Trained Some Bhutanese On Story-telling Through Photography
Around twenty participants were trained on story-telling through photography at a photo camp from 9-14 March.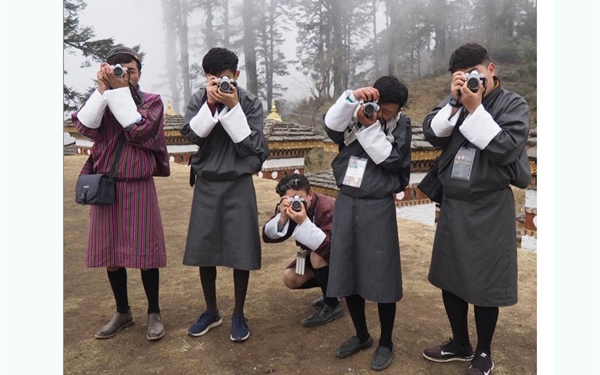 (Source: Instagram/Insidenatgeo)
By Sangay Rabten | Bhutan Today
Around twenty participants from various organisations, media houses, civil society organisations, college going students and unemployed youths were trained on story-telling through photography at a photo camp from 9-14 March.
The objective of the camp is to provide an opportunity for students to tell their own stories using the tools of photojournalism, with guidance from the National Geographic photographers and editors.
The executive director of the Bhutan Centre for Media and Democracy (BCMD), Siok Sian Pek Dorji said that it is important to create space and inspire citizens to tell their stories in order to strengthen democracy.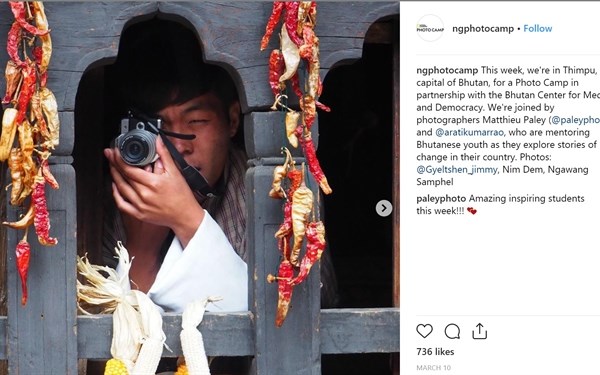 Photo: Instagram/ngphotocamp
"There are more stories about the government in the media which is of course important but people's stories are also important," she said.
The executive director of the BCMD said that this is just the beginning. There is a need to tell more of what is happening in Bhutan. She said that the participants showed interest.
The BCMD has plans to organise the photo camp in other dzongkhags (districts) to train more people in order to get new perspectives. However, budget and resources are the main challenges, according to the executive director.
What some of the instructors from National Geographic said
An independent photographer, writer and explorer of National Geographic, Arati Kumar Rao from India, was an instructor at the photo camp.
She said that she has 'got immense satisfaction as the participants were humble, interested and mindful'. She noted that the participants were confident in getting stories towards the end despite being shy and hesitant at the beginning.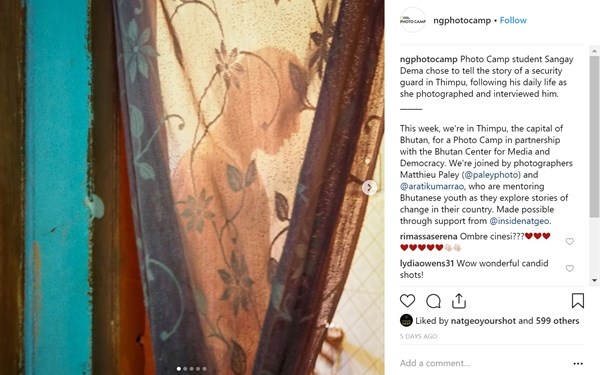 Photo: Instagram/ngphotocamp
The director and founder of the National Geographic Photo Camp, Kirsten Elstner, an instructor from the United States said that the objective of this photo camp is to hear interesting stories about the young people in Bhutan through their perspectives.
"It was striking to find that all of them are willing to learn and show the pride of the country," she said.  
The instructor commented that the participants' standard of photography has improved and she suggested that more stories should be done in depth.
Matthieu Paley, a male instructor from France who is also a photographer shared his observations from the camp.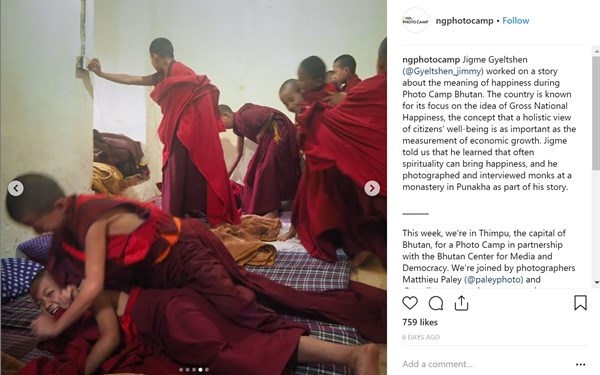 Photo: Instagram/ngphotocamp
"There was unity among the participants supporting each other," he said. He hopes that the participants will continue to work on their photographic skills. He also advised them not to get tempted by social media to create reality which does not exist but to tell the truth using photography.
One of the staff coordinator of the photo camp from National Geographic, Jessica Elfadl said that it was an honour to come to Bhutan to empower the communities to tell their own stories, instead of having outsiders to tell the stories of the Bhutanese.
What some of the participants said
One of the participants, Sangay Dema, 22 said that she just had some basic knowledge of photography before the training. Now she knows more about photographic techniques and storytelling.
"Through this training, my third eye is opened and I will continue to take good photographs," she said.
A recent graduate from the Royal Thimphu College, Jigme Namgyal shared his experience that becoming a good photographer is not easy.
"Yet, I learned that the most important aspect of photography is story-telling and I will try to share it in a different platform. I hope that it will inspire society," he said.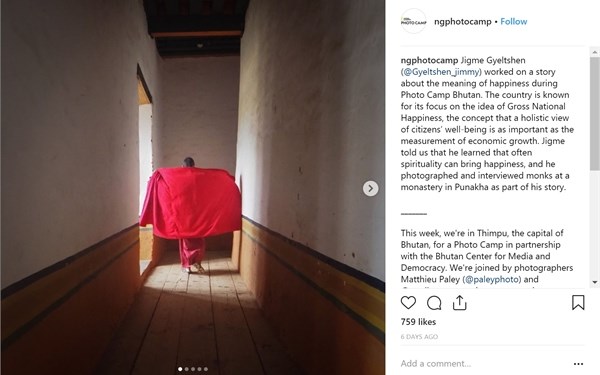 Photo: Instagram/ngphotocamp
Tshering from the Chithuen Phendhey Organisation also shared his satisfaction in acquiring good knowledge of photography.
"I took lots of photos before but they were not good. Now I know how to take photos, how to post them and tell stories," he said.
He hopes that with the knowledge he gained from the training, it will help in advocating the policies of his Non-Government Organisation. He hopes that more people will take part actively in such trainings to accrue knowledge.
The six-day photo camp concluded with a photo exhibition. It was organised by the BCMD, with support from the Bhutan Foundation and a few other Non-Government Organisations.
This article first appeared in Bhutan Today and has been edited for Daily Bhutan.
---