Meet Gomchen Wangchuk - Recognised By UNICEF As The Man Who Helped Eliminate Goiter In Bhutan
Together with support from the Bhutanese government, Bhutan Salt Enterprises (BSE) contributed to IDD-elimination.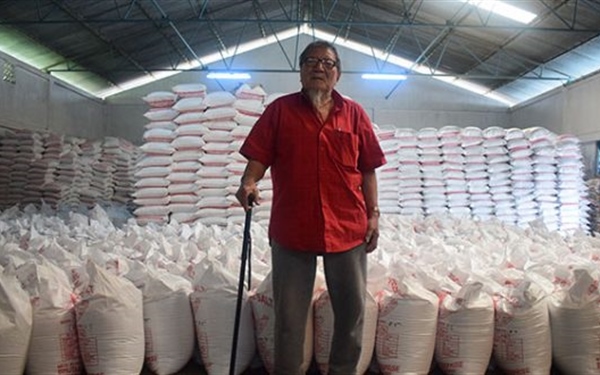 (Source: Kuensel)
By Rajesh Rai | Kuensel
It was 1983. Gomchen Wangchuk, 49 then, had already made up his mind. Alone, he headed to the Indian capital of Delhi.
His journey had not been an easy one. Without any formal education, he had to compete with government officials to get iodisation assistance from UNICEF in Phuentsholing.
"Prior to my visit to Delhi, two Bhutanese government officials had already been there before me to pursue the same deal," he said, adding that the UNICEF office did not finalise the support with them back then. "But I got it!"
This led him to set up Bhutan's first iodised salt plant which is known as Bhutan Salt Enterprises (BSE) and thus began the country's battle to eliminate iodine deficiency disorder (IDD).
In 2004, UNICEF recognised Gomchen Wangchuk for his role in bringing iodised salt to Bhutan which helped to eliminate IDD. He has also contributed to the construction of Mani dungkhars and a lhakhang.
More about Gomchen Wangchuk
A familiar figure in Phuentsholing, Gomchen Wangchuk claims that he is a contented man.
"Although I didn't make much profit, I am happy because I helped eradicate goiter," he said. "The iodised salt even benefited animals in Bhutan."
With so much passion for his cause, his beard has even turned into the colour of the salt he produces.
Originally from Trashigang, Gomchen Wangchuk came to Phuentsholing in the 1970s. He used to serve in the royal court.
Initially, Gomchen Wangchuk tried the common salt business. He imported salt from across the border and distributed it in Bhutan. He then decided to supply iodised salt in Bhutan and commit to his philanthropic passion.
Today, the BSE produces about 800 bags of iodised salt a day from 8 am until noon. Each year, the plant produces about 60,000 metric tonnes of iodised salt. One bag of iodised salt weighs 37.5kg and costs Nu 250. BSE sells a kilogram of iodised salt at Nu 12 a kg, a rate that is fixed by the trade department.
Health issues prevalent in Bhutan in the 1980s
Back in 1983, statistics revealed that the prevalence of goiter was at 64.5 percent in Bhutan. Other problems like cretinism, retardation, slow brain and intelligence development in children and women were also high.
In order to combat these health issues, UNICEF provided the iodisation plant with machinery, equipment, laminated bags (to protect the iodised salt) and chemicals for iodisation.
According to Gomchen Wangchuk, the UNICEF office in Delhi had told him initially that iodisation through injections would suffice in Bhutan and they refused to help. Since he was already doing salt business, it took him only a week to convince UNICEF to support the iodisation of salt.
Three months after his visit to Delhi, the equipment reached Phuentsholing. The Iodised salt plant was set up and production began in 1984.
Positive results following the efforts of the Bhutanese government and BSE
Together with support from the Bhutanese government, BSE contributed to IDD-elimination. Within a period of five years since 1985, the IDD impact study showed that iodised salt had reached villages across the country. This had significantly helped reduce goiter, stillbirths in pregnant women and mental retardation.
UNICEF's international mid-decade goal was to take iodised salt to about 95 percent of the homes in the country by 2000. By the early 2000s, diseases related to IDD dropped drastically in Bhutan. This was attributed to the fact that more than 90 percent of the population consumed iodised salt.
In 2003, Bhutan finally eliminated iodine deficiency completely. The WHO representative for Bhutan, Dr Rui Paulo de Jesus mentioned that goiter which used to be a common feature in the past, is now a rarity.
Laigden Dzed, a nutritionist who is also the programme officer with the nutrients programme at the health ministry, said that Bhutan has been able to maintain the IDD-elimination status since 2003.
"However, another round of scientific study will be conducted in the 12th Plan," he added.
This article first appeared in Kuensel and has been edited for the Daily Bhutan.
---