Many Lives, Many Stories - 10th Edition of Bhutan's Mountain Echoes Literary Festival Underway
About 80 speakers and performers came from different parts of the world with different stories to narrate.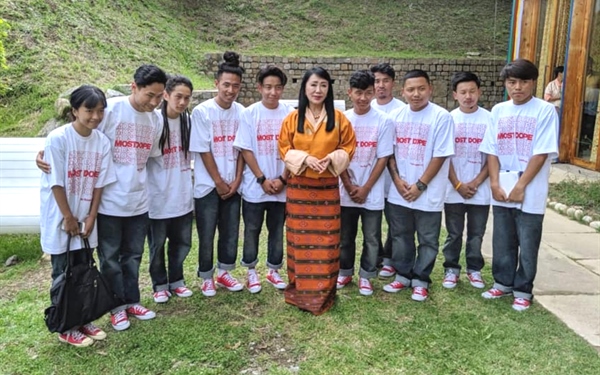 (Source: Facebook/ Mountain Echoes)
By Choki Wangmo | Kuensel
The first day of the 10th Edition of The Mountain Echoes Literary Festival saw charged dialogues and conversations transpiring in Thimphu.
The Chief Royal Patron of Mountain Echoes Literary Festival and Her Majesty the Queen Mother Dorji Wangmo Wangchuck graced the opening ceremony on 23 Aug 2019.
"The journey that we have travelled in the last 10 years have brought us to this level of caring, sharing, and interacting with our hearts, words, and deeds," said Her Majesty.
Zooming in on the theme - Many Lives, Many Stories, Her Majesty paid tribute to her late father Yab Dasho Ugyen Dorji, whom she said had inspired values and visions in Her and Her siblings.
Reminiscing on the life story and times through which the late Yab Dasho Ugyen Dorji toiled tirelessly, Her Majesty remembered Yab as a loving father to their Majesties.
Source: Facebook/Mountain Echoes
"My father was skilled, hard-working, a visionary, and a pioneer in the landscape of entrepreneurship in Bhutan."
Various themes of the Mountain Echoes Literary Festival
The first day saw a huge crowd at the Royal University of Bhutan hall. The talks circled around the legacy of the Wangchuck Dynasty, Buddhism and spirituality, Bhutan's digital journey, journey of a common bird species - the Ruddy Shelduck, graphic imagination and expression through comic writing.
The audience had the choice to switch venue according to their topics of interest. In Taj Tashi - an ancient form of storytelling, modern literature, entrepreneurship and start-up stories, among others, were discussed. 
Artists from Bhutan and India performed in between the talks to entertain and educate on the folksongs and modern dances. Towards the evening, Bhutanese music was showcased at the Clock Tower, jointly organised by M-studio and Mrigya.
About 80 speakers and performers came from different parts of the world with different stories to narrate. They also shared their perspectives on spiritual education, art of cinematic storytelling, engaging stories on food, fashion, wellness and business.
Source: Facebook/Mountain Echoes
On 22 August, Her Majesty formally inaugurated the festival with the traditional lighting of the lamp ceremony.
The Ambassador of India to Bhutan, Ruchira Kamboj, Prime Minister Dr Lotay Tshering, and Festival Director, Pramod Kumar KG attended a launch at the India House in Thimphu.
Mountain Echoes Literary Festival helped strengthen Bhutan-India friendship ties
At the opening ceremony, Her Majesty said that the Mountain Echoes Literary Festival has brought about a better understanding and bonding between Bhutan and India through friendship.
Festival Producer and CEO of Siyahi, Mita Kapur said that away from the humdrum of daily lives, the Mountain Echoes Literary Festival offered a unique platform for language and literature exchange unhindered by cultural differences.
"This festival has played a significant role for understanding each other's culture. Beyond being a platform for young Bhutanese to showcase their talent, I believe the festival encourages them to unearth their skills in the arts and literature," Her Majesty said.
This article first appeared in Kuensel and has been edited for Daily Bhutan.
---