Man Who Bagpipes Around The World Makes Bhutan The 82nd Country He's Played At
The wandering piper says Bhutan is the only place a "Scottish man feels right at home", where people don't question why he's in a skirt.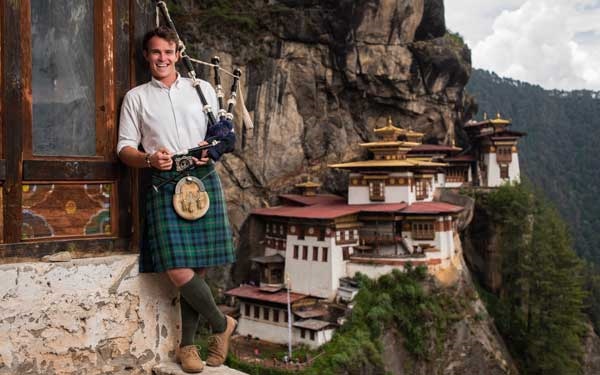 (Source: Chris Parkes)
By Kinley Yangden | Bhutan Times
There are many people who travel the globe attempting world records of various sorts. One such guy is travel blogger and bagpiper Ross OC Jennings, otherwise known as The First Piper.
The 28-year-old is attempting to play the instrument in every country in the world in his white top, kilt and knee-high socks. So far, he's on to country number 82 - Bhutan.
The half-Scottish, half-Irish was recently in the Kingdom for eight days, where he managed to pipe at Bayta Primary School in Phobjikha, Wangdue and for HRH Princess Kesang Choden Wangchuk in Thimphu.
During his tour here, he also played at the valley below Cheri Monastery, where he met a local film crew who happened to be shooting a movie. Jennings ended up performing for them too. He also visited Tiger's Nest and Punakha.
'Is he wearing a new type of gho?'
Jennings, who has an Instagram following of over 23,500, told Bhutan Times that his experience here has been wonderful simply because "this is the only country in the world where people do not think my kilt is a skirt".
"People here aren't wondering 'why are you an ugly woman', because over here, everyone is thinking whether I'm wearing a different type of gho.
"(This is where) a Scottish man does not feel out of place!", said Jennings, who explained that the Scottish kilt used to look a bit more like the gho in the past but these days, they now wear jackets instead of a full robe.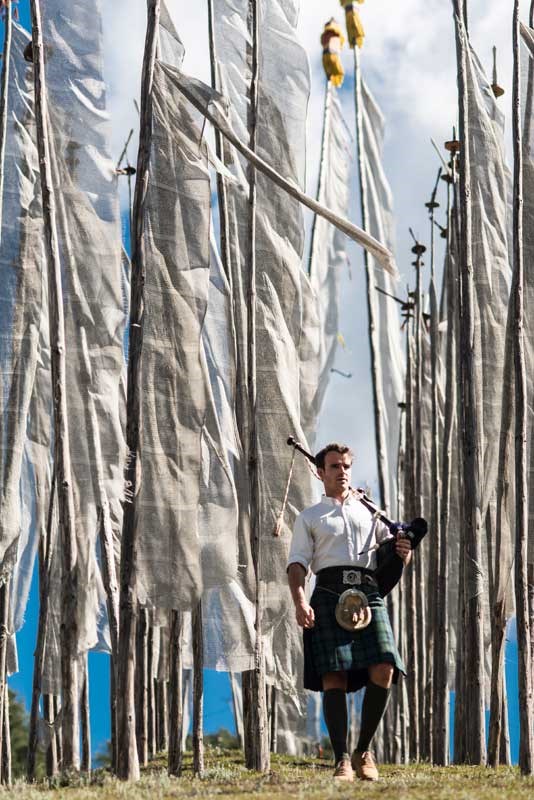 Photo: Chris Parkes
Besides receiving comments on his 'new gho', Jennings told us that some Bhutanese have also asked what type of instrument he's playing, although he also said many people are exposed to bagpipes because of Scottish movies, such as Braveheart.
When asked how did he end up in Bhutan, Jennings said he was approached by Druk Heritage Tours who chanced upon him on Twitter sometime last year.
"Karma Dorji of Druk Heritage Tours asked us if we've been to Bhutan before and we said no. So he invited us and that's how we ended up in Bhutan," explained Jennings, who travels with his two co-founders, Chris Parkes and Travis Bluemling, of Three Wheels Co., a content creation company.
Wanted to be first person to bagpipe in Antarctica
Jennings, who also speaks fluent Mandarin after spending eight years in Shanghai, said he was inspired to travel the world when he met a group of adventurers at an annual travel adventure show in London in 2014. At that time, he was working at a tech start-up there after graduating from a bachelor in Chinese and Economics.
"They did cool things like skateboarding across Australia or swimming the Mississippi River, and that was literally their job title. They were all adventurers.
"I started thinking that night that if they could do it, why can't I do something like that", said Jennings.
He then formulated the idea that he'd be the first person to play bagpipes in Antarctica. However, after some research, he found a photo from 1921 of a piper standing next to a penguin in Antarctica.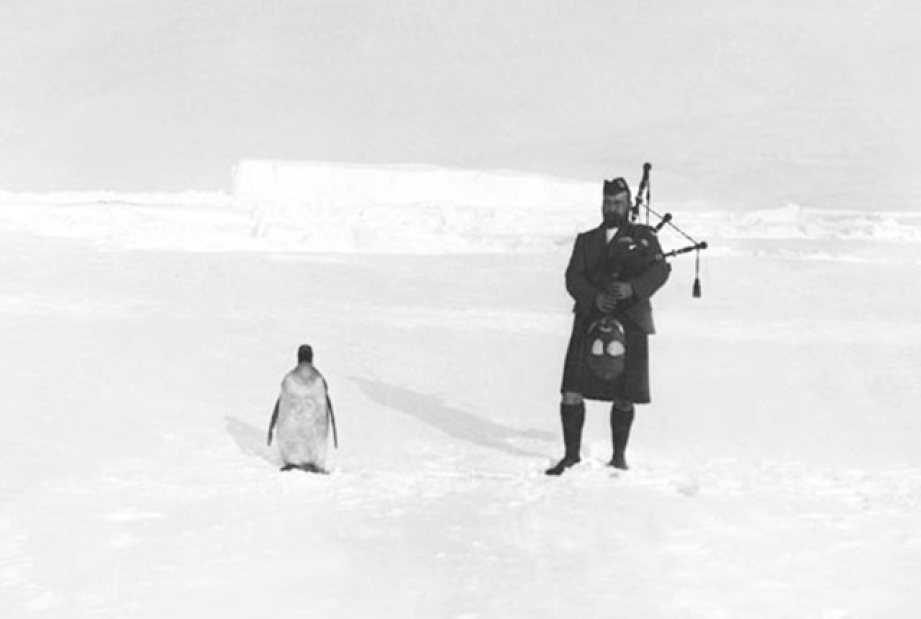 Photo: Wikimedia Commons
Realising that someone had beat him to it, he said: "So now I have to do the whole world, because no one has done that."
With only 3,000 British pounds in his pocket, he quit his job in three months and began his kilted adventures. His first destination? Tunisia.
World record no longer important
Jennings, who learned bagpiping during boarding school in UK, told Bhutan Times that setting the world record as being the first person to bagpipe the world was no longer as important anymore.
He admitted: "Yes, it's very self-indulgent, and I'd be very honest and say I thought it'd catch people's attention by doing something unusual.
"But after a couple of months of travelling, the world record aspect of it was not the important part because it'd take a long time to complete all countries and a lot of money too.
"The day-to-day enjoyment was way more important and the interactions (with people) too."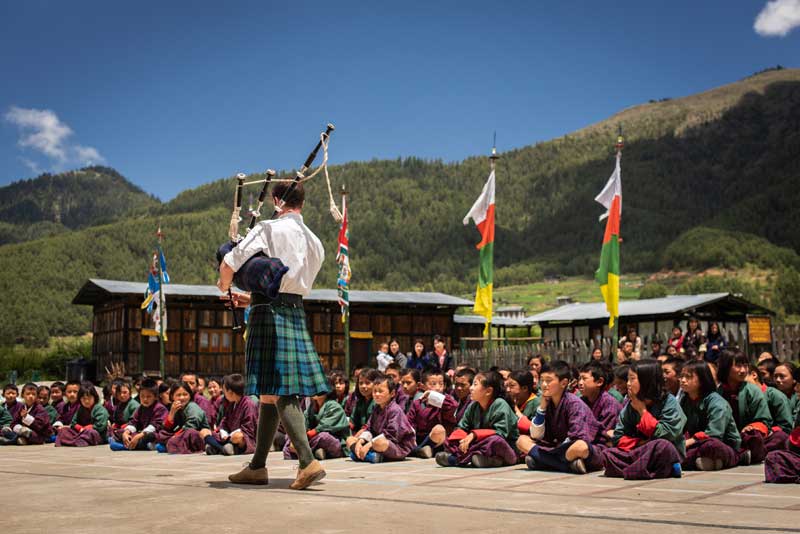 Photo: Chris Parkes
Jennings is also selective about where he pipes at and mostly does so in public places, national monuments and even on mountaintops. He normally stays at least one week in a particular country, shuttling between home in the UK and other destinations.
Struggled initially to fund his travels
Jennings first explored the possibility of harnessing Instagram to fund his travels but that proved to be difficult at the start. He then had an opportunity to work part-time as a motivational speaker in UK schools, which helped to fund his travels.
After getting more brands to work with him on social media to create content, Jennings then decided to start his own seminars and motivational talks, which he began doing in international schools.
Right now, his travels are mostly funded by his public speaking gigs and content creation under Three Wheels Content Co.
Being 'flashed' in Bahrain
Although he did face some objections to his bagpiping once from an angry Dutchman while playing in a busy area in Amsterdam, one of his most interesting experiences he said was in Bahrain.
"I was playing in a soukh (marketplace) with permission from the locals. While I was leaving and about to get in a taxi, two women in full abaya and niqab (Bahraini term for burqa) approached me to take photos. I wasn't sure and felt a little afraid as to whether it was appropriate to do so.
"So we took a beautiful photo together against a wall nearby and when I was about to leave, suddenly one of them lifted up her niqab and said 'remember my face!'", exclaimed Jennings.
"I thought to myself 'how did that just happen? It was bizarre!'
"At that exact moment, an American woman walks past me and told me: 'I think you were just flashed by a Bahraini woman'", he laughed. 
Has yet to travel to South America
There is almost no continent Jennings has not stepped foot on, except for the South America continent, as well as Antarctica and the Arctic, he said.
Having travelled to 80 over countries, the wandering bagpiper has experienced many an interesting and heart-warming interactions with locals, which he says has made him more aware of cultural sensitivities.
Jennings is headed back to Nepal for three weeks after his stay here in Bhutan. When asked what was his favourite experience here, he chuckled and replied: "It was when people were asking around 'is that a new gho?'"
Follow The First Piper's adventures on Instagram, Facebook and Twitter.
---