Interview With Rudolf Schwenk, As He Sets To Leave His Post As Representative Of UNICEF Bhutan
An interview session with Rudolf Schwenk on his work in Bhutan.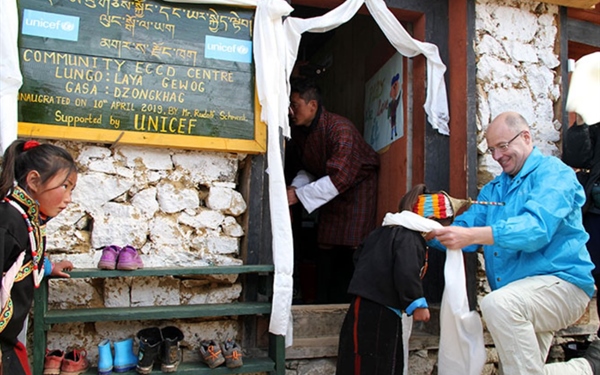 (Source: Kuensel)
By Yangchen C Rinzin | Kuensel
1) You have been in Bhutan since August 2016. As you set to leave, how would you describe your time here?
As I leave Bhutan, as much as I am sad, I am also satisfied with my work. I was so impressed with the country where all the partners with UNICEF including the government are doing so much for children's rights. I was humbled and impressed to see so many partners from different levels including parliamentarians have strong commitment.
Although it is a daunting task to reach every child given the difficult topography and terrains, everyone is trying their best to make sure child's right is protected. 
2) What is your assessment on the Bhutan's progress in areas UNICEF supports such as education and health?
Bhutan has made an impressive development in both the areas where almost all children are in schools, almost 95 percent are immunised, and almost all rural villages have a road, infrastructure, and electricity.
UNICEF also has a five-year plan, which is completed and when we monitor, it has showed that Bhutan has achieved most of the targets.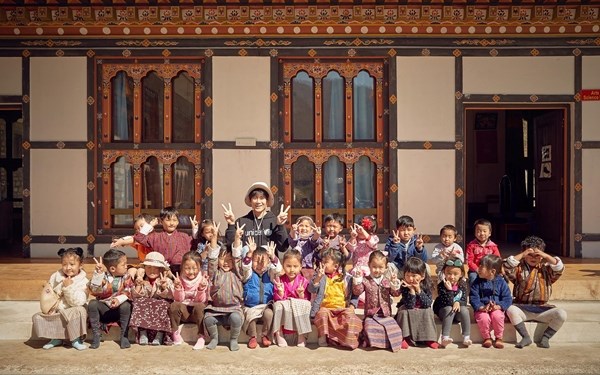 Photo: Facebook/UNICEF Bhutan
Some of the achievements are about 97 percent immunisation coverage for 12 basic antigens covering children under two years of age, 10 high delivery-load hospitals have early essential newborn care and kangaroo mother care services.
There are 650 children with disabilities receiving education in one of the 18 schools with special education needs programmes. 
3) What were some of the challenges you observed in implementing UNICEF's support and interventions?
While there are many programmes that have been achieved, there is still room for improvement and needs to be looked into the last miles. Some of the areas Kuensel's senior reporter Yangchen C Rinzin speaks to outgoing UNICEF country representative Rudolf Schwenk on his work in Bhutan.
Excerpts could be - all children in Lunana still may not have been immunised, some children are out of schools, or do not have an access to school, and one in five children are stunted and two in five are anaemic. There were lack of up to date and accurate data to guide planning and policy making for effective utilisation of resources and ensure optimum results.
It is a priority for us and the government to achieve all this so, we are looking into innovative models and there is a need for diversified economy rather than depending only on the hydropower, tourism and agriculture. There is a need for knowledge based economy, IT infrastructure and skills for young people. 
4) The convention for the rights of the child (CRC) turns 30 this year. How has Bhutan fared in protecting the rights of the child?
Bhutan has done really wonderful job when it comes to protecting the rights of children - from health to nutrition and to education. Bhutan has always been proud and mindful of what still needs to be done and has commitment that is not yet prefect, but there is a knowledge of what to do and how to go about.
Different partners including the foreign minister have signed a big canvas committing to child rights without any hesitation, which is a clear indication of commitment to protecting child rights. 
5) In the context of the rights of the child, what are your views on the recent issue that came up on lowering the age of consent?
It is nice to see the lively debate in the Parliament, which is very transparent and open. However, on the particular issue, what is most important is to respect the age, the definition of the child as per the CRC, which is 18 years. It is also the same in Bhutan Child Care Protection Act. 
6) ECCD has been one of the focus areas for UNICEF. A study on ECCD pointed out that private ECCD centres have not grown in the last six years compared with community-based centres. What could be some of the reasons for this trend?
ECCD is essential for the country to make sure the child gets the best. In cities, who understand this concept, it is easier to have private centres.
Source: Facebook/UNICEF Bhutan
However, in remote places, with less children, no financial means, also who don't understand the importance of ECCD, it is more difficult to have private centres.
This could possibly be the reason why it has not gone beyond big cities. This is why the government and the society need to go beyond. The government plans to have 50 percent of
ECCD by 2023 - it is a strong agenda and ambitious. This is why a sense of urgency has to come, we as UNICEF not only provide technical expertise but also funding.
This definitely requires consolidated efforts. There are 13 community-based ECCD centres set up in 2018, taking the total number of centres to 282 reaching more than 6,000 children.
7) The State of the World's Children 2017 has recommended actions to protect children from online harm. What is your assessment on how vulnerable Bhutan is in this case?
There is a need for parental guidance and peer support. It is not easy to make children understand about online harm; the child needs to explore to become innovative and creative, but there are risks too. We've to accept their world is different from ours.
We have built advocacy programmes and we try to address from different angles. However, personally I feel we should listen and engage with the child to talk about pros and cons of being online.
UNICEF has worked with local broadcast media to create awareness on online safety and build children and adolescents' capacity to recognise and report abuse. 
8) UNICEF has played an important role in Bhutan's development journey. How do you see Bhutan's graduation from the LDC status and what does this mean for UNICEF Bhutan?
It is a success story. It was wise to extend the graduation process. There are vulnerabilities and the country still needs support. UNICEF is committed to support Bhutan as much as we can. We have adopted a country programme in a way that we will still do the service delivery and policy support to make best use of available resources and not about only giving the money. 
UNICEF looks forward to engaging with relevant partners in supporting the decentralisation process and helping the transition towards a more decentralised governance, by supporting capacity building in results-based management and public finance management. 
9) UNICEF has worked closely with the monastic body. How would you describe your experience in this area and what more needs to be done?
The young nuns and monks need support. Some are vulnerable with no resources so, we are partnering across all programmes to help the monastic body.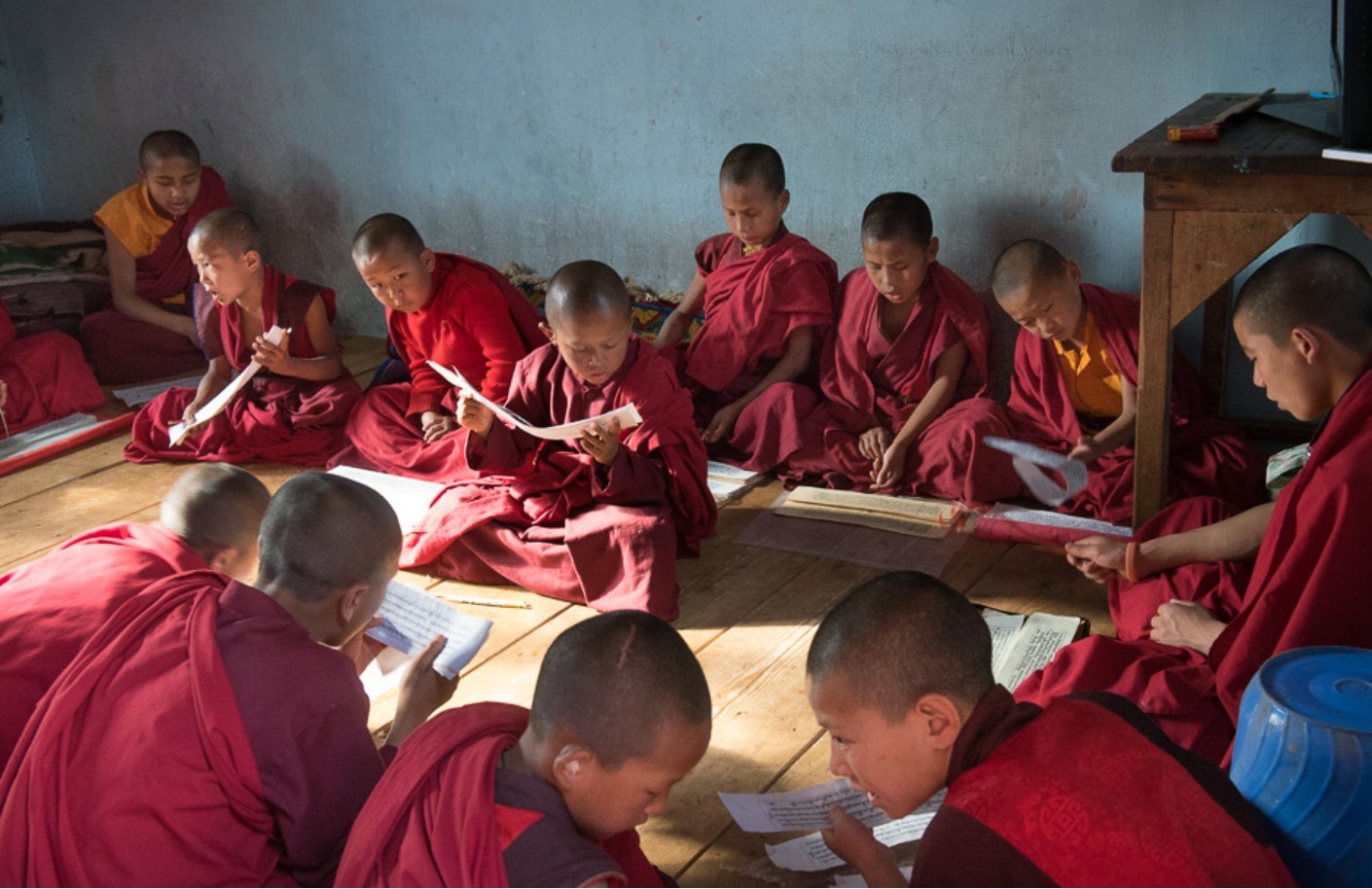 Young monks at the monastic school of Chimi Lhakhang (Temple).
Photo: Markus Wild
More needs to be done and it is a complex area. How connected or disconnected they are from other parts of society and how much or do they want to be able to follow English news. I have talked and heard from them on how much they want to learn basic literacy and numeracy.
Which is why programmes like functional English literacy and numeracy, disaster management, sports for development, and child protection programme for strategy and action plan for the Dratshang Lhentshog (Commission for the Monastic Affairs of Bhutan) are put in place. 
10) What would be your advice to the incoming UNICEF representative?
He has already visited Bhutan about seven weeks ago, which is our usual practice. I have already briefed him about special partnering and commitment that Bhutanese government has.
I have also informed him about strategic programmes designed for five years, priority areas, progress made, what needs to be done, and also about the great team in the office. I am sure that he will take forward the work we have done even forward and make the collaboration even stronger.
This article first appeared in Kuensel and has been edited for Daily Bhutan.
---