International Tiger Day Commemorated In Bhutan With The Theme – Their Survival Is In Our Hands
The International Tiger Day was observed in Panbang Primary School, Zhemgang on 29 July.
(Source: ResearchGate/Phuntsho Thinley)
By Choki Wangmo | Kuensel
Themed 'Their survival is in our hands', the International Tiger Day was observed in Panbang Primary School in the district of Zhemgang on 29 July.
The day brought together the communities of Norbugang and Panbang to create awareness on the importance of tiger conservation, according to a press release from the Global Tiger Centre in the district of Gelephu, Bhutan.
Just a day before the International Tiger Day, ex-poachers under the 'Hunter to hermitage' programme in Norbugang cleaned the water discharge pond and initiated habitat improvement for tigers and other wildlife living in the area.
Activities held to commemorate International Tiger Day in Zhemgang
To create awareness and to strengthen conservation activities, students competed in art and story writing competitions with the theme - Tigers and my community.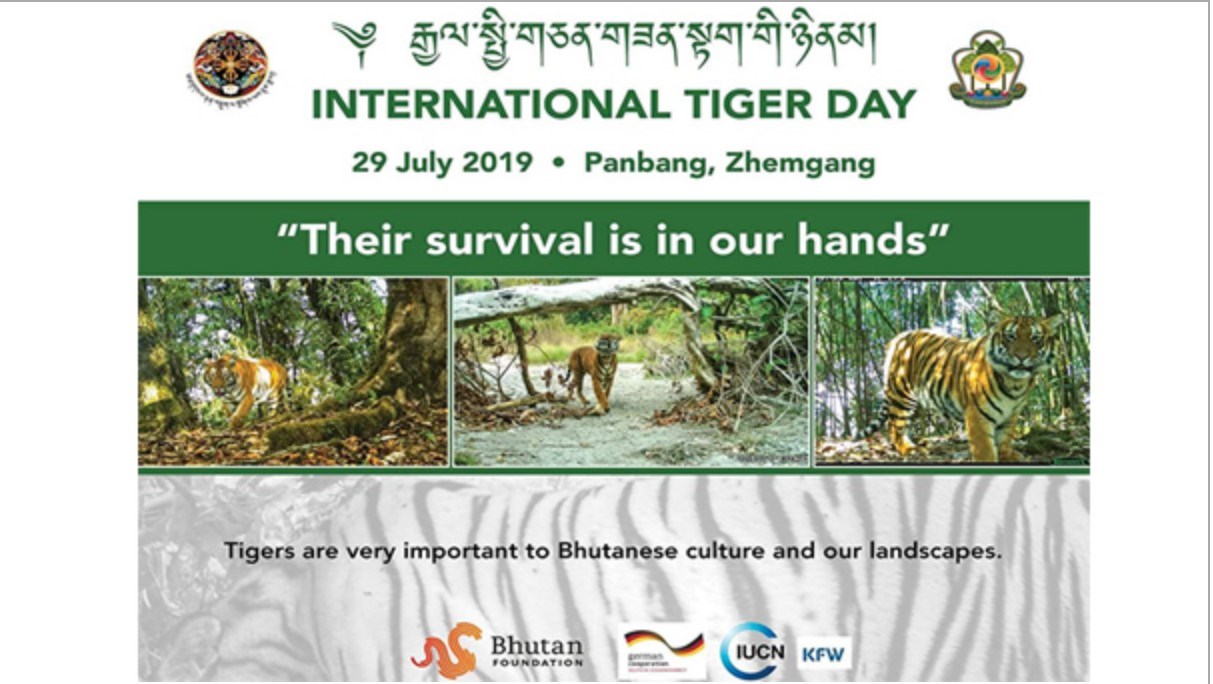 Photo: BBS
An entertainment group presented programmes based on the theme of the day and a new tiger theme song was also launched.
Relevant stakeholders and partners also took part in the events which were funded by the Bhutan Foundation and graced by the Zhemgang Dzongdag.
The programme was organised by the Global Tiger centre, in collaboration with the Royal Manas National Park and Zhemgang Forest Division.
Actions to be undertaken in Bhutan to increase its tiger population
From 2018 to 2023, Bhutan Tiger Action Plan reported an estimated figure of about 103 adult tigers roaming freely between 100 and 4300 metres above sea level in Bhutan.
The action plan aims to increase the tiger population in Bhutan by 20 percent by the year 2022, based on the 2015 baseline figure of 103 tigers.
The plan is expected to reduce the poaching of tigers by 90 percent and strengthen anti-poaching strategies.
Under the action plan, the zoning and delineation of critical tiger habitats within and outside the protected areas would ensure the survival of the tiger species.
Source: Vimeo/Bhutan Foundation
In addition, the improvement of the tigers' habitats in Bhutan can be achieved through the: enrichment of plantations, salt lick and waterhole creation as well as the management of grassland and abandoned grazing grounds.
To avoid human-tiger-conflict, the action plan will enable conflict prevention strategies through awareness, improved livelihood opportunities, and the construction of physical barriers.
In working towards long-term conservation, actions such as: scientific data and information collection, periodic assessment of tiger population and its distribution will also be carried out.
Globally, for about half a century, tigers has remained an endangered species in the International Union for Conservation of Nature and Natural Resources (IUCN) Red List of threatened species.
This article first appeared in Kuensel and has been edited for Daily Bhutan.
---