In A Bid To Remain Carbon Neutral, Bhutan Aims To Buy More Electric Cars
It is estimated that through the initiative, Bhutan will reduce carbon emissions by 93,000 tons over the lifetime of one electric vehicle.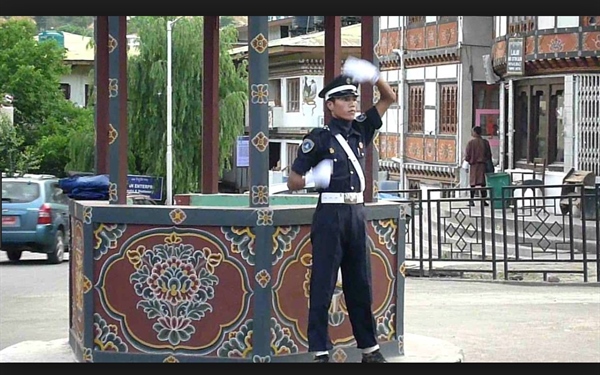 (Source: Youtube/Thimphu traffic cop dance-2.)
By Phub Gyem | BBS
In the latest development towards the implementation of Bhutan's Sustainable Low-Emission Urban Transport system, the Ministry of Information and Communications (MoIC) has written to the Royal Monetary Authority (RMA) to increase the loan ceiling for the purchase of electric vehicle taxis to 70 per cent. The intention is to purchase electric vehicles of better quality as they come at a higher cost.
Aims of buying better electric vehicles
This is to make electric vehicles affordable for taxi operators. Bhutan's Sustainable Low-Emission Urban Transport system aims to roll out 80 electric vehicle taxis in the Thimphu region by the end of this year.
The aim of this project is to steer Bhutan's effort towards remaining carbon neutral. The RMA also increased the loan ceiling on the purchase of electric vehicles to 50 per cent.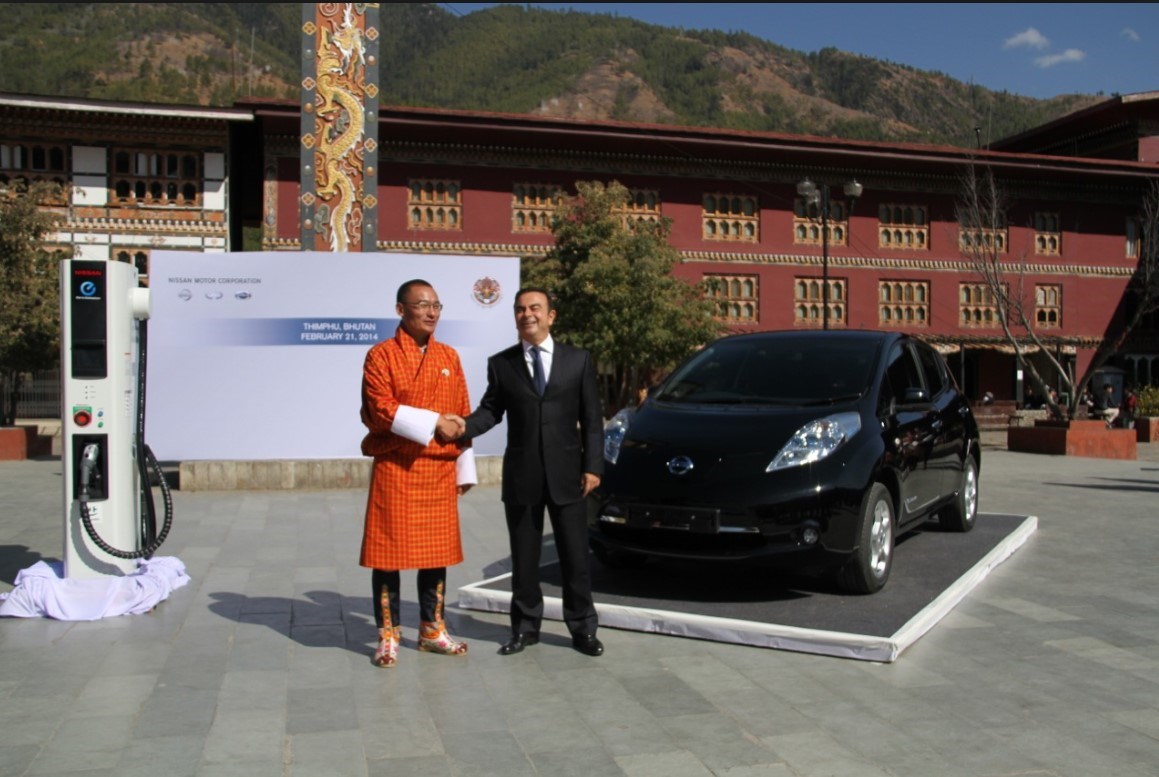 In 2014, ex-Prime Minister Tshering Tobgay of Bhutan and Nissan's CEO Carlos Ghosn announced an agreement between the nation and the carmaker to work together towards converting the country's vehicles to almost all electric power.
Photo: Green Car Reports
"Through some research, we have come to know there are a lot of electric cars that give a good range of about 200 to 400 kilometres after one time charge. For instance, the Nissan 3rd generation gives 400 kilometres, likewise, the Hyundai Kona also gives the same range and Ford gives 200 to 300 kilometres. All of these cars cost a minimum of Nu 1.5 M to Nu 2.7 M. So if taxi operators choose a car that gives 400 kilometres the cost is also higher, and then comes the question of affordability," Phub Gyeltshen, the Project Manager of MoIC said.
There is a 20 per cent subsidy grant which translates to US$ 5,500, on the purchase of every electric vehicle taxi. Till date close to 100 taxi operators have already registered with the project office.
Advantages of using electric cars
"I personally like electric cars. The fuel price keeps fluctuating these days and we could save if we don't have to fuel cars," Tshering Wangmo, a taxi operator, said.
"We spend at least Nu 800 to 900 on fuel every two to three days when we don't have passengers. And when we have passengers, we spend more than Nu 1000 a day," said Tshomo, another taxi operator.
"Initially there weren't many interested but now we have quite a lot interested and wanting to register. If the project office sets up adequate charging stations across six regions of Thimphu, Punakha, Paro, Chhukha, Haa and Wangdue Phodrang, I don't see any inconveniences," Dorji Wangchuk, the President of Taxi Association, said.
The project is expected to bring in significant health, environmental and cost benefits. It is estimated that through the initiative, Bhutan will reduce carbon emissions by 93,000 tons over the lifetime of one electric vehicle.
Besides this, the project will also help cut down the cost of fuel import. According to the National Statistics Bureau, in 2016 alone Bhutan spent more than Nu 7bn on fuel import.
Plans for more charging stations in the pipeline
The project also plans to set up 25 charging stations in six districts- Haa, Paro, Punakha, Phuentshogling, Wangdue and Thimphu.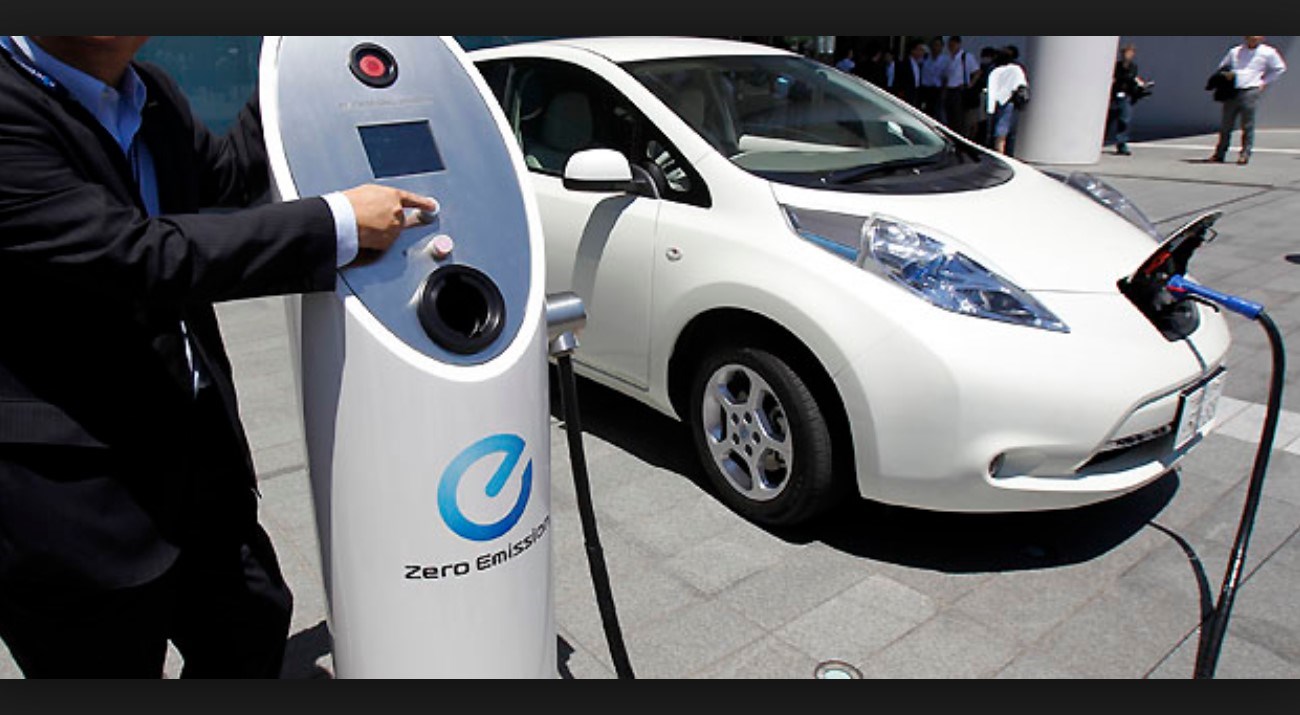 Electric Vehicle charging station.
Photo: Asian Correspondent
It is projected that 300 taxis in these districts will switch to electric vehicle taxis within three years. It was found that taxis form only five per cent of the total vehicle fleet. But their contribution to carbon emission is three times higher due to higher travel intensity and mileage of about 75,000 kilometres per year.
"The emission from cars is very high in Thimphu considering the increasing number of cars in the town. We targeted taxi drivers because it is the taxis that travel the most. They go about 150 to 200 kilometres, minimum every day. Consequently, they are the ones who use the most fuel, emitting more harmful gases," Phub Gyeltshen, the Project Manager from MoIC, added.
The MoIC is implementing the project together with UNDP Bhutan with the financial support of US$ 3 M from the Global Environment Facility.
This article first appeared in BBS and has been edited for Daily Bhutan.
---