How Well Prepared Is Bhutan To Deal With A Covid 19 Outbreak?
Bhutan has so far not reported any cases of Covid 19.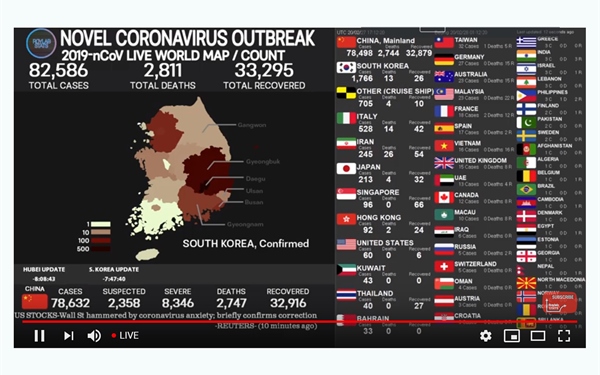 (Source: Youtube/Roylab Stats)
By Staff Reporter | Daily Bhutan
As of 27 February, over 82,500 people have been infected by the Covid 19 virus around the world, with rapid outbreak of the disease in South Korea, Italy and Iran in the past few days.
Amid concern over a surge in cases outside of China that could signal a new stage in its global spread, World Health Organisation's officials have warned that the window of opportunity to stop the Covid 19 virus outbreak globally is shrinking.
So how well-prepared is Bhutan, a tiny Himalayan Kingdom which shares a border of about 470 km with its giant neighbour China, the source of the outbreak of Covid 19?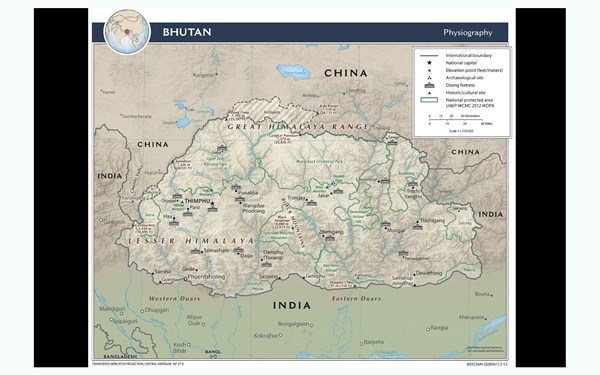 Map: Gerald J. Coleman/CIA World Factbook 2015
Although Bhutan has so far not reported any cases of Covid 19, its Health Ministry has been urging people to practice good hygiene and to wear a mask when sick.
Precautionary steps taken by Bhutan's Health Ministry
Recently, Bhutan's Health Emergency Management Committee, which is the highest decision-making body for emergencies in the country, has approved a proposal to build an additional structure specially meant for treating Covid 19 patients.
It will be built adjacent to the emergency ward of the Jigme Dorji Wangchuck National Referral Hospital (JDWNRH) in Thimphu for the stabilisation of ambulatory patients before lab test confirmation of the disease.
This is being done as a precautionary measure to contain the spread of the virus to the community at large.
Going by the report from Bhutan's Health Ministry, there has been 23 suspect cases of the Covid 19 so far. However, samples which were sent to AFRIMS in Bangkok turned out to be negative.
Mobilising health workers to prevent the outbreak of Covid 19
To enhance Bhutan's National Contingency Plans and preparedness against any outbreak of the virus, more than 28 doctors and 400 health care workers have been trained in hospitals across the 12 Point of Entries into the country, including the Samrang BHU.
Source: Youtube/Roylab Stats
To bolster its borders, two infrared thermal scanners procured by the World Health Organisation have been set up at the Paro International Airport and the Phuentsholing point of entry.
Up till the 25th of February, over 52,000 people have been screened at these point of entries.
Moreover, desuups, police and immigration officials are also fully engaged in screening the public at the various land crossings.
Beds and other amenities for quarantine as well as isolation rooms have also been provided at the Paro International Airport.
In addition, the management of contact tracing (should there be a suspect case), has been put in place, in collaboration with the relevant airlines.
Meanwhile, as the government of Bhutan prepares for the prevention of a Covid 19 outbreak, a local contractor from Thimphu made a heart-warming gesture by donating 10,000 face masks to the Health Ministry, out of goodwill.
---