How Can Bhutan Brand Itself Internationally? Singapore Expert Gives Take On Nation Branding
Singaporean author and consultant Mr Koh Buck Song gave his perspectives on how Bhutan can advance itself with nation branding.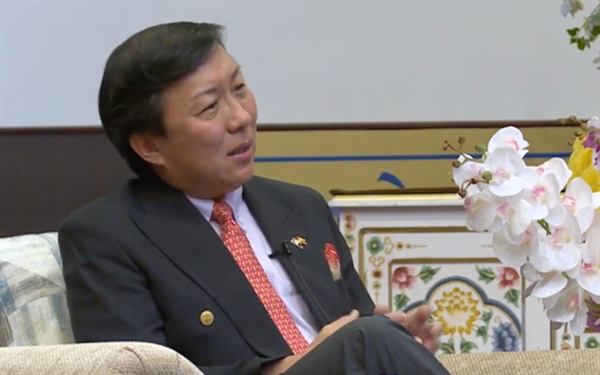 (Source: RIGSS)
By Kinley Yangden | Daily Bhutan
Bhutan possesses a great potential to advance its nation's brand on the global stage. But it will take a multi-faceted approach, mostly centred around a reputation that the country already has - happiness.
This was one of the many perspectives articulated by Mr Koh Buck Song, brand advisor and consultant from Singapore. He is also the author of "Brand Singapore: How Nation Branding Built Asia's Leading Global City", where he wrote about Singapore's initiatives in building its brand and reputation to the world.
Mr Koh was speaking at the 5th Royal Institute for Governance and Strategic Studies (RIGSS) Dialogue that was held at the institute in Phuntsholing on Wednesday (April 10). The dialogue was moderated by Dasho Kinley Dorji, former secretary of the Ministry of Information and Communications, and attended by a full-house audience, including former prime minister Dasho Tshering Tobgay.
Happiness as Bhutan's brand
"The contribution that Bhutan has made to the global discussion on happiness is a very valuable and tremendously attractive one," said Mr Koh.
Looking from a country brand perspective, Mr Koh said there's already a strong brand in the world relating Bhutan to happiness. He added that there is great potential for Bhutan to build on Gross National Happiness (GNH) and how a society should reorder its priorities.
"I've heard many speakers sum up (one of) the Four Pillars of GNH - equitable and sustainable socio-economic development - and drop the two adjectives that are absolutely critical: Equitable and sustainable, which address possibly the two most major issues in the world today (that are) inequality and climate change", explained Mr Koh, who added that more attention needs to be paid to the Four Pillars and Nine Domains of GNH.
Ordinary Bhutanese as brand ambassadors
The average Bhutanese can possibly be great brand ambassadors for the country.
"One of the game-changing advances that Bhutan can do is the deployment of brand ambassadors. These ambassadors are actually your own people, the ordinary Bhutanese," said Mr Koh.
He illustrated this with an example on how Singapore is trying to express its country's brand attributes to a foreign audience with the slogan "Passion Made Possible", where it attempts to show Singapore as a place of different industries and talents, and where anything is possible.
Mr Koh related this example back to Bhutan: "Certainly there are some ordinary Bhutanese, real people, who can tell that story and project the brand attributes on national happiness."
No top-down approach for nation branding
When asked by Dasho Kinley Dorji if there was a central government agency that was in charge of the strategy of country branding, Mr Koh replied that in Singapore's case, there is none.
He explained that Singapore may not be a good example in this aspect, as most of the effort and leadership of said branding efforts are conducted at a sub-brand level. Mr Koh reiterated that "sub-branding" meant the branding approaches that are conducted among specific sectors, such as tourism or foreign investments.
Instead, Mr Koh advised that instead of being assertive at a national level from the top, these sub-brands can actually "take ownership and leadership. This has been Singapore's main operating model for the last 50 years".
He also added that Bhutan probably does not need a new logo or tagline for the entire country anyway because it has already built a reputation for itself.
Singapore's success in nation branding
During the question and answer session, Director General of the Tourism Council of Bhutan, Dasho Dorji Dhradhul, questioned the secret behind Singapore's success in its nation branding exercise.
For Singapore to be successful in branding itself, there had to be strong political will and support in almost all initiatives that was made, said Mr Koh.
He gave an example of the inception of the Formula One night race in Singapore. Mr Koh explained that politicians were actively involved in the whole process, right from the start to end, from the negotiation process to the opening ceremony.
Without political willingness and enthusiasm, such initiatives would not have been as successful as they are now, which help to contribute to Singapore's reputation.
The 'Little Red Dot'
Dasho Tshering Tobgay gave his insights into nation branding and highlighted that there is also another aspect that Bhutan could brand itself.
He explained that Singapore enjoys a national brand of being a First World Country and a Little Red Dot, which was meant to "humiliate and undermine Singapore, but Singaporeans took it and ran with it, and that played out very well".
"No country in the world brands itself as a Third World Country or middle income country. Every country aspires to brand itself as a First World Country, and we must also do that. We are extremely fortunate, as there is no other country that is as economically vulnerable, poor and resource constrained as Bhutan, but enjoys such a good de factor brand of happiness.
"We have a brand that tells a story that connects to one another: From Shangri-La, to happy people, to a distinct culture, to pristine environment. And dare I say, the way good governance has been implemented, and how democracy was imposed and conducted in the country," explained Dasho Tshering Tobgay, who also questioned how Bhutan can move forward with a consistent national brand that does not undermine the ambitions of it.
Dasho Tshering Tobgay said that because of this, in a way, Bhutan did not really have to "scratch their heads", as the "brand was gifted to us".
Mr Koh agreed and added that Dasho Tshering Tobgay had captured the beauty of country branding and branding building, and how multi-faceted it is.
"It may not be always necessarily to reign in one sector that appears to be assertive. Maybe the approach is to come up with a set of key brand attributes that everyone agrees on. And let the sub-brands run and do their thing, so long as there is coherence and consistency at the basic level," explained Mr Koh.
Living up to your brand
Dasho Kinley Dorji acknowledged that nation branding and building its identity is a complex issue.
"We have an amazing brand - GNH - but we need to live up to it. And this is perhaps where we can draw lessons from Singapore," he said, adding that it was the responsibility of the Bhutanese to live up to this brand.
What is the country's 'national metaphor'?
Mr Koh concluded the dialogue by asking the audience to reflect about what national metaphor can be adopted by Bhutan, an idea that inspires and energises the people.
To illustrate a national metaphor, Mr Koh gave an example of the metaphor used by New Zealand. The Number 8 Wire is ubiquitous in New Zealand and is used there to create farm fences to protect the land, crops and animals. The Number 8 Wire then came to represent the ingenuity and resourcefulness of the people of New Zealand, as the wire is hardy, flexible and serves as a symbol of protecting its resources from threats.
Mr Koh suggested that a national metaphor that Bhutan can possibly adopt is the dragon, as it is different from the Chinese and English dragons.
"People may have other suggestions. You may arrive at a consensus (on a national metaphor) and it will be a wonderful thing. You then have everyone, and generations after, inspired by the key brand attributes of that country and its people.
"And therefore, you're motivated to realise what individuals can achieve in their own lives and their countries as a whole," concluded Mr Koh.
---
---