How Bhutan Has Changed Me: Natalia Wangdi
Natalia Wangdi, who is from Russia, speaks about how Russian culture is so similar to Bhutanese culture and how she feels like home in Bhutan.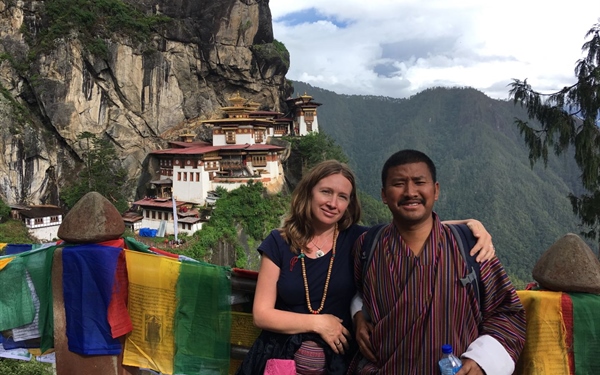 (Source: Natalia Wangdi)
By Passang Lhamo | Daily Bhutan
"I heard about Bhutan because I was Buddhist practitioner since long time ago so I wanted to visit one day, but I didn't know that I will be so close to Bhutan," said Ms Natalia Wangdi.
Ms Wangdi, who is originally from Russia and currently lives in Thimphu, is the owner of Brusnika Russian Cafe and Bakery in Langophakha.
Ten years ago, Ms Wangdi – a Buddhist practitioner – visited Bodgaya in India for a week to attend annual moenlam (to pray for peace and harmony in the world) "The Kagyu Moenlam for World Peace"  and that was where she met her future husband a Bhutanese, who had travelled to Bodgaya too. They married in 2011 in Russia and received their marriage certificate in Bhutan in 2016.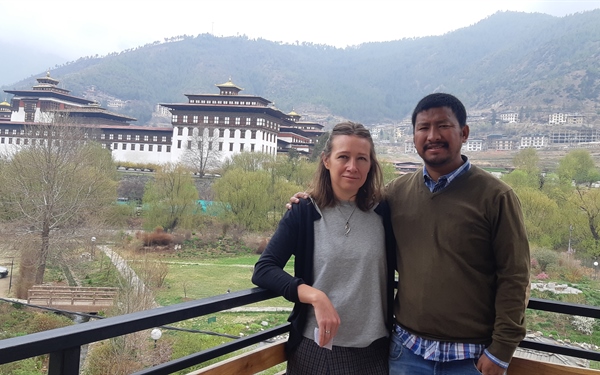 (Source: Daily Bhutan)
Her husband is from Trashiyangtse and they have three beautiful daughters. The elder one is studying in class one in Thimphu Primary school. Right now, they are living in two countries: half a year in Bhutan and half a year in Germany, as Ms Wangdi's husband is doing his PhD in Hamburg University, but she said that "we plan to settle in Bhutan after he completes his studies".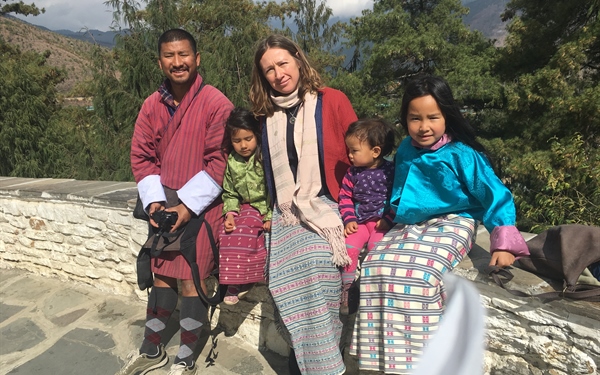 Ms Wangdi and her family at Changgangkha Lhakhang temple. (Source: Natalia Wangdi)
Visited Bhutan as a tourist 10 years ago

 She first came to Bhutan as private guest of her future husband 10 years ago. 
"From the beginning, I felt Bhutan was like a home," recalled Ms Wangdi, who was born and grew up in the Republic of Buryatia, which is part of Siberia, Russia that borders Mongolia. It is one of the Buddhist republics in Russia. Interestingly, Buddhism is one of official religions in Russia.
She added that the culture and the life in Russia, especially in her homeland is similar to how life is in Bhutan. For example, there is abundant nature in both Bhutan and Buryatia, Tibetan Buddhism is widespread, and even the way she receives guests in Russia is the same way how the Bhutanese visit their families. So for Ms Wangdi, life in Bhutan is similar to her life in Russia.
When asked if she misses home, Ms Wangdi said: "No, I don't miss home, it's my home here (laughs). Of course I miss my family, but I visit my family once a year. Anyway before I came to Bhutan, I didn't stay with my parents. Since I was 17, I went to big cities to study and I was travelling a lot around , so it's not like I left something suddenly in my country and came here."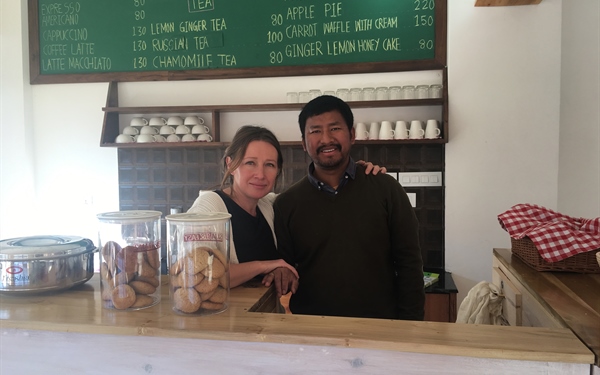 (Source: Natalia Wangdi)
Opening Brusnika Russian Cafe and Bakery
 In a white double-storey house facing Ludrong Memorial Garden is both Ms Wangdi's workplace and home. On the ground floor, she runs Brusnika Russian Cafe and Bakery, a cosy cafe where she bakes and sells an assortment of bread and pastries. There is also a playground outside and play zone inside the cafe for the kids.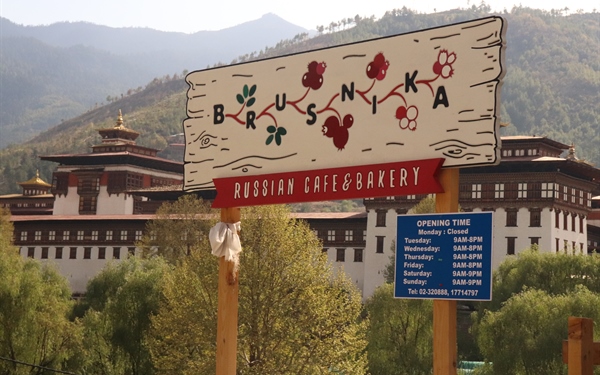 (Source: Daily Bhutan)
She said: "As a parent of three small kids, I understand what parents need, so we made the lounge with a play zone so that parents can dine and children can play.  It's really good for everybody in the end."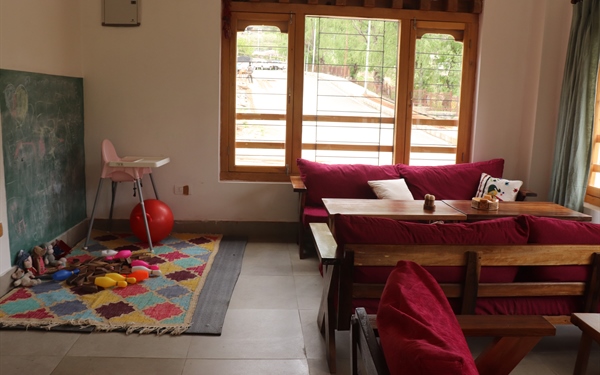 (Source: Daily Bhutan)
When Ms Wangdi was in Bhutan and pregnant with her first child, she said she missed having bread very much.
"For Russians, breakfast is always bread. It was difficult for me to have rice as breakfast every day," she said.
So she started to bake her own bread. She said it was not so difficult for her because most women in Russian families know how to make bread. She found out that some Bhutanese also like bread and came up with an idea to open a bakery. It was difficult to adjust recipes for local ingredients, so, even though Ms Wangdi uses traditional Russian recipes, she had to change all the ingredients, and now we will not find anything in her bakery that uses the original recipe from Russia.
Ms Wangdi told us that not all her staff were professional from the beginning, so she taught them how to make breads and cakes. Now, she serves four types of bread, and bread is the bestseller in her cafe. From breads to cakes, the cafe has now moved on to serving lunch and dinners as well.
"I use mostly local ingredients and most are from the vegetable market. This is our concept here," she added. "But I have to bring something from Russia as well, like some herbs and spices.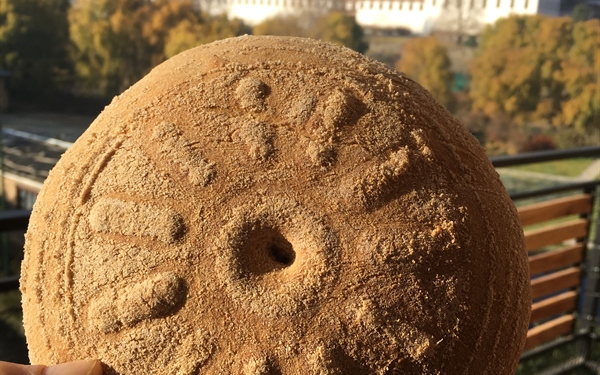 (Source: Natalia Wangdi)
"Now I have a team of 10 people and I'm very proud that I could teach somebody, provide jobs and most importantly, they are managing so well! I can leave the café for a few months and I don't have to worry because my Bhutanese team makes everything themselves."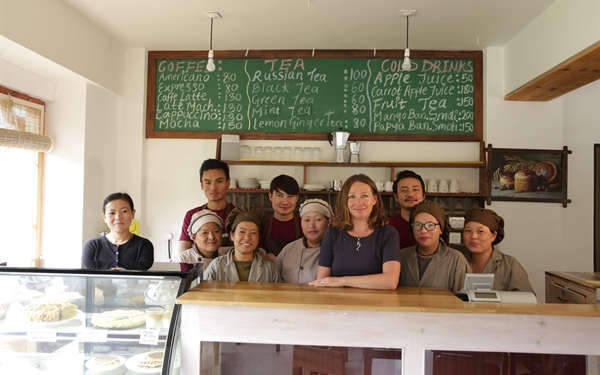 Natalia Wangdi with her team at Brusnika Russian Cafe. (Source: Natalia Wangdi)
How it's like living in Bhutan
"I don't know any other place where Buddhism is so alive. I like to stay here more than any other countries. I feel like it's more like home here and very much relaxing. I enjoy being in Bhutan," said Ms Wangdi.
She added, "Bhutan is very different. It's one place where people think about nature, culture and religion."
The new things she learnt being in Bhutan is eating hot and spicy foods. She says she likes to eat chillies now and it has become a habit for her to have a little bit of chillies with meals.
Ms Wangdi and her husband also run a travel agency. "We receive mostly Russian guests and they always share how they like Bhutan, how they feel happy here. So I feel like I found my way: I show Bhutan with its rich culture and I show a bit of Russian culture to Bhutanese people in my café."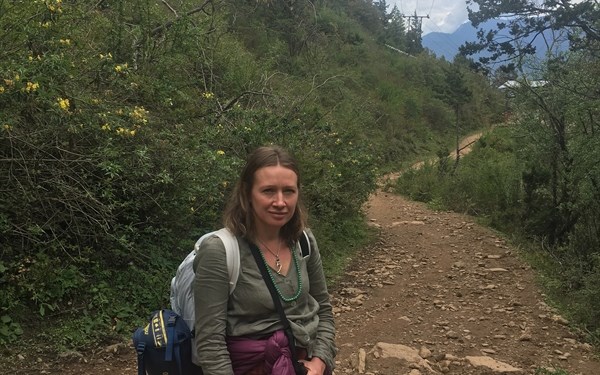 ---