Harnessing Tenets Of Gross National Happiness To Make Brand Bhutan Education A Success
Brand Bhutan Education can potentially also become a new sector in the economy.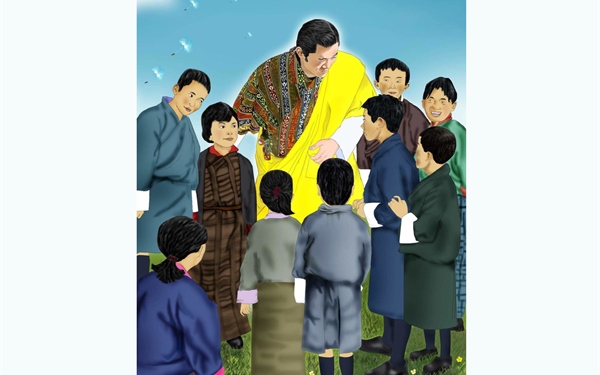 (Source: The Basnet)
By Usha Drukpa | The Bhutanese
Within a period of five years, the Education Ministry is planning to build its very own unique brand in the education. The objective is to create 'Brand Bhutan Education', encapsulating Bhutanese values, which is also expected to be a source of income for the country.
Education Minister, Lyonpo J.B Rai said that the main aim is to develop a 'Brand Bhutan Education' tag which would mean high quality education benefitting Bhutanese students. It can potentially also become a new sector in the economy.
Diversifying Bhutan's economy
He added that Bhutan cannot just rely on income from hydropower, therefore Brand Bhutan Education can help promote Bhutan as a good destination for quality education and as a gateway to get into international institutes.
To demonstrate an example of just how viable an income which education can bring, Lyonpo said that around four to five million people in the Darjeeling hills survive just on tourism and education.
"Students from all over the world will come here for their education, and this is a dream of education, sustaining the Bhutanese economy through education and promoting Bhutanese values and culture in global peace, prosperity and happiness," said the Lyonpo.
The Lyonpo also mentioned that this is the vision of the education ministry in the long run. He believes that Brand Bhutan Education can become a success if efforts are really put into making it work.
How to make Brand Bhutan Education a success?
"In order to make it a success, the criteria for Brand Bhutan Education should go according to the world's economic demand and development, that is how our global counterparts have designed their education," said the Lyonpo.
On the current Bhutanese education system, the Lyonpo said the philosophy of education started with that every individual should at least be able to read and write in English and other languages.
In Bhutan, education started with monastic to modern education. It then evolved and moved on to 21st Century education and further to Gross National Happiness education (GNH).
Source: Youtube/VOA News
The Himalayan kingdom of Bhutan, in recent years, has gained international attention for its concept of Gross National Happiness. This was a term coined by Bhutan's fourth king in 1972 and was meant to be an alternative to the traditional measure of development: Gross National Product.
Bhutan, also known as the 'Last Shangri La' is now taking GNH beyond an intellectual discourse by incorporating its values into its educational curriculum. 
Hurdles to realising Brand Bhutan Education in the short term
Over a period of time, with many developments and technology advancement in the country, Bhutan is more exposed to international information, the Lyonpo explained.
He reiterated that Brand Bhutan Education is more of a visionary thing for now. It will be difficult to introduce this brand of education immediately since the ministry does not have enough resources. Moreover, having Nu 310 billion distributed amongst the education departments makes it difficult.
"I am quite confident that Brand Bhutan in Education will be a success in the country, and the main icing is, Gross National Happiness," said the Lyonpo.
The search for happiness starts at an early age in Bhutan. Using meditation and other teaching methods, the school system aspires to produce healthy, intellectual students, who will grow up to be happy and productive citizens.
Source: Youtube/WISE Channel
"But this cannot be done overnight. It will take time. Over the next five years, what we can do is research, promote, create awareness and share information and ideas. To make it conceptual is very important, and I feel that within these five years, we can do it," the Lyonpo added.
Trust needed to build Brand Bhutan Education
The Lyonpo also mentioned that in order to transform this vision into reality; firstly the Education Ministry will need to build trust, which is a fundamental component of Brand Bhutan Education.
"Even our own Bhutanese people do not have trust in the Bhutanese education. So far, they have been criticising it," the Lyonpo revealed.
The government must also invest as much as it can to make Bhutan's brand of education a success.
"Schools leadership, such as school principals and vice principals should demonstrate leadership among themselves so that their leadership will reach the teachers and supporting staff, and towards their children and then move to the community and that is one way of building trust," the Education Minister said.
He suggested that the head of the city should also be very proactive and on the same page as the education sector. They can potentially work together towards building a successful Brand Bhutan Education.
Inclusiveness of Bhutan's education sector
In addition, the education sector must also be inclusive and this is why all the hikes and allowances are also applicable to the special ability schools.
The Lyonpo also mentioned that he truly appreciates the role played by the teachers and staff of schools that deal with differently abled children.
"His Majesty The King has already sowed seed of values and happiness a long time back, and the people and youth are the sole owners of happiness and if one can really capitalise, create and innovate many of these education-related products and market them all over the world, this would benefit the country," said the Lyonpo.
This article first appeared in The Bhutanese and has been edited for Daily Bhutan.
---