Fulfilling His Majesty The King's Vision, Digital Drukyul Is Set To Improve Public Service Delivery And Empower Citizens Digitally
Digital Drukyul will help create a digital ecosystem for citizens which is unencumbered by bureaucratic red tape.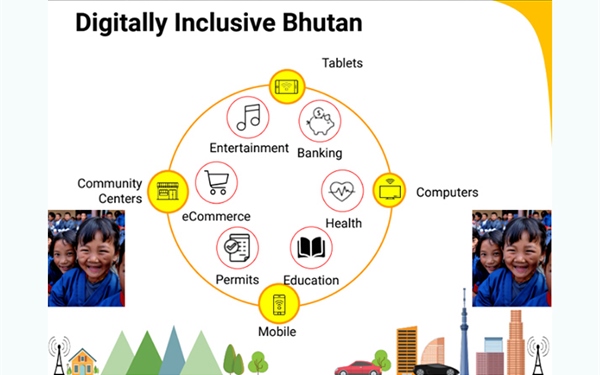 (Source: BBS)
By Younten Tshedup | Kuensel
Bhutan's government has begun implementing the InfoComm Technology (ICT) flagship programme - Digital Drukyul which is slated to transform public service delivery and empower citizens digitally.
The programme is in line with His Majesty The King's vision to use technology in addressing issues in healthcare, education and agriculture to improve governance and democracy.
It can also help to create jobs, enhance citizen's wellbeing, make the cities safer and cleaner, and bring overall benefit to the people of Bhutan.
Benefits which the Digital Drukyul flagship programme will bring
According to officials from the Department of Information Technology and Telecom (DITT), the Digital Drukyul flagship programme will help create a digital ecosystem for citizens which is unencumbered by bureaucratic red tape. It will also allow for quick and equal access to all services.
Under the Digital Drukyul initiative, Bhutanese will be provided with a digital identity that can be used to access multiple online government services such as healthcare.
The current physical identity has been enhanced with a numeric digital ID which is unique to every citizen.  An individual will be able to access to all relevant digitised data held by various different organisations.
Unlike in the current practice where citizens have to hop from agency to agency collecting various documents, Digital Drukyul will be able to provide a 'one-stop-shop' for all Government to Citizen (G2C) services.
An end-to-end integrated online system with a single window access would be enabled. Services such as applications for business licences and customs-trade approvals can also be made online as long as the individuals produce their digital IDs.
DITT's Head of Application Division, Lobzang Jamtsho, said that this would mean that people will no longer have to gather clearances and documents from various sectors manually.
"All other requirements like security clearance for passport processing will be taken care by the back-end system. The individual has to just show their digital ID," he said.
Photo: Kuensel
Citizens can apply for any kinds of services from anywhere using the digital ID which is similar to a 'no-wrong-door' concept.
"The ease of doing business is expected to increase significantly as a result of improvement in service delivery," he added.
Digital Drukyul programme and the contributions it will bring to the healthcare sector in Bhutan
A major initiative under the programme will be the focus on improving the quality of healthcare services through the implementation of an electronic Patient Information System (e-PIS) at all hospitals, down to the district level.
This system will be able to keep records of all the treatments and medical histories of an individual patient. It is expected to improve access to quality data, generate evidence-based medical interventions and enhance decision making.
DITT's Chief ICT Officer, Sonam Phuntsho, said that in addition to this, more than 1000 government offices, schools, Basic Health Units would be connected to reliable information systems and infrastructure under this flagship programme.
Training Bhutanese to be 'digitally' ready
In the education realm, under the Digital School Programme, a resource management system along with an online teaching and learning platform will be established. The programme will include digital pedagogy for the development of a teacher's capacity.
About 8,500 individuals will receive training on the use of such new technologies. Local government leaders will help identify individuals to spread this digital awareness to a larger audience especially in the rural pockets of the country. Moreover, some 300 information technology professionals will be certified in the next five years.
Improving internet traffic with the construction of five strategic rings in Bhutan
Sonam Phuntsho revealed that efforts to create an internal redundancy for network is also underway with the construction of five strategic rings across the country.
Source: UN/International Telecommunication Union
Currently the internet optic fibres run in a linear path, therefore during times of breakdown, the other side of the broken fibre will be completely cut off.
To resolve this issue, the five strategic rings can reroute internet traffic in the event that the fibre is cut.
According to Sonam Phuntsho, of the five rings, the Trongsa-Wangdue ring has been completed. Work to complete the Sandrupjongkhar-Trashigang ring is underway while the Trongsa-Bumthang, Bumthang-Mongar/Lhuntse and Haa-Lamoizingkha rings will be completed soon.
The digital programme actually started sometime towards the end of Bhutan's 11th Plan and to further boost its progress, a total of Nu 2.5 billion was earmarked for the flagship programme in the 12th Plan.
Bhutan has come a long way in its digital transformation
For a landlocked kingdom like Bhutan with mountainous terrains, ICT has been instrumental in bridging the gap between the government and its citizens. It also allows people to communicate with each other, as well as with the outside world.
In hindsight, telecommunications was first introduced to Bhutan in 1963. Print media followed two years later while radio was established in 1973. And in the late 1990s, television broadcasting and the internet were introduced.
Since then, the ICT sector has made rapid advancement in the country. Mobile subscriptions increased from 0.4 per 100 persons in 2003 to 96 in 2019. The proportion of Bhutanese using the internet has increased from a mere 0.1% in 1999 to 93% in 2019.
With a population of around 800,000 in Bhutan, the number of mobile phone subscribers stands at 715,872, of which 694,249 subscribers are mobile broadband (3G and 4G) users.
This article first appeared in Kuensel and has been edited for Daily Bhutan.
---