From Banker To Buddhism – Meet Emma Slade, First Western Woman Ordained As A Nun In Bhutan
"Bhutan is one of the few places in the world where you can experience unbroken Buddhist culture," said Emma Slade.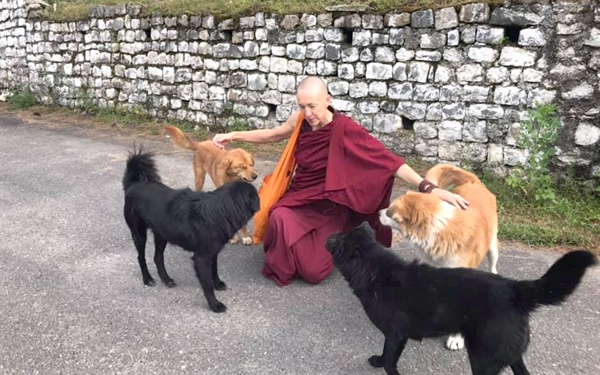 (Source: Facebook/Emma Slade)
By Zann Huizhen Huang | Daily Bhutan
From being a high flying financial analyst who managed accounts worth billions of dollars to being the Chief Investment Officer at HSBC in London, Emma Slade took a leap of faith and became a nun in Bhutan in 2014.
What drastic turn of events had caused this Cambridge educated Briton who has worked for HSBC in New York, London and Hong Kong to choose such a diverse life path at the age of 48?
Born in 1966 in Whitstable, Kent, Emma Alexandra Slade was the eldest of three children. Gaining straight As in English, History and Geography, she was given an unconditional offer to study English at Selwyn College in Cambridge.
However, her father's untimely death when Slade was 26 pushed her to apply for the HSBC global graduate scheme as she did not want to burden her mother financially.
After a series of tests and interviews held over a period of weeks, she was successful and dispatched to Hong Kong.
Major turning point in Slade's life
Her turning point in life came after a traumatic incident in September 1997. While Slade was in Jakarta on a business trip, she was robbed and held hostage at gunpoint in her hotel room.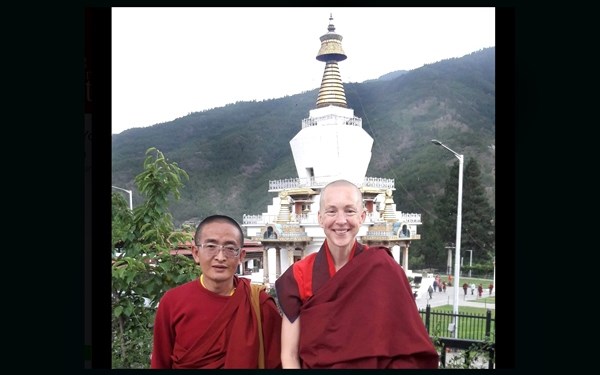 Photo: Facebook/Opening Your Heart To Bhutan
Though she escaped the ordeal unharmed, Slade suffered from severe PTSD (post-traumatic stress disorder) which resulted in her eventual decision to leave HSBC.
In an interview with UK's Independent in 2017, Emma Slade revealed that she actually felt 'a great deal of compassion and sorrow for the man who had held her captive because he came out of the situation worse than she did, to be honest… the biggest impact was this feeling of concern and compassion for him'.
It also dawned on her that money and success were actually a 'very small part of who she actually was' and she realised that "once you think you are going to die you do start to live your life in a different way."
Besides these revelations, PTSD has also caused Slade to "lose trust in everything – in yourself, your body and the world around you."
Slade travelled to Greece where she discovered yoga and meditation which helped in her healing process. After gaining her qualification as a British Wheel of Yoga instructor in 2001, she set up her own yoga studio in Whitstable.
Slade's conversion to Buddhism
Slade was also drawn to Buddhist teachings and formally converted to Buddhism in 2003 in Scotland. To realise her childhood dream, she made a trip to Bhutan in 2011 and met two figures who would change her life profoundly.
Source: Youtube/Philip Carr
The first was a lama whom she met at the Druk Wangyel Lhakhang temple at the Dochula Pass, while the second was Brent Hyde, the General Manager of the award winning Zhiwa Ling Hotel in Paro where Slade was staying.
Over a conversation, Hyde mentioned that the hotel needed a yoga instructor over the Christmas period. Fate has it that Slade got the job and returned to Bhutan again.
This time, she tried to look for the lama whom she had met at the temple but he had already returned to his village. After locating him, Lama Nima Tshering finally met up with Slade at the Zhiwa Ling Hotel on 31 December 2011.
Over time, Slade delved deeper into Buddhism, under the tutelage of the lama and in 2012, she swapped her western clothes for saffron robes and even shaved her head.
In a naming ceremony in 2013, which was considered a great honour, Slade was renamed as Ani Pema Deki, meaning 'Nun Lotus Blissful' by the lama's teacher, Rinpoche Gyalsey Tenzin Radgye.
However, she has yet to become a nun officially. As a single mother who had to take care of her son in Whitstable in the UK, Slade was unable to complete the necessary retreats required to perform the qualifying practices in Bhutan.
She never thought that she would really become a nun due to these constraints until the lama reassured her that she already had 'the mind of a nun'.
To fulfil the requirements, Slade or Ani Pema Deki persevered to complete the necessary Ngondro (four sets of 110,000 practises that combine visualisations, prayers and movements) while juggling motherly duties in Whitstable.
Finally, she returned to Bhutan with her seven-year-old son in February 2014. Slade became the first Western woman to be ordained as a Buddhist nun in the Himalayan Kingdom.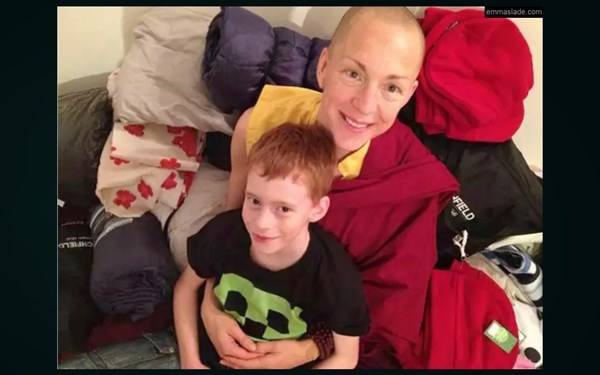 Photo: Economic Times
According to an interview with South China Morning Post, Ani Pema Deki revealed that:
"I thought having a child meant it wasn't possible for me to become a nun. But it was my lama's idea and he was adamant. People have an idea that the only pure form of monastic practice is in a monastery, with no family, no material goods and no real-world connec­tions. That's not actually true. There are lots of practitioners in the Buddhist world who have had children but they tend to be men, who carry on with their monastic practice and leave the children with their wives."
Why did Slade choose Bhutan?
On why Ani Pema Deki has chosen Bhutan instead of other predominantly Buddhist countries to broaden her knowledge of Buddhism, she told the Guardian that:
"Bhutan is one of the few places in the world where you can experience unbroken Buddhist culture. Spirituality is embedded in daily life here. I came because I wanted to meet monks and serious retreatants, and to witness first-hand what it might mean to dedicate your life to spiritual practice as a Buddhist."
Last but not least, Ani Pema Deki also added that in Bhutan, 'humans are not dominant, but a small part of the whole' and she regards the Land of Happiness as her spiritual paradise.
---