French Designer Christian Louboutin Releases Bhutan-inspired Shoe Collection
Bhutan's rich craftsmanship inspired the designer's latest collection.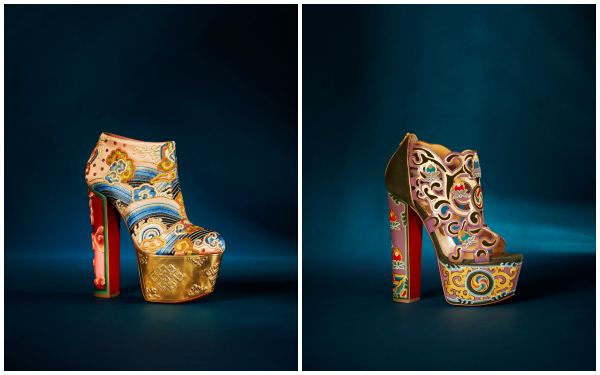 (Source: Christian Louboutin)
By Kinley Yangden | Daily Bhutan
Luxury label designer Christian Louboutin has released a special collection featuring Bhutanese-inspired designs. The 13 exclusive styles feature colours and motifs commonly seen in Bhutanese architecture and design, such as clouds, swirling floral iconography, and dragons. Louboutin, who is known for incorporating red-lacquered soles to stilettos, said he was mesmerised by the vast and blue skies of his "beloved Bhutan".
"I would love for people to understand that Bhutan is a beautiful, colourful and happy country," said the French designer to WWD.
Along with his Spring-Summer 2020 collection, the designer previewed the "Loubhoutan" collection on Wednesday night in Paris to esteemed guests such as Heidi Klum, Mandy Moore, and HRH Princess Mafalda Cecilia of Bulgaria. Louboutin himself sported a pair of traditional Bhutanese leather boots, or tsho lham, with a cream coloured suit.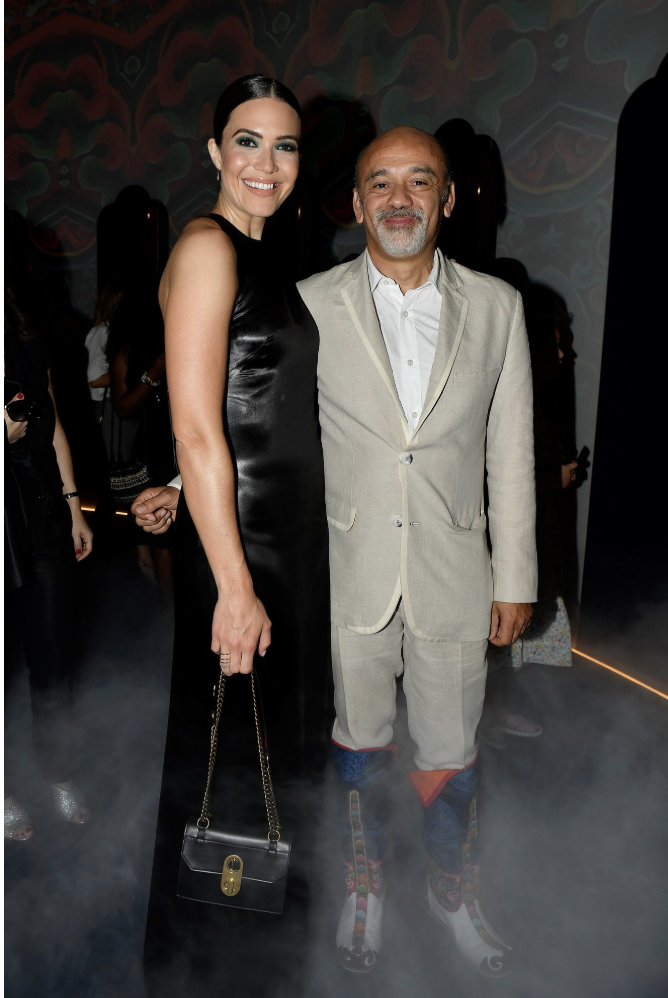 Mandy Moore and Christian Louboutin. (Photo: Vogue)
Louboutin even incorporated a makeshift "Loubhoutan Express" train to whisk his guests from Paris to the mystical country of Bhutan (even though Bhutan has no railroads). The Orient Express-like dining car was decorated elegantly and guests could grab a seat and drink, while enjoying the Bhutanese landscape from the "window".
His Bhutan-inspired collection, which features hand-painted and hand-sculpted wood platforms, was a six-year collaboration of artistic and creative dialogue with the students of the School of the 13 Royal Arts and Crafts of Thimphu.
"The craftsmanship in Bhutan is exceptional and very particular," said Louboutin.
"The artisans have an extreme sense of colour and their architecture and artistry are very joyful. Bhutanese are astonishing people, they are very into secular traditions but with an intelligent and modern gaze of the world that surrounds them."
According to The Daily Mail, the designs were personally approved by Their Majesties the King and Queen. Louboutin is a regular visitor to Bhutan and is reportedly close friends with Her Majesty the Queen Jetsun Pema.
In a report by Document, Louboutin explained: "I was traveling in India on my way to Bhutan, and my dear friend Mala Singh from Delhi told me I should meet with some very dear friends of hers living in Bhutan."
"As it turns out, they were the King and the Queen. Since then, I have travelled many times in their country, spending time with her."
The Loubhoutan collection is limited to just 1,200 pairs and come with a price tag of around 1,000 pounds (US$1,252).
---
---