Foothills Festival- The Southerners Cultural Carnival
The festival showcases Sarpangs unique culture, natural resources and local products while offering some fun and rewarding challenges through a variety of activities.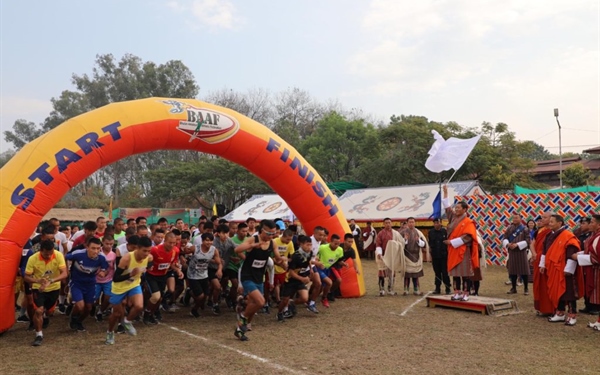 According to Lonely Planet, Bhutan is ranked as the top travel destination in the year 2020. Many International travellers travel to Bhutan mostly to West, East and Central region. Locals from these tourists destination are benefitted with income and revenue from tourism products and services.
Sarpang Dzongkhag is located in the south-central part of Bhutan and shares border with the Indian State of Assam. Although it acts as the corridor to travel beyond Bhutan and vice versa, the arrival of tourists is recorded less despite the rich natural and cultural resources. Royal Manas National Park the oldest national park covers eastern Sarpang district.
Besides natural resources and amazing landscapes, Sarpang district is rich with diverse culture and hardworking people. The 12 sub-villages are working towards boosting the local economy to become self-reliant. Therefore to promote local products such as agricultural and livestock produces and to exchange culture, Sarpang Dzongkhag conducts Foothills Festival to celebrate southerners just like Royal Highland Festival.
THE FESTIVAL
The two days annual foothill festival is participated by people of 12 gewogs. People from other districts also travel to Sarpang to observe the festival. Although the main mandate of the festival is to promote local products of farmers of Sarpang dzongkhags by encouraging these farmers in the villages to go for commercial production or self-consumption. Other activities such as cross country cycling race are organized, running enthusiasts from around Bhutan participate to advocate healthy lifestyle. 
CULTURE ASPECT- Celebrating uniqueness
Out of a few districts of Bhutan, Sarpang dzongkhag has become home to the resettled citizen. People from the Far East to the north of Bhutan has resettled in Sarphang district on the land given by His Majesty the King. These initiatives have seen the diversity of culture and tradition in one district. Thus Sarphang district has become a cultural hub for Bhutanese from all walks of life.
The man who heavily depended on a bamboo craft now weaves bamboo products from his resettled land in Sarpang. A farmer from Punakha makes fried rice cake and sells it in Sarpang and teaches her neighbours. A woman from east celebrates lhotsampa Tikka ceremony.
The festival is a cultural feast where old traditional equipment was on exhibition. The exhibition of contemporary types of machinery and traditional types of equipment presents how Bhutanese farmers have evolved in times.
THRILLING ADVENTURE
The southern foothill festival is most looked for by cyclists. Cross-country cycling race of 75km takes place during Foothills Festival. The race could be gruesome but the remote trails are amazing. One rides between villages, along Maukhola River, roads and hidden foothills trails. The effort is doubly rewarded with beautiful views and an adrenaline-fueled sense of personal achievement. Marathon is another thrilling adventure that gets runner enthusiasts interested from all corner of country.
TRAVELLERS PERSPECTIVE
With the most pleasant weather in winter, Sarpang is becoming many Bhutanese favourite winter residence destination.  Gelephu a town under Sarphang district has the domestic airport. This helps travelers to cut down days on road tripping down to the southern belt of Bhutan. The oldest national park is the top-rated things to do in Sarpang and a visit local villages to purchase agricultural products and livestock products attributes to more travelers pouring in Sarpang district. With the Foothills Festival there is huge potential to attract  both local and international travellers to southern belt of Bhutan. 
Writer- Sonam Dorji 
---