Food Review: Cloud9 Cafe & Bar
Cloud9 has always been known in Thimphu for dishing out handcrafted gourmet burgers.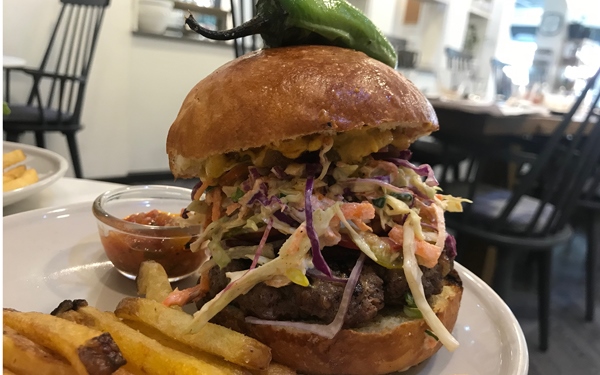 (Source: Daily Bhutan)
By Kinley Yangden | Daily Bhutan
After a hiatus of over one year, the local joint that has been dubbed as having the "best burgers in Thimphu" reopened its doors at a different location a few months ago.
Previously known as Cloud 9 Gourmet Burger & Milk Bar located along Phenday Lam, the current bigger, brighter and more upscale joint Cloud9 Cafe & Bar is now located opposite the National Stadium along Chang Lam.
The renovated space features nice plush sofa interiors and modern, clean, and white furniture and fittings that scream of an upscale bistro. The restaurant also features an ice cream bar, a bakery section, and even a well-stocked bar area with comfortable lounge seating.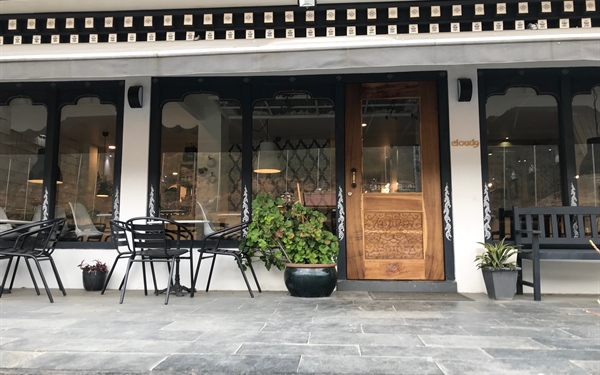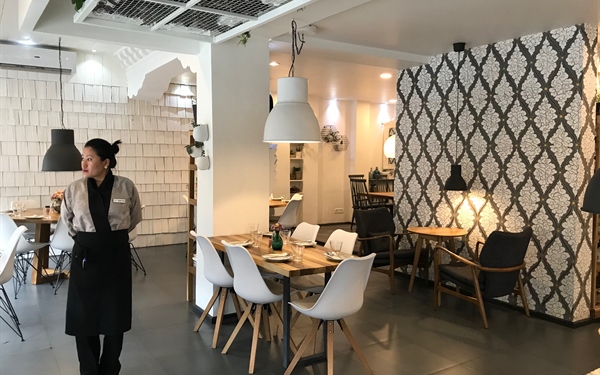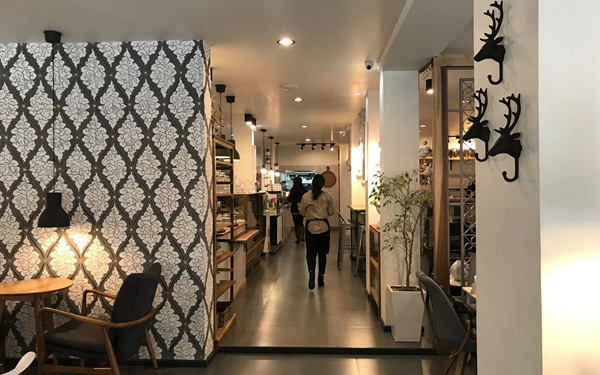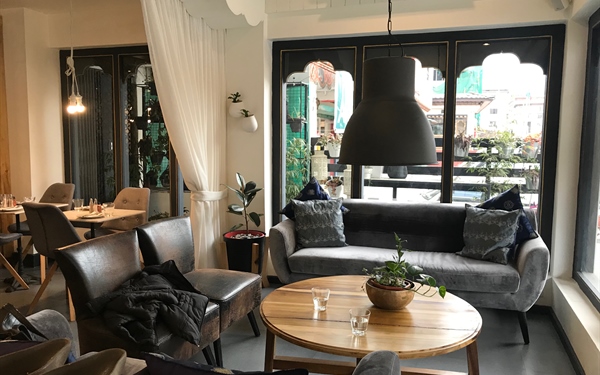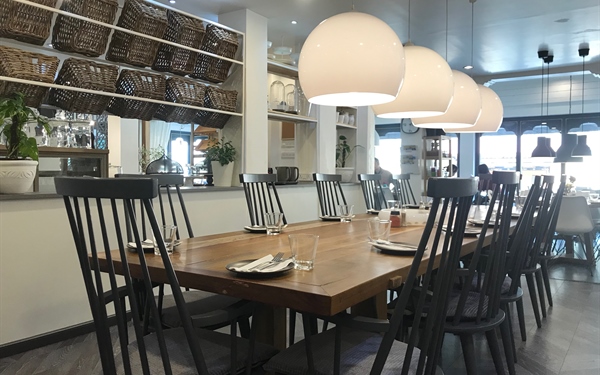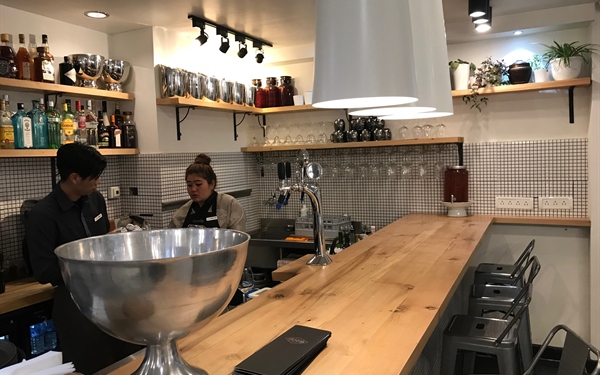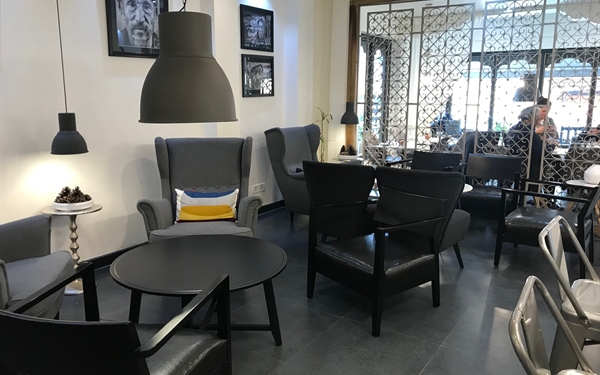 Opened by Bhutanese Toby Namgay and his Australian wife, Stana, Cloud9 has always been known in Thimphu for dishing out handcrafted gourmet burgers - a delight for expats and foreigners craving for something that reminds them of home, and also a gourmet adventure for locals too.
At this new joint, don't expect anything less than unique burger creations, wood-fired pizzas, fancy espresso creations, cold-pressed fresh juice, milkshakes and homemade ice cream.
Unique ingredients such as mozzarella, Italian spicy pork sausage, roquette, blue cheese, romaine lettuce, anchovies, fennel and beetroot are featured in some dishes. And mind you, these aren't common ingredients used in Bhutan at all, making all the creations there so much more special.
Let's get (chomping) down to the burgers
First up, the burgers. Cloud9 signature burger (Nu.480) is a must-have for the uninitiated - and for the hungry too because the portions of the burgers here are huge.
The Cloud9 signature burger is a beef burger - the beef patties are made from scratch - with tomato, onion, coleslaw, bacon, tomato relish, American mustard and house pickle. It is a hearty meal that comes with hand-cut fries on the side. The burger buns are also made from scratch in the kitchen, according to a waitress we spoke to.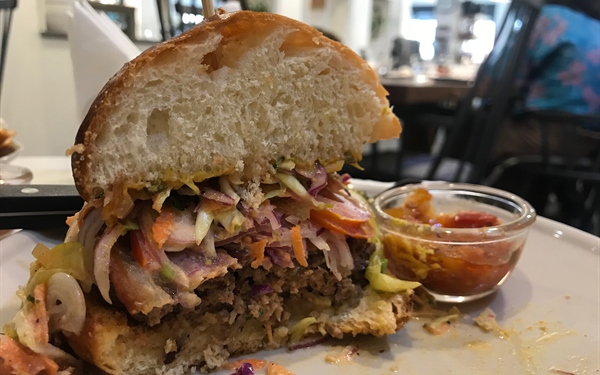 Cross-section of the Cloud9 burger. (Photo: Daily Bhutan)
The first few mouthfuls of this burger is an explosion of tastes: Savoury and sweet beef patty, the mayonnaise used in the coleslaw and the tangy tomato and pickles work well together. However, after going through half the burger, it started to get a little tiring from all the chomping. The beef patty seemed to start getting a tad drier too as I made my way through the burger. Perhaps the patty can be made a tad more juicier to retain its taste and softness.
We also tried to be a little adventurous and tried a fusion burger: the Korean chicken (Nu.460). A burger with crispy fried chicken, gochujang sauce, lettuce, house kimchi (wow, they make their own kimchi?), pickles and mayonnaise.
The most important thing about a fried chicken burger is the tenderness of the chicken fillet - and boy, did we make the right choice. It was as we expected: juicy, tender, and tasty. Combined with the tangy and spicy kimchi and pickles, the burger tasted like a spicy chicken meal.
We loved the pizzas more
Although Cloud9 started off as a gourmet burger joint, it has now evolved into serving a variety of food, and one such item is the wood-fired oven pizzas. Having tasted both the burgers and pizzas, we became big fans of the pizzas instead.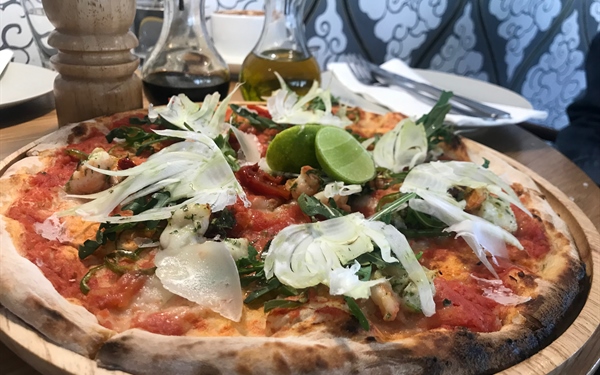 Prawn pizza at Cloud9. (Photo: Daily Bhutan)
We chose the pizza with prawns, garlic confit, semi-dried tomato, fresh chilli, salsa verde topped with fennel and roquette. Besides the taste that we loved, we also loved the texture of the pizza crust, which wasn't too thick or thin. It was also of the right texture, neither too soft nor hard. Perfection.
The pizza is a medium-sized one that's cut into eight pieces and for Nu.590, it seems like a better deal than the burgers.
But it's the onion rings that stole our hearts
The fried buttermilk onion rings with red chilli mayonnaise (was the true winner - and an accidental one too.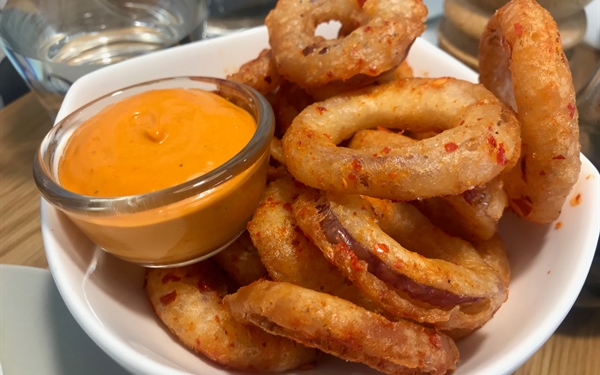 Buttermilk onion rings. (Photo: Daily Bhutan)
When we ordered this dish, we didn't expect it to stand out at all, but we were so wrong. The batter used to fry the onion rings are mind-blowing. Not only are they tasty, they made us crave for more and once we started munching on these rings, we couldn't stop raving about how yummy they were.
Are these the best onion rings I've ever had? Most definitely.
Extensive drinks selection
If you're just here for some drinks and desserts, Cloud9 boasts one of the most extensive coffee selections I've come across in Thimphu. From a caffe lungo (espresso and hot water 'long espresso), to caffe bombon (rich espresso and condensed milk) and to an affogato (rich espresso over vanilla bean ice cream), the list of espresso creations are so plentiful, you'd be spoilt for choice. Price ranges from Nu.100 - Nu.250.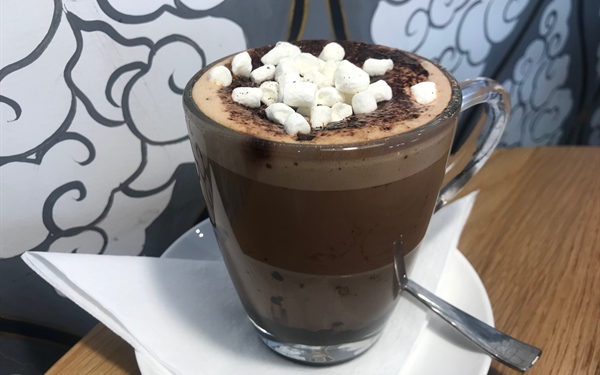 Dark Winter hot chocolate drink. (Photo: Daily Bhutan)
But what has really caught the attention of some diners there are the speciality hot drinks, such as the Cloud9 Hot Chocolate (hot chocolate with whipped cream and house-made marshmallows), and the Dark Winter (hot chocolate, espresso shot, cream, marshmallows and shaved chocolate).
They are divine during the cold weather, but they don't come cheap. The Cloud9 Hot Chocolate costs Nu.190 and the Dark Winter is Nu.210, more than a standard cup of coffee at a Thimphu cafe.
Ice creams are a hit and miss
We've gone back a few times to try different ice cream flavours, and it was a hit and miss for us. We first tried the dark belgium chocolate (what else?), which was delicious. It wasn't too sweet and it was rich enough to placate our ice cream and chocolate cravings.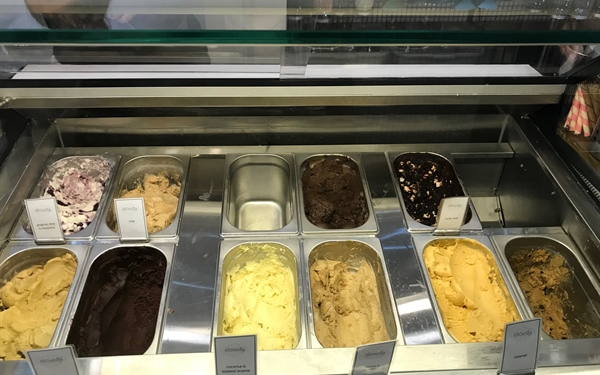 Selection of ice cream flavours. (Photo: Daily Bhutan)
Then, we tried the mint and chocolate chip ice cream. The texture of the ice cream was a little 'rough'. Not the mint ice cream we'd expected. We also tried the yoghurt, lime and blueberry ice cream. The combination of the lime and blueberry was a miss for us.
Perhaps the ice cream there can be a little milkier and thicker, to give it that creamy melt-in-the-mouth sensation. The current creations don't quite hit the spot, especially if you have massive ice cream cravings and this is the only place in town to get good ones. But kudos to Cloud9 for having a much-needed ice cream bar.
The ice cream portions here are generous. A scoop costs around Nu.145 to Nu.165, and toppings are additional cost at Nu.10.
Highly recommended one-of-a-kind establishment
Despite some small disappointments here and there, the overall experience at Cloud9 is always a satisfying one for both the belly and the soul. This is the only place in Thimphu at the moment to get a hearty burger meal, a big hot cup of chocolate, tasty pizza and tantalizing onion rings.
Service staff are attentive, well-trained and friendly, and every experience here has always been a memorable one. Plus they have ice cream - what else is there to ask for?

Cloud9 Cafe & Bar is located at Chang Lam, Thimphu. It is open seven days a week from 10am to late.
The writer paid for her meals at Cloud9 on her own expense.
---
---