Entrepreneurial Student In Bhutan Won His Majesty's Scholarship And Aims To Recycle Old Shoes
Even if Tashi Tshewang gets a scholarship to study in a government college or abroad, he will continue to repair shoes and modify them to earn some pocket money.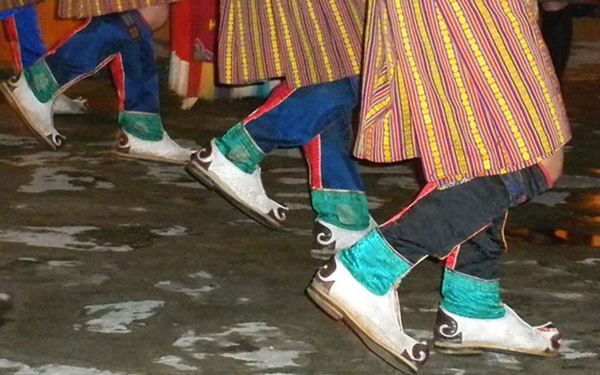 (Source: Wanderlustandlipstick)
By Tshering Dorji | Kuensel
Buying a pair of decent shoe is an expensive affair for Tashi Tshewang's family, a class 12 student of Desi High School in Thimphu. He was shattered when he found out that he could not qualify for a government school two years ago.
Working hard to secure a scholarship for further studies and acquiring a seat in the civil service was his only dream. That, to him, is the only way he can repay his parents who has worked hard to pay his school expenses.
Family background of Tashi Tshewang
His parents separated when he was little. As a kid, he saw his stepfather repair shoes. Tashi Tshewang learned the trade from him.
"I like playing football but I couldn't afford a pair of boots. So I made a boot out of torn shoes and proudly wore them," he said.
Today, this idea of making shoes has earned him two years' of scholarship from His Majesty The King. He came in second at the Student Business Seedling (SBS) programme initiated by the Royal Monetary Authority (RMA) following a Royal Command.
Source: Facebook/Desi-High-School
His Majesty The King visited Desi High School on March 1 and commanded the RMA to organise a competition for business ideas. The RMA on March 2 visited the school and came up with the SBS programme.
Aims of the Student Business Seedling (SBS) programme
The objective is to encourage creativity and innovation and to introduce students to the idea of entrepreneurship and self-employment as a viable alternative to limited public sector employment.
A total of 154 students participated in the programme, out of which 23 were selected to undergo a four-month training programme involving a design thinking workshop. In addition, there are also field visits to local entrepreneurs and businesses.
The students were also able to interact with mentors and attend a boot camp on basic entrepreneurship and on writing business proposals. The 23 students spent their summer vacation in July preparing their business proposals and prototypes.
"Students were confident. Most of them eloquently presented their pitches in Dzongkha," the RMA governor, Dasho Penjore, said.
"People look down if you run a small business. Now we know that everything you do contributes to nation building," Tashi Tshewang said.
Entrepreneurship as an alternative gateway to employment in Bhutan
"I was concerned that my education would end if I don't earn a full scholarship to a government college. But now, even if I don't qualify, I am ready to start my own business."
Even then, this programme does not end here for Tashi Tshewang. Even if he gets a scholarship to study in a government college or abroad, he will continue to repair shoes and modify them to earn some pocket money.
In future, he plans to gather shoes that are thrown away as garbage and reutilise the components to produce a different brand of shoes.
"I have started this and I have to end it," he said.
This article first appeared in Kuensel and has been edited for the Daily Bhutan.
---