Emphasis on Gross National Happiness at the Singapore Summit 2017
As one of the esteemed speakers invited, Prime Minister H.E. Dasho Tshering Tobgay of Bhutan gave an enlightening speech. Outlining how Bhutan's trademark of GNH (Gross National Happiness) could be a source of inspiration for development, he emphasised its merits as being a "balanced, sustainable, inclusive, and equitable development far beyond the conventional measure of GDP."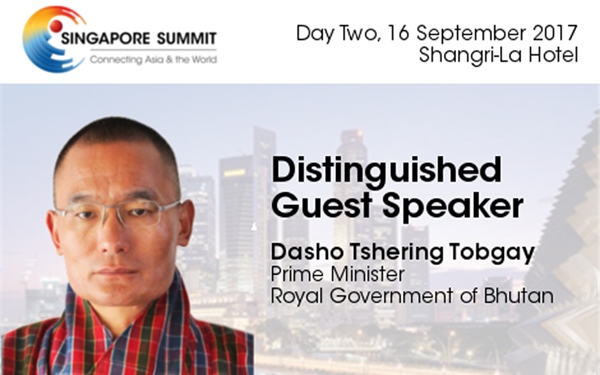 Held on 15-16 Sept 2017, the Singapore Summit, organised by the Temasek Foundation is a foremost event for business and thought leaders from Asia and the world to congregate. It provides a platform for invited participants to discuss critical challenges that could impact both regional and global growth while allowing for partnerships to be forged.
Highlighting how Asia has become a key driver of global economic growth, the term 'Global Asia' was coined to reflect our progressively intertwined world in the realm of the flow of ideas, technology and goods.
As one of the esteemed speakers invited, Prime Minister H.E. Dasho Tshering Tobgay of Bhutan gave an enlightening speech. Outlining how Bhutan's trademark of GNH (Gross National Happiness) could be a source of inspiration for development, he emphasised its merits as being a "balanced, sustainable, inclusive, and equitable development far beyond the conventional measure of GDP."
Further elaborating on the virtues of the GNH, Prime Minister Dasho Tshering Tobgay explained how this developmental philosophy can benefit the economy while putting the welfare of workers at heart at the same time.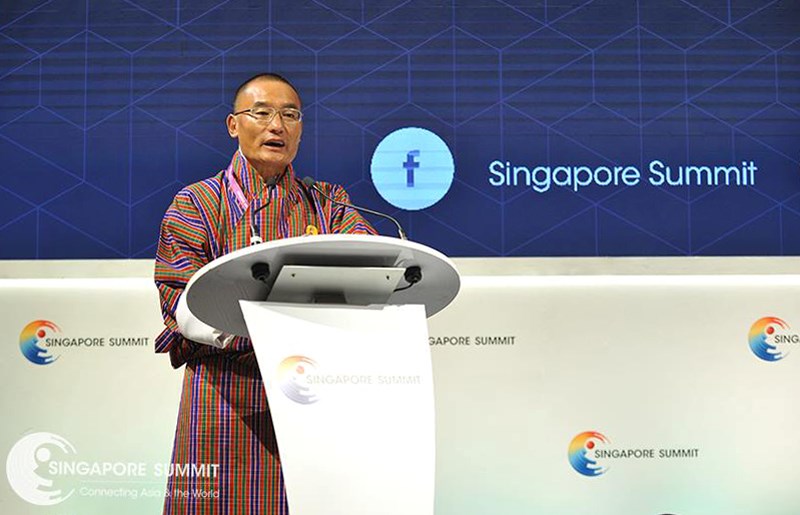 Photo Credit https://www.facebook.com/pg/SingaporeSummit
/photos/?ref=page_internal
"Using GNH indicators, this process will measure the commitment of business firms to behave ethically and contribute to the happiness of the workers as well as that of their customers, community and society. All these while also contributing to the sustainability of the natural environment."
Prime Minister Dasho Tshering Tobgay also took the opportunity to clarify and make his stand that GNH does not in any way undermine the importance of economic well-being. While GNH was predominantly the focus of public policies in Bhutan, the country is currently integrating GNH values into the decision-making processes of businesses.
Citing from the speech of the Prime Minister of Bhutan at the Singapore Summit, he explained that Bhutan is a small country with a modest economy with a GDP of 'barely 2.2 billion dollars'.
However, he underlined Bhutan's commitment to the conservation of the environment. With about 72% of Bhutan under forest cover and a large part protected as parks and wildlife sanctuaries, this nation has pledged to be carbon neutral. Moreover, agriculture is heavily subsidised to encourage organic practices.
The Prime Minister also lauded how Bhutan is a "small country with a large vision, a society that defines happiness as the goal for human development, and a country that has dared to be different against the pressures of globalisation."
Taking a precedent, come November 2017, Bhutan will, at the 'GNH for Business' conference, launch a GNH Certification Tool for Business. What this certificate entails is that business companies which fulfil certain criteria, will be awarded a GNH Certification.
This will serve as a benchmark and incentive to encourage businesses to adopt GNH as part of its development strategies. Ultimately, it is hoped that this certification can be elevated to an influential brand name with the holistic impact of GNH felt in all four corners of the world.
Written by Zann Huizhen Huang for the Daily Bhutan.
---