Elephant Conservation Action Plan Launched To Protect Asian Elephants In Bhutan
The national elephant survey in 2017 estimated that a population of 678 elephants still roam the southern foothills of Bhutan.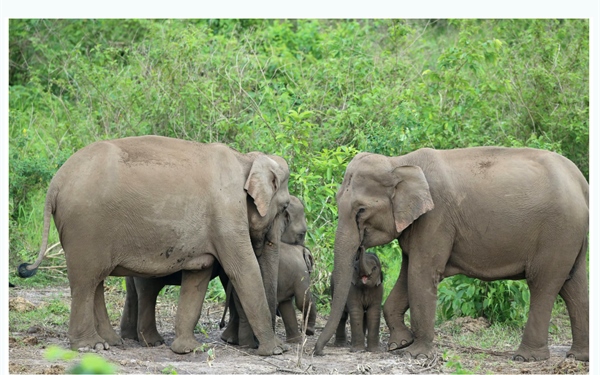 (Source: WWF Bhutan)
By Choki Wangmo | Kuensel
Although elephants are charismatic species with critical roles in shaping forest ecosystems, research concluded that the Asian elephant continues to face threats of extinction globally.
With less than 50,000 individuals in the wild spread over 13 range countries, the Asian elephant is listed as an endangered species under the International Union for Conservation of Nature (IUCN) Red List of Threatened Species.
More about the Asian elephant
Asian elephants once roamed the Tigris-Euphrates in Western Asia, east through Iran and south of the Himalayas; throughout South and Southeast Asia including the islands of Sri Lanka, Sumatra and Borneo, and into mainland China (northwards at least as far as the Yangtze river).
Source: Science Mag
However, these elephants have disappeared entirely from Western Asia, Iran, and most of China.
Currently they can be found in the following regions and countries, although they are usually restricted to hilly and mountainous areas:
1. Indian subcontinent: India, Nepal, Bhutan and Bangladesh,
2. Continental southeast Asia: China, Myanmar, Thailand, Cambodia, Laos, Vietnam, and Malaysia, 
3. Island Asia: Andaman Islands (India), Sri Lanka, 
4. Sumatra (Indonesia) and Borneo.
It is estimated that at the turn of the century there were more than 100,000 elephants in Asia. 
Today, the surviving population of Asian elephants is estimated to be between 30,000–50,000, one-tenth of the population of African elephants.
The national elephant survey in 2017 estimated that a population of 678 elephants still roam the southern foothills of Bhutan.
In Bhutan, elephants are protected under Schedule I of the Forest and Nature Conservation Act 1995.
About the Elephant Conservation Action Plan
To maintain a viable population of elephants in an improved habitat with reduced human-elephant conflict in Bhutan, the Elephant Conservation Action Plan from 2018 to 2028 was launched on July 31.
The action plan aims to prevent habitat loss and improve the existing elephant habitat conditions.
The plan would also improve coordination among stakeholders to prevent poaching and stop the illegal trading of elephant products.
The tusks of Asian elephants are worth a lot of money on the black market, so large-tusked males are in constant danger of being poached. 
In some parts of Asia, elephants are also captured alive for domestic use or for commercial purposes as tourist attractions.
Threats to the survival and well-being of elephants in Bhutan
Past studies reported that habitat degradation due to intensive livestock grazing along international borders depleted the food supply for elephants.
Source: Youtube/Jayanta Kumar Das
"Incidences of streams completely tapped for irrigation or drinking in the human settlements are causing shortage of water for wildlife."
On top of that, fire from across the borders results in the degradation of soil quality, thus eroding mineral lick for the species.
As a result of having its habitat disturbed, there has been reports of more human-elephant conflict in the south of Bhutan.
Crop raiding was found to be the most prevalent form of human-elephant conflict causing socio-economic losses to farmers in the south.
In retaliation, a few elephants died as a result of food poisoning and electrocution, according to observations from field officers.
To curb the loss of lives and crops, the Elephant Conservation Action Plan identified the causes of conflicts, mapped the conflict hotspots, and identified strategic action towards mitigating these conflicts.
Moreover, due to the expansion of urban areas and developmental activities, there have been reports of disruption in the migratory routes of elephants.
With Nu 440 million of funds, the Nature Conservation Division will implement the action plan from July 2019 to June 2029.
The plan has been funded by the government, Bhutan for Life, and donors such as the WWF, BTFEC, UNDP, Bhutan Foundation and other international donors.
This article first appeared in Kuensel and has been edited for Daily Bhutan.
---