Dorji Phagmo – The Mysterious Floating Statue Of Bhutan
Learn about the levitating statue of Dorji Phagmo and how to get to the sacred monastery which houses it.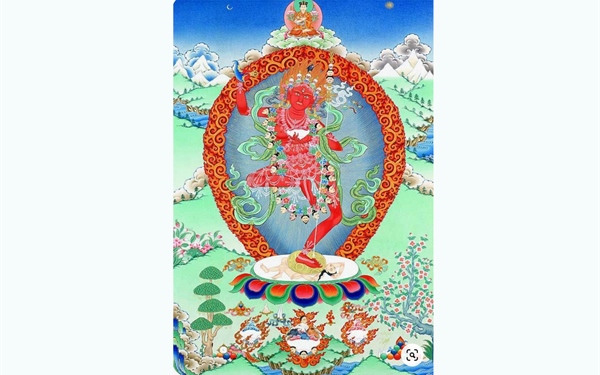 (Source: Pinterest)
By Zann Huizhen Huang | Daily Bhutan
Known as the 'Land of the Thunder Dragon', the tiny Himalayan Kingdom of Bhutan which formally opened up to tourism in 1974, is no ordinary place.
A land of myths and mysteries, monks and monasteries, the enchanting nation of happiness will not fail to impress visitors will its pristine environment, rich cultural heritage and impressive lists of unique places.
While the iconic Tiger's Nest Monastery is definitely on every visitor's itinerary, there is another lesser known, albeit extraordinary site which is certainly worth a visit.
Located in the district of Paro, western Bhutan lies Chumphu Nye, a scared site which is about 90 minutes' drive from town.
Hiking in Chumphu Nye
Overseas tourists who wish to make a day trip will be accompanied by a tour guide who will drive them through some scenic villages and farms. Upon reaching the starting point of the hike, the vehicle will be parked and the journey on foot begins here.
The hike to the Chumphu Monastery normally takes about 3 hours and it is advisable to pack some food and refreshment as the entire trip, to and fro, will take approximately 8 hours.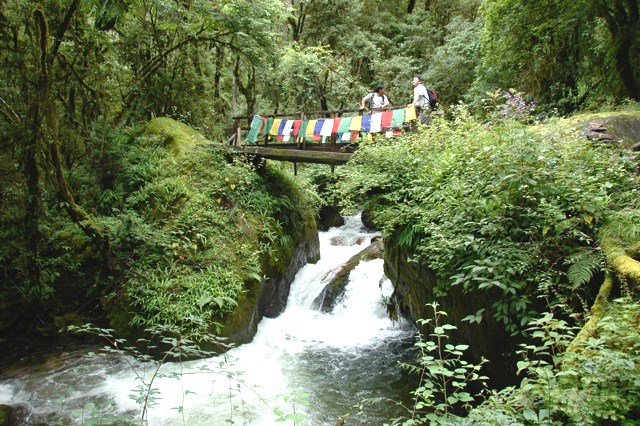 Photo: Dorji Wangchuk
Visitors will be greeted by 'Zee Go' or the opening gate formed by two standing rocks when they begin their adventure, which is a moderately casual hike through tranquil and verdant forests.
Along the way, soak in the best of what Mother Nature offers, from cascading waterfalls to crystal clear streams, to mystical rocks and caves filled with spiritual significance and blessings.
Legend has it that many rocks and cave formations around the Chumphu Nye area is associated with Guru Rinpoche, the 'Precious Master' who is the founder of Tibetan Buddhism. The waters in the vicinity is believed to be able to heal numerous diseases and prolong one's life.
The leisurely trek of around 9 km will culminate in a sharp ascent of 826m which will lead you to the sacred Chumphu Monastery, a two storeyed building perched on a hilltop, surrounded by three mountains shaped like a crown.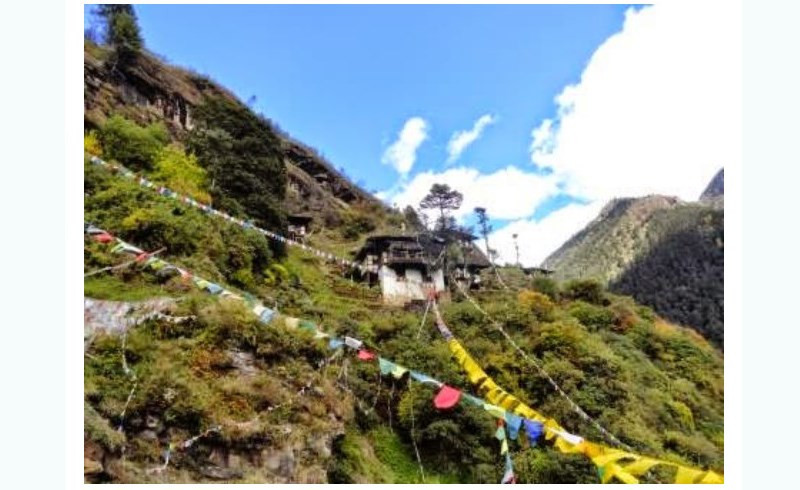 Photo: Paro Govt.Bt
Let not the humble and unassuming exterior of the monastery belie the wonder it behold within, for what any visitors are about to witness is unlike anything they have ever seen before in this world.
The floating statue of Dorji Phagmo
What lies in the shrine room is something which defies logic and science - the mysterious floating statue of Dorji Phagmo (Diamond Sow).
Also known as Vajravarahi, this gravity defying statue was rumoured to have been discovered at the lake above the monastery. The Dorji Phagmo is believed to be an incarnation of Dolma (Tara), the divine consort of Chenrezig (Buddha of Compassion).
Source: Youtube/Nepalbuddha R.Lemmerz
Originally smaller in size, it was said that it has miraculously grown to the present size on its own. Unlike any other statues, the Dorji Phagmo was not sculpted by human hands.
According to traditional belief, the Buddhist Goddess Dorji Phamo (Vajravarahi) flew from Tibet and upon arriving at Chumphu Nye, turned herself into a statue.
Perhaps the most shocking revelation any visitors are going to see right before their very eyes is that this statue is really floating.
In case you think that your eyes are playing tricks on you, the caretaker of the monastery will prove to each and every visitor that the statue is indeed floating by moving a scarf or money (paper note) back and forth under the statue.
To ensure that the caretaker is not up to any magical tricks, visitors can prove to themselves that the statue is indeed levitating on its own by sliding a piece of paper under her crossed legs. They will be stunned that the paper will simply glide past uninhibited.
The mysterious statue is also believed to grant wishes for those who pray before her, while some visitors have even felt an overwhelming and inexplicable range of emotions (from sadness to blissfulness) upon seeing the statue.
However, if you wish to photograph and make a video of this miraculous feat to show your friends and families back home, alas, it is strictly forbidden.
The only way to witness such a bizarre and astounding sight it to make a trip to Chumphu Nye in person.
---