Doors Open For Further Bhutan-Finland Collaborations In Various Sectors
Called 'Doing Business with Finland', the seminar was organised by the BCCI in collaboration with Finn-partnership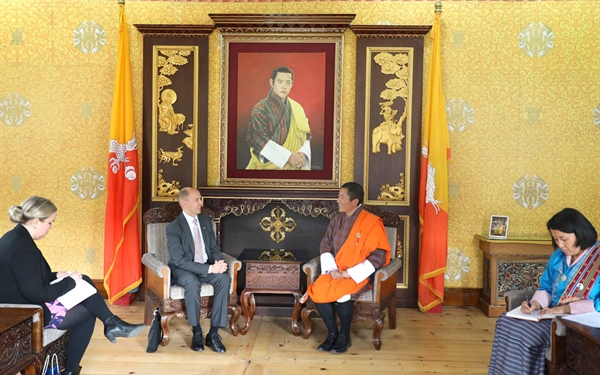 (Source: Facebook/Prime Minister's Office - PMO, Bhutan)
By Thukten Zangpo | Business Bhutan
Finland has opened its door to Bhutan for business partnership in the areas of education, agriculture, Information and Communication Technology (ICT) as well as infrastructure solution (Green Energy).
On 20 November, a seminar involving local companies and 20 companies from Finland was conducted in Thimphu, capital of Bhutan. The event was represented by the Ambassador of Finland, Harri Kämäräinen.
Called 'Doing Business with Finland', the seminar was organised by the BCCI in collaboration with Finn-partnership, a Finnish government funding agency which facilitates and fund business partnerships and investments.
Photo: Facebook/Phub Zam Bhutan
The purpose of the seminar was to encourage both Finnish and local companies to find new collaboration and business opportunities by lowering the barriers for them to engage in international business.  
"It is aimed at creating broad linkage with both countries, and to do matchmaking for the interested businesses," said the Secretary General of the Bhutan Chambers of Commerce and Industry (BCCI), Sangay Dorji.
Areas of co-operation discussed
Pertaining to the education sector, discussion was held concerning exchange programs for students while in the agriculture sector, the two nations will look into improvement for Bhutan's farming system and preservation of cattle feed during winter.
Michael Moore takes you on a journey to find out why Finland has the best education system in the world.
Source: Youtube/Visions of Helsinki
As for the ICT sector, the two countries will collaborate in the following:
Geographic Information System
Analysis for natural environment and forestry and
Digital education platform
In the domain of infrastructure, Bhutan and Finland will explore solutions for economic housing, power grids for hydro projects, log houses and saunas.
In addition, there were also grants from Finnish companies for long-term business partnerships in the emerging markets, set at 50, 70 or 85% for small and medium enterprises and 30, 50 or 85% for large companies.
Brief history of Bhutan-Finland diplomatic relations
Although Bhutan and Finland established diplomatic relations in 1 May 1998, there was little substantial trading relations between the two countries.
In hindsight, the first seminar between Finland and Bhutan was organised on 30 March 2017 in Thimphu.
Back then, the two countries held discussions on exploring trade and investment opportunities in the areas of tourism, hydropower, textiles and education, among others.
Since its first inception in 2007, Finn-partnership has organised around 10 such seminars annually, all over the world - mainly in Africa and Asia.
The events are all centred around match-making and making new business contacts between Finnish and the local companies.
Thus far, the seminars have led to the formation of dozens of promising businesses, discussions and partnerships.
This article first appeared in Business Bhutan and has been edited for Daily Bhutan.
---