Discover The Mystical Neys Of Bhutan – Sacred Sites Rich In Spirituality
A Ney can extend across an entire valley or a mountain. It can even be a very specific site such as a single rock, tree or temple.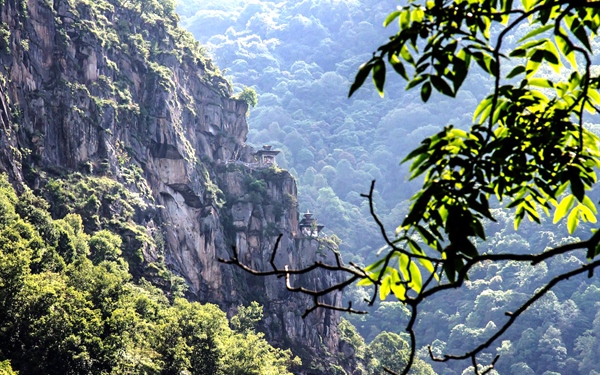 (Source: Facebook/Omba Ney)
By Karma Phuntsho | Kuensel
Karma Phuntsho is a social thinker and worker, the President of the Loden Foundation and author of many books and articles including 'The History of Bhutan'.
Bhutan is full of places known as 'Neys' or 'Sacred sites'. A 'Ney' refers to a 'space' for abiding and it is usually a sacred and spiritually powerful area.
A Ney can extend across an entire valley or a mountain. It can even be a very specific site such as a single rock, tree or temple.
The Bhutanese regard their land as spiritually potent, filled with numerous Neys, particularly those that have been blessed by the Padmasambhava.
The spiritual prowess of Neys
Just as there certain periods of time when the alignment and configuration of the stars and planets are believed to be exceptionally conducive for doing positive work, the Bhutanese also believe that some places possess the ideal topographical and geographical positions, alignment and setting for the optimal development of human spirituality and well-being.
Endowed with spiritual blessings, such places or Neys are considered to be powerful in giving rise to positive thoughts and actions.
These Ney sites are often characterised by similar traits such as being a spectacular and awe-inspiring landscape or possessing certain exotic features.
The Jomolhari Trek is a popular trek in Bhutan which offers hikers a wide range of landscape, fauna and flora, and the spectacular view of the sacred Mount Jomolhari.
Photo: Druk Asia
Some notable examples of such natural spots are: the Jomolhari snow mountains, Singyedzong Valley, Taktshang cliff, the riverine pool of Membartsho and the cave of Wangdi Ney.
Some Bhutanese believe that natural energies emanate from the landscape of these mystical Neys, making them perfect for spiritual awakenings.
Therefore, anyone who desires to attain inner peace or enhance their spiritual practice such as meditation would seek such places.
Emotions which Neys are purported to bring out
Many Ney sites are located in dramatic and even 'terrifying' places such as cliff faces with sheer drops, river confluences with gushing torrents, overhanging rocks, dense forests as well as spaces which are believed to be haunted.
It is said that being at such perilous spots brings out an individual's inner fear of death, attachment to life and other related psychological weaknesses.
By confronting all these emotions, it is believed to be able to help a practitioner assess his or her spiritual development, thereby bolstering his or her inner composure and mind-power.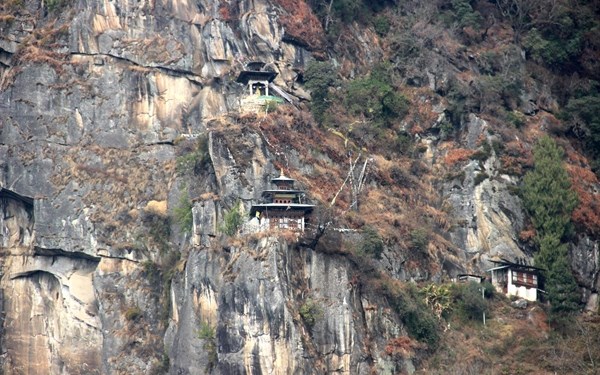 The Taktshang of East Bhutan, built on a cliff, is located within the holy pilgrimage site of Omba Ney, where the letter 'OM' can be seen on the rock face. It is one of the three unique holy places linked to Guru Rimpoche, the other two being Aja Ney and Hungrel Ney, where the letters 'AH' and 'HUM' can be seen. There are temples, caves and various sites of religious importance nearby. A short crawl through a narrow cave passage on the cliff above the lhakhang (temple) will cleanse you of your sins as you can climb even higher up the cliff through a crack in the rock. There is a homestay and some good camping sites in or near the pretty village of Omba.
Photo: Trashiyangtse.gov.bt
Sacred places such as the Taktshang and Senge Dzong are said to possess both the potent alignment of the topographical features as well as the instrumental efficacy to stimulate spiritual experience, that is, it helps to expedite the spiritual transformation of a person much more than other ordinary places.
Lasting influence of Guru Rinpoche and Yeshe Tshogyal
Therefore, it does not come as a surprise that prominent spiritual masters such as Guru Rinpoche and Yeshe Tshogyal had spent a substantial amount of time in Neys to enhance their spiritual prowess.
In doing so, the prayers they had offered also injected and endowed the Neys with even more spiritual power. Through their meditation and prayers, visitors will be able to immerse in and imbibe the esoteric happiness and bliss which pervade the zones which surround Neys.
These masters were also believed to have tamed and subdued the malevolent forces and spirits which used to roam the area around Neys. By putting them under oaths, these entities are said to help invigorate one's spiritual practice.
The local territorial deities are also believed to render great support to genuine spiritual practitioners and shield them from harmful distractions and obstacles.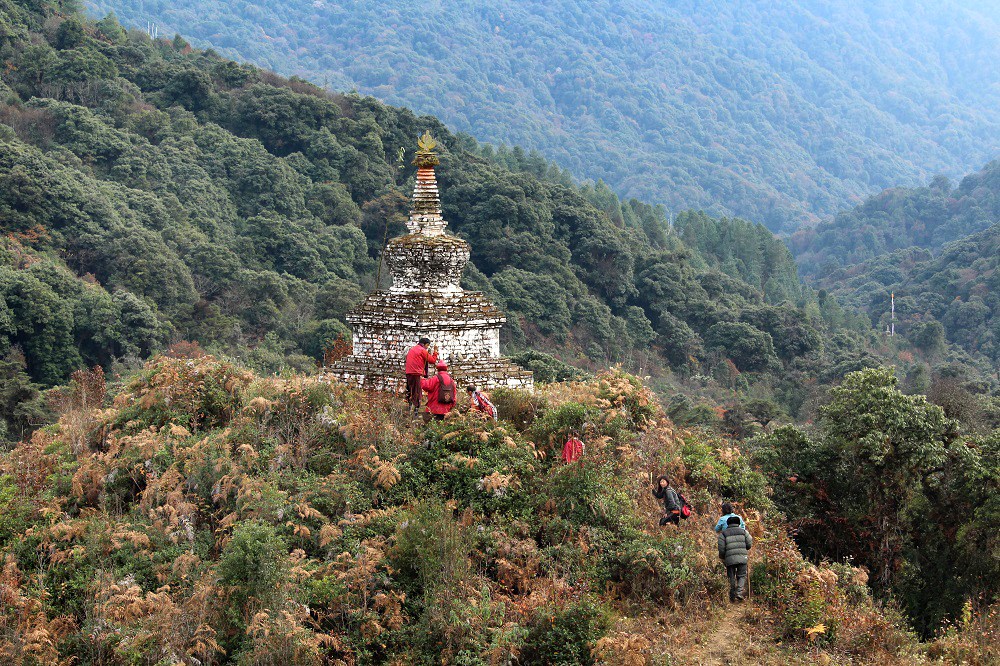 The history of Aja Ney dates back to about 830 AD. Around this time, the Tibetan demon King, Khikha-rathoed (one with a dog's mouth and a goat's head) was exiled into a secluded dense forest. Guru Rinpoche spent more than three months in meditation within the Aja valley, biding for the right moment to subdue Khikha-rathoed. The Guru also concealed several sacred sites and treasures within the valley.
Photo: Ugyen Wangchuck Institute for the Conservation and Environmental Research
Masters such as Guru Rinpoche have supposedly blessed some Neys by hiding many troves of spiritual treasures such as books, religious implements and sacred objects in the area. By doing so, the Neys are further empowered with more spiritual potency.
Neys contribute to the conservation of Bhutan's natural environment
Spending a night or some time at such Neys is considered as more meritorious than spending weeks at other religious sites. Thus, the Bhutanese in general will make concerted efforts to visit such places.
The religious hermits in Bhutan travel from one Ney to another to meditate. Incidentally, it is the high regard which Bhutanese hold for such Neys that has helped in their conservation.
The Bhutanese treat these places as sacred, this is why they still exist in their most pristine form, with scant human pollution.
In turn, these attributes have also contributed greatly to the natural beauty of Bhutan, sometimes referred to as the 'Last Paradise'.
This article first appeared in Kuensel and has been edited for Daily Bhutan.
---