Discover The Hidden Gems Of Trashiyangtse In Eastern Bhutan
Till date, the eastern part of Bhutan is still relatively unexplored as compared to the western region.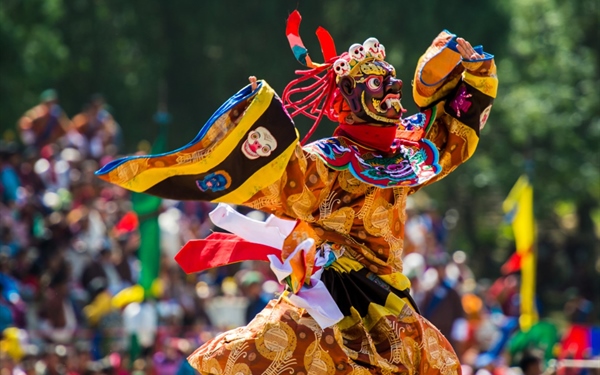 (Source: The Druk Girl)
By Tashi Choden | The Druk Girl
Most foreign visitors to the magical Kingdom of Bhutan typically visit the districts of Thimphu, Paro and Punakha in Western Bhutan.
Till date, the eastern part of the country is still relatively unexplored but with more frequent domestic flights connecting Paro International Airport to Bumthang and Yonphula, there is no excuse not to include some eastern districts in your itinerary.   
One of the highlights of this region is Trashiyangtse, located in the north-eastern part of the country, at an elevation of about 1880m.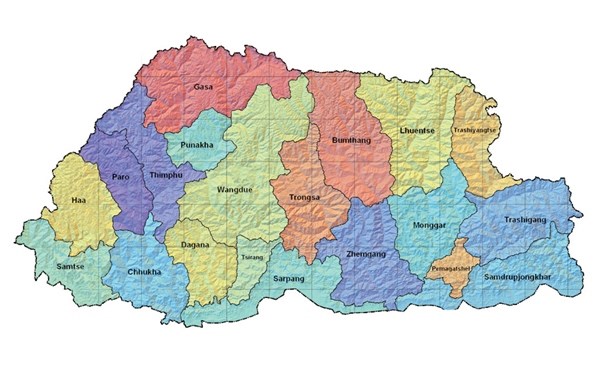 Source: Map of Bhutan
Covering 1,437 sq.km of subtropical and alpine forests, with some of Bhutan's most famous landmarks, Trashiyangtse is also known for its authentic cups and bowls (dhapa and dza) handmade by local artisans, using avocado or maple wood.
It is also well-known as a center of paper making. Craftsmen use the traditional tsasho technique to make paper with a bamboo frame, which produces a distinctive pattern on the paper.
For those with a penchant for spicy food, Trashiyangtse's red and green Yangtsepa chilli, also known as Urka Bangala or Yangtsepa Ema will certainly whet your appetite.
Perhaps most importantly, for those seeking spiritual fulfilment, Trashiyangtse is blessed with many sacred landmarks and here's a list of the prominent ones which you must not miss: 
1. Chorten Kora
Literally translated as stupa and circumambulation in the local language, Chorten Kora is a big white stupa built in 17th century by Lama Ngawang Loday to subdue evil spirits.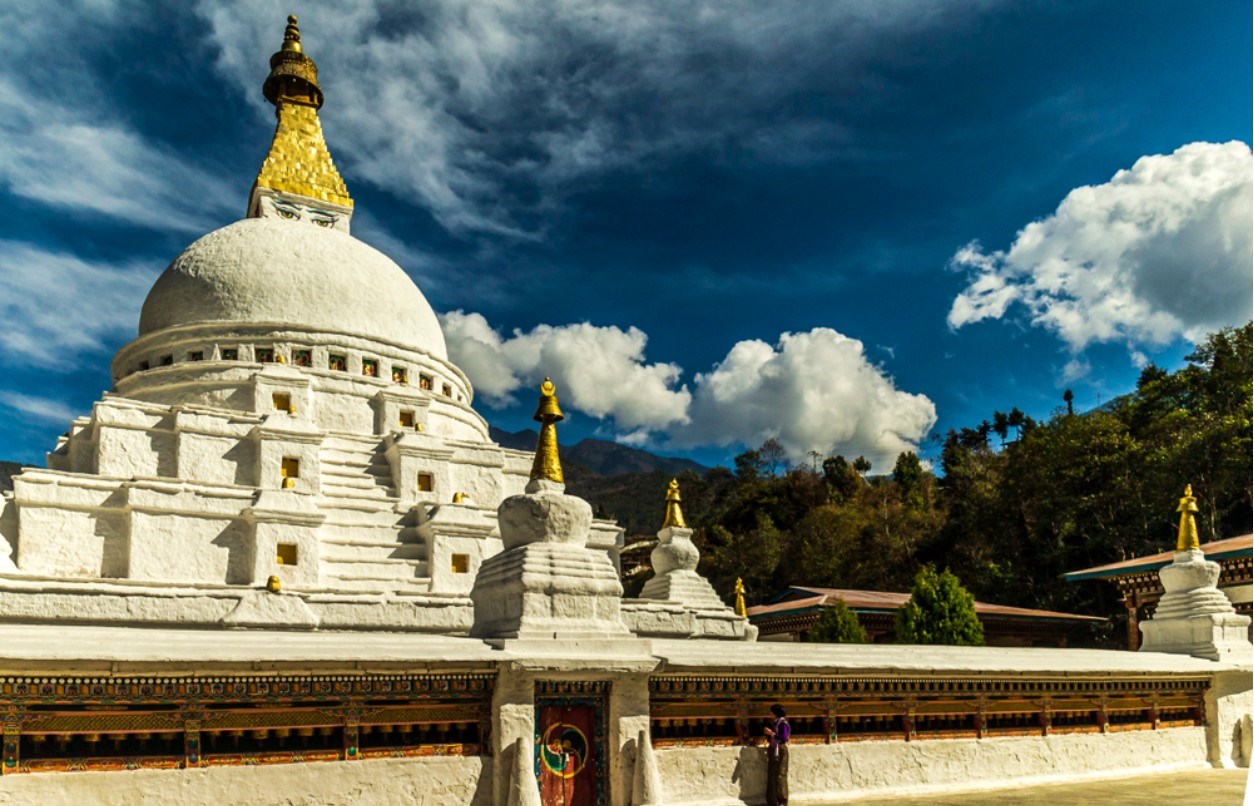 Photo: The Druk Girl
Located just beside the Kholong Chhu River, Chorten Kora is also the gateway to the town of Trashiyangtse.
What's striking about this awe-inspiring stupa is the story behind it. The locals believe that a virgin princess from Arunachal Pradesh meditated and sacrificed her life inside the stupa to pacify a demon which brought peace to the village.
During the first month of the lunar calendar (February to March), an auspicious kora will be held here, where people would worship the princess by walking around the stupa.
On the 15th of the lunar month, the Dakpa community from Arunachal Pradesh, India will make a three day pilgrimage to commemorate the noble death of the young princess, who is believed to be a Dakini.
Another kora is attended by the Bhutanese, who hail from all over Eastern Bhutan to worship the princess. It is also believed that whatever you wish for at the stupa, your wish will come true.
Getting there
Chorten Kora is located at the gateway of Trashiyangtse town and can be spotted easily. From the capital, Thimphu, you can take a bus or taxi and it will take 24 hours to reach Trashiyangtse. The quickest option is to take domestic flights to Bumthang or Yonphula Airport.
Best time to visit
January to March is the best time to visit the Chorten Kora to witness the fascinating festivals.
2. Pema Ling Ney
Pema Ling Ney is a pilgrimage site blessed by Guru Rinpoche during his visit to Bhutan in the 8th Century.
It is located at around an elevation of 4500m, surrounded by many inspiring caves where Guru Rinpoche was said to have meditated inside.
A 'Ney' refers to a 'space' for abiding and it is usually a sacred and spiritually powerful area.
It can extend across an entire valley or a mountain but it can also be a very specific site such as a single rock, tree or temple.
The Bhutanese regard their land as spiritually potent, filled with numerous Neys.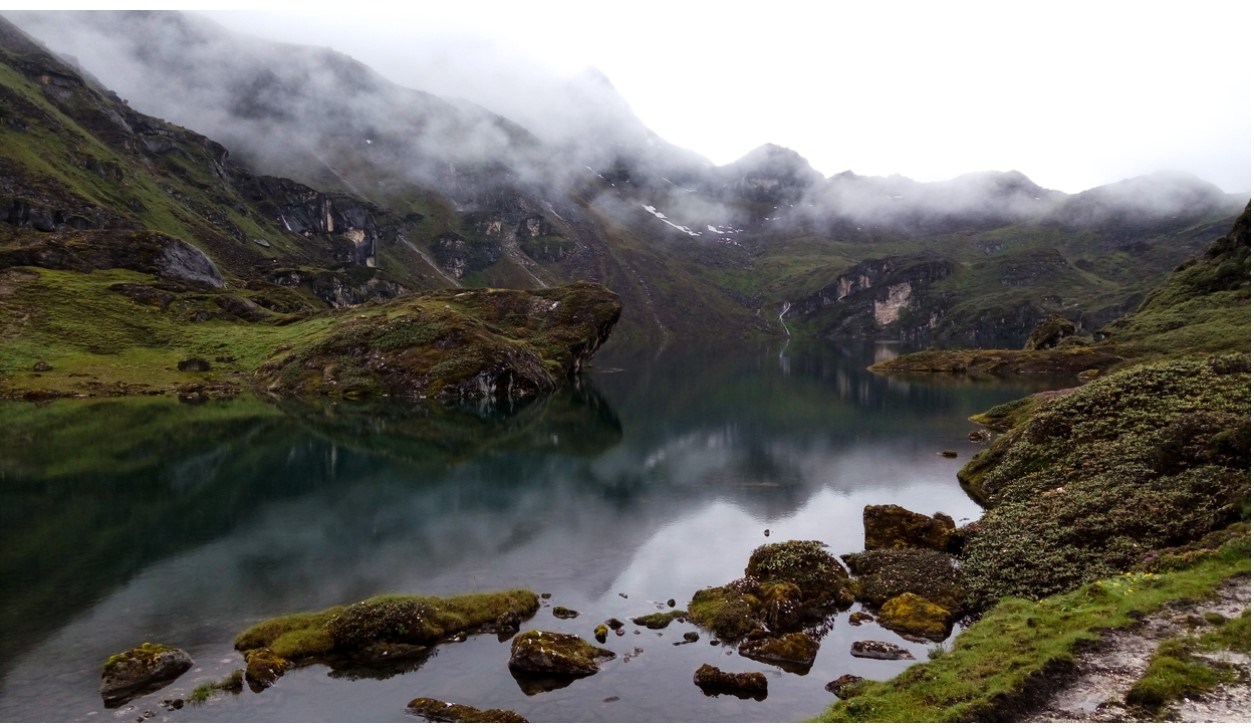 Photo: Trashiyangtse.gov.bt
Another highlight is the pristine lakes (Latshos) found at Pema Ling Ney. Many are considered sacred, including the Pel Dechog Khorlo Latsho which is one of the main sources of the Kholong Chhu river which flows into Trashiyangtse town.
On the trail to Pema Ling, one can also get to enjoy listening to the chirping of birds, beautiful waterfalls, as well as the rich flora and fauna along the way.
Getting there
Reaching Pema Ling Ney is a 3-day trek from Bumdeling. To get to Bumdeling, take a taxi from Trashiyangtse town. It will take you 30 minutes to reach Pamadung in Bumdeling.
Best time to visit
The best months to visit this fascinating place is from September to October, when the weather is neither too hot nor too cold and there is little rain.
3. Dechen Phodrang
Dechen Phodang is a monastery hidden in the valley amidst huge boulders of religious importance.
Literally meaning 'Palace of Great Bliss', the monastery is monitored by UNESCO and houses a number of historical Bhutanese artefacts including some rare 12th century paintings.
Many supernatural tales are tied to this place of worship and Guru Rinpoche was believed to have personally visited and meditated there.
A narrow waterhole in the rock near the monastery, believed to be as deep as the huge tree nearby is one of the natural wonders found here.
Dechen Phodang is also popular for those seeking blessings, such as childless couples who want to be blessed with kids.
Getting there
By car, getting to the monastery takes about 1 hour from the main town of Trashiyangtse and by trekking, it takes about 3 hours.
Hikers will be delighted to see picturesque villages with traditional Bhutanese houses and farmers working. There is also a campsite along the trail, right across the Woogmanang river.
Best time to visit
The best time to visit is in springtime where you will be greeted by the scent of wildflowers and plants and chirping of birds.
4. Rigsum Gonpa
The Rigsum Gonpa is a traditional religious school for about 40 monks. It was built by a disciple of the 9th Je Khenpo Shacha Rinchhen, Lama Tshering Gyamtshi.
The Jowo Shakya Muni Statue which is a replica of the one found in Lhasa, Tibet, was brought there from Punakha.
It is believed by the locals that if you cannot make it to Tibet for pilgrimage, then visiting this place is another option to get the same merits.
Getting there
It takes 4 hours to walk from Bumdeling, and the monastery is located on a ridge with awesome views of the Bumdeling Valley and Trashiyangtse Dzong (Monastery).
Best time to visit
Any time except June, July and August due to heavy rains.
5. Omba Ney
Known as the 'Taktshang' (Tiger's Nest Monastery) of East Bhutan, Omba Ney is a very unique place of pilgrimage where the holy letters 'OM' can be seen on the rocks.
It is built on a cliff where there are temples, caves and various sites of religious importance nearby.
Source: Youtube/Sonam Zangpo
A short crawl through a narrow cave passage on the cliff above the lhakhang (temple) will cleanse you of your sins as you can climb even higher up the cliff through a crack in the rock.
There is also a homestay and some good camping sites in or near the pretty village of Omba.
Getting there
You can get to Omba Ney after a three-hour climb from Kheni Village.
Best time to visit
The best time to visit Omba Ney is from March to April for its pleasant weather. 
6. Gongza Ney
Gongza Ney is found at an altitude of 950m and is also linked to the Guru Rinpoche.
Gongza Ney was initially called 'Gung Jha' as the locals believe that Gung refers to the time between 11 am to 12 noon and Jha means 'tea'.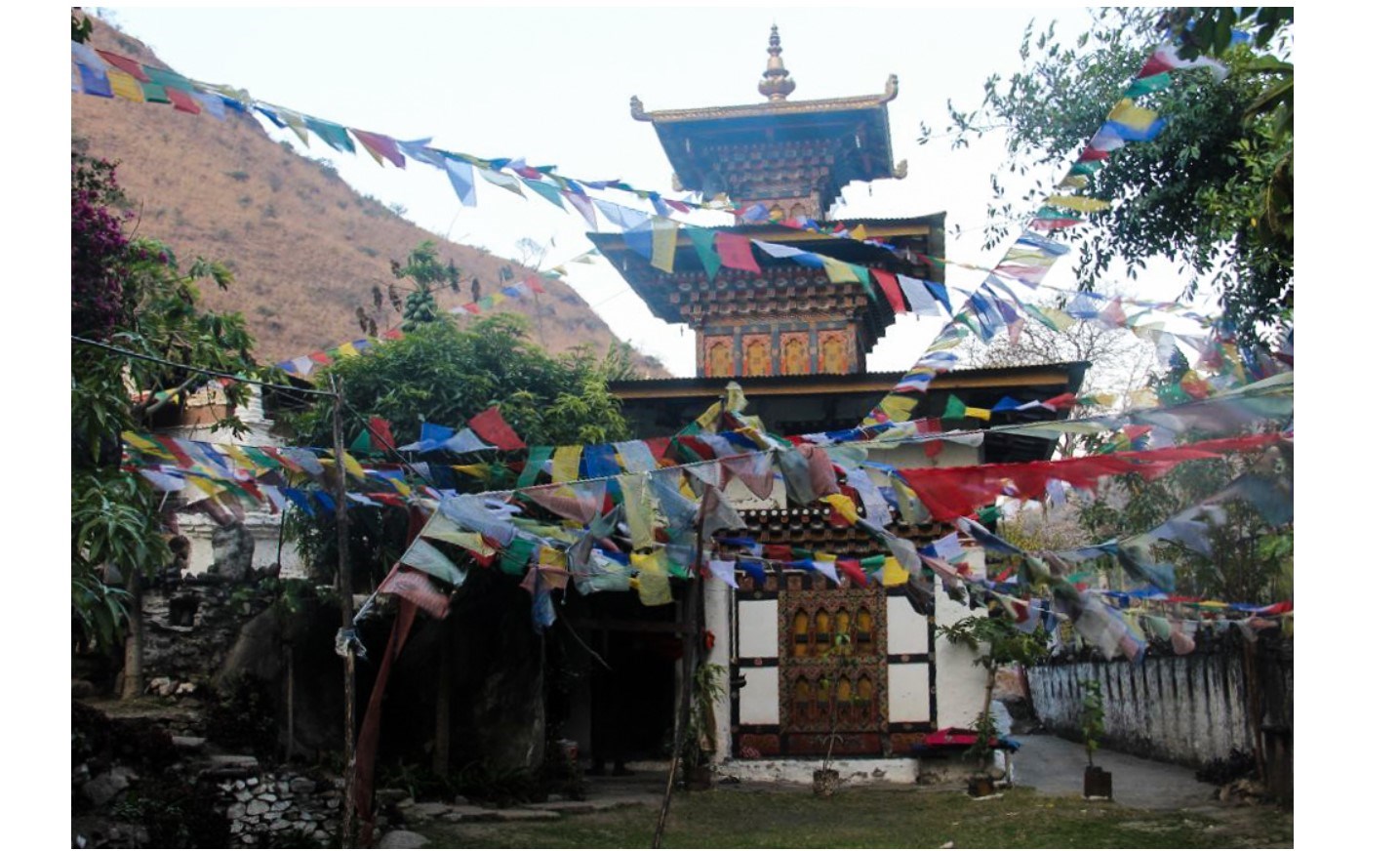 Photo: Trashiyangtse.gov.bt
This is the site where Guru Rinpoche was offered tea while subduing a demon in the area. Gongza Ney also holds a shoe belonging to Guru Rinpoche, the devil's egg and many other important relics.
Though the temple is small, there are so many interesting things to discover in this sacred place as well as the riverbed of the Drangmi Chu River.
Getting there
From Trashiyangtse, you can get to Doksum in about 45 mins by car. From Doksum, it is a 2 hours walk to Gomphu Kora.
Best time to visit
People usually visit during winter and spring because many sacred places are submerged by the river flowing along the temple in summer. Also in the summer, the heat and humidity make it unpleasant to travel.
7. Gomphu Kora
Gomphu Kora is a beautful temple located by a river and is one of the most important religious site in eastern Bhutan.
If you had come straight from Gongza Ney by walking along the river for about 4 hours, you will see Gomphu Kora.
The story of Gomphu Kora goes as far back as the 8th century AD. The locals believe that Guru Rinpoche meditated under a big rock and subdued an evil demon there.
Legend has it that an evil spirit named Myongkhapa escaped from Samye in Tibet when Guru Rinpoche, the progenitor of the Nyingma strand of Buddhism, was spreading the Dharma in the Himalayas.
Myongkhapa followed the course of the present-day Kholong Chhu stream and concealed himself inside a rock where Gomphu Kora stands today.
The Guru followed the devil, mediated for three days inside the rock cave and finally vanquished it.
Another reason to visit this place is the Gom Kora Tshechu (Festival) held from the 8-11th of the 2nd Bhutanese month.
One can witness how the tribal, locals and visitors from Arunachal Pradesh circumambulate the massive rock where Guru Rinpoche meditated and subdued the demon.
Getting there
Gomphu Kora lies between Trashiyangtse and Trashigang near Doksum. It is easy to get a taxi that will take you directly to the Kora.
Best time to visit
March is the best time to visit to catch the festival, when people all over Eastern Bhutan would descend upon the valley.
This article first appeared in The Druk Girl and has been edited for Daily Bhutan.
---