Daughter Of U.S Covid-19 Patient Thanked Bhutan For Its Great Care And Prayers
The 76 year old American tourist left Bhutan for the US on March 13 for further medical treatment.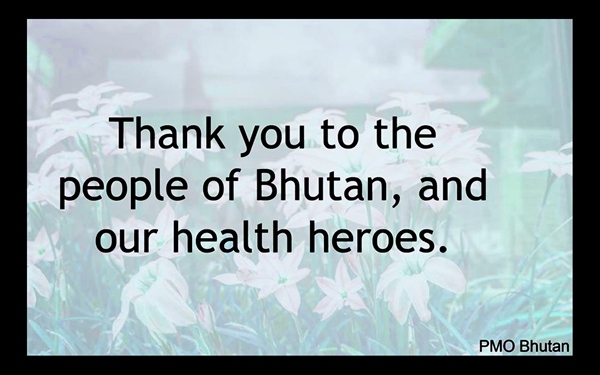 (Source: Prime Minister's Office - PMO, Bhutan)
By Rinzin Wangchuk | Kuensel
"The prayers that the people of Bhutan offered for my father kept my family and I going during this very difficult time."
In an email to Bhutan's Prime Minister Dr Lotay Tshering, the daughter of the first COVID-19 patient in Bhutan, a 76-year-old American tourist, Catherine Miller, said that she was impressed by the 'top notch' care her father had received in Bhutan.
In an email written to the Lyonchhen (Prime Minister Dr Lotay Tshering), the daughter stated that her father arrived at a hospital in the US at 3:30pm on March 14. 
"He is doing very well.  He is stable and breathing over the vent, good blood pressure and heart rate.  He looks great," she wrote.
The daughter had also written to Bhutan's medical staff who attended to the American tourist, thanking them for the service they offered to her father when he was hospitalised from March 6 to 13.
Concerned with the patient who was evacuated in a special air ambulance on March 13, Lyonchhen Dr Lotay Tshering called the relatives of the tourist to check the patient's condition around midnight last Saturday.   
The Lyonchhen said that he received an email at around 2.00 am yesterday from his daughter, stating that her father was in a stable condition and was doing very well.
"It was a huge relief," the Lyonchhen said.
"Knowing all the travels and complications involved to transport a patient from one end of the globe to the other, around this time, I was unsettled until the flight touched base."
"It is even more gratifying to learn that our dear friend of Bhutan, who came all the way to visit us, is with his family and personal physicians. There cannot be a better treatment than this," Dr Lotay Tshering stated in his PMO official Facebook page.
In her email, Catherine Miller, stated that she has been reading all the prayers the people in Bhutan have been posting on Facebook. 
"Please thank them for me," she stated.  "My friends are all so amazed that I've spoken to the Prime Minister of Bhutan and that even the King has been helping my dad. What an absolutely amazing country!"
"I am constantly thinking of the healthcare staff who worked so hard and put themselves at risk. They will remain in my prayers until I hear that they are well," she stated in her email.
In relaying her message, the Lyonchhen thanked all the health staff and friends for coming together to show solidarity and support in such tough times.
"Genuine, collective prayers always work and it did this time as well," he said.
The Lyonchhen also expressed his heartfelt gratitude to the team who had relentlessly worked around the patient. He mentioned that he will follow up closely on the health conditions of Bhutan's friend in the US and keep the public informed.
The 76 year old American tourist left Bhutan for the US on March 13 for further medical treatment following request from his family members and in close coordination with the US government through its mission in New Delhi.
This article first appeared in Kuensel and has been edited for Daily Bhutan.
---