Centre Of Excellence For Software Engineering Launched By Bhutan's Thimphu Techpark
The purpose of establishing this centre is to fulfil His Majesty the King's vision of using technology to solve problems.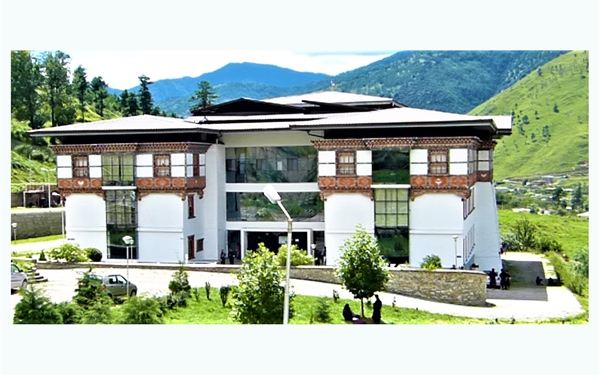 (Source: Thimphu Techpark)
By Sonam Pem | BBS
In a move towards building professional capacity in software engineering and to export services from this sector, Bhutan's Thimphu Techpark launched the Centre of Excellence for Software Engineering on 21 February 2020.
The purpose of establishing this centre is to fulfil His Majesty the King's vision of using technology to solve problems and to prepare Bhutan for the future that is increasingly driven by disruptive emerging technologies.
The Centre of excellence will be located within the IT Services Department of the Thimphu Techpark and will be manned by 25 professionals.
Aims of starting the Centre of Excellence for Software Engineering
The Chairman of Druk Holding and Investments (DHI) said that the launch is timely as the government has decided to outsource two big software development projects to DHI.
DHI has tasked Thimphu Techpark to undertake the projects. The two projects are: Bhutan Integrated Taxation System and Health Information System.
About 25 information and technology (IT) professionals will be required to look after the centre within the IT department of the Techpark to develop the enterprise resource planning (ERP) software and to provide maintenance support for the systems application products (SAP) system.
SAP-ERP system is a business process management software that allows an organisation to use a system of integrated applications to manage businesses and solve business management problems. The system helps the businesses manage their business processes effectively via a unified system.
"Thimphu Techpark on behalf of the group headed by DHI shall undertake these projects, take advantage of the opportunity to build much-aspired excellence and professional capacity in software engineering within the region which is needed," said Dasho Ugen Chewang, the Chairman of DHI.
Source: Youtube/Pelden Drukpa
The engagement of Thimphu Techpark in these projects is expected to build more professional capacity and to be more self-reliant on talents from within Bhutan. In the past, big software projects were usually outsourced to foreign IT firms.
Visions of the Centre of Excellence for Software Engineering
Druk Holding and Investment's chairman, Ugen Chewang, said that the projects would involve some international partners and experts to enhance knowledge transfer and to strengthen local capacities.
DHI wanted to separate the Techpark he country does not need foreign IT firms and consultancy services.
"We want to gradually build the competence of our people."
According to him, outsourcing projects to foreign IT firms not only deprived Bhutanese of enhancing capacity but it also lacked effective maintenance after the systems were delivered because the firms were located outside Bhutan.
"Initially our aim is to be in a state, in a situation where the country no longer needs services of external consultants in all areas of IT, not only in the companies of DHI but I am talking about the government. And even in the private sector, we don't need the consultancy services. This is the ideal situation we are looking at. And gradually build the competency of people and go regional, go to India, Bangladesh, Afghanistan, Pakistan and Myanmar," Dasho added.
Thimphu Techpark  Limited, a DHI owned company is the country's first IT Park, established in 2012.
The process of transforming the Techpark into an IT service company was initiated in 2019, in line with His Majesty's vision and DHI's Roadmap 2030.
"His Majesty's clear articulation of the need for our country to prepare for a future driven by technologies has inspired this transformation," Ugen Chewang added.
This article first appeared in BBS and has been edited for Daily Bhutan.
---