Canada Deepens Ties With Bhutan, A Few Investment Projects In The Pipeline
The Canadian government will invest Nu 2.7 million in three projects which will be implemented this year.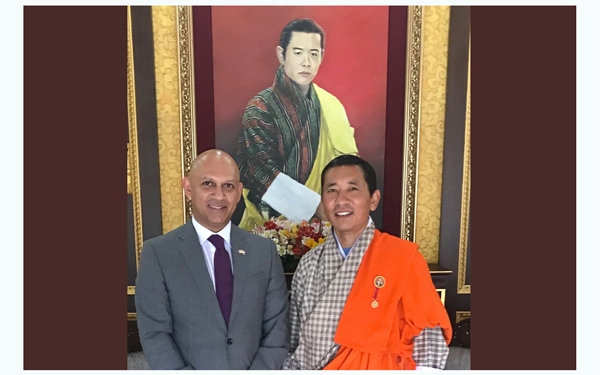 (Source: Twitter/@nadirypatel)
By Tashi Dema | Kuensel
The government of Canada through the Canada Fund for Local Initiatives will invest in a few projects in Bhutan.
According to the Canadian Ambassador to Bhutan in New Delhi, Nadir Patel, who was in the country last week, his government will invest Nu 2.7 million in three projects, which will be implemented this year.
The fund will be used to support gender empowerment through expanded access to medical care, skills development, and gender-responsive public services.
The projects are chosen based on Canada's international assistance priority, the feminist international assistance policy which prioritises areas of gender, empowerment of women, creating employment for women, skills development and maternal health. But it is not limited to it. We have a business focus too," said Nadir Patel.
The Ambassador said that they also look at what Bhutan's priorities and needs are and where Canada has the capacity and expertise that align with Bhutan's priorities.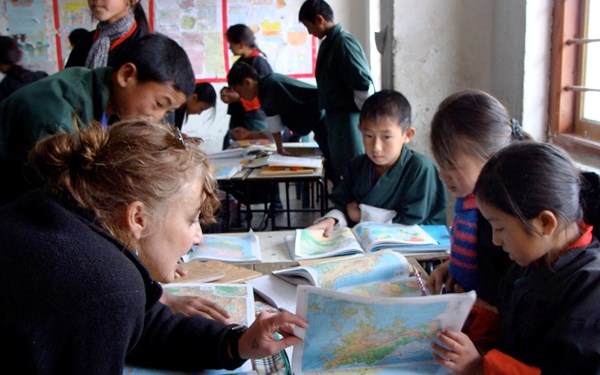 Photo: Facebook/Bhutan Canada Foundation
"Educational ties that include professional development of teachers, job creation, entrepreneurship, climate change, environmental initiatives like water management, ecosystem, agriculture technology and health care," he said.
Funds will also be given to the Bhutan Cancer Society, the Handicrafts Association of Bhutan and the Royal Institute of Management.
Investment in a Bhutanese craft beer brewery
The Canadian government will also invest about Nu 7.5m in a Bhutanese craft beer brewery to develop the company's workforce via skills, training, capacity, technology and expertise transfer from Canada.
On the reasons for investing in a beer factory, the ambassador said that it is not about promoting alcohol but helping a company succeed.
"They have been identified since Canada has the expertise and world-class equipment that would help the brewery succeed in its objectives."
He added that the craft beer company had requested assistance and it was a Canadian government initiative to the business company.
"We opened a call of interest and selected the company based on its proposal."
He explained that it is a part of the Canadian Trade and Investment Facility for Development and the project will contribute to skill development. It will also help expand the markets for craft beer while promoting job creation in Bhutan.
Meanwhile, they are also exploring new funds to provide technical assistance, through which they would help the Bhutanese government bring experts to Bhutan.
"That is in an early stage but we see opportunities."
On the commercial aspect, we will be looking at capacity development for Bhutanese businesses to succeed or help Bhutanese become a successful businessperson.
Encouraging more Bhutanese to study in Canada
While there are no figures available, Ambassador Nadir Patel said that the number of Bhutanese students visiting Canada for studies have increased in recent years.
Source:Youtube/Bhutan Canada Foundation/sophiewilliamstv 
"We want more Bhutanese to go and study in Canada, as it has a welcoming environment. Canada is safe, multicultural and the quality of education is world-class. The tuition fees are also much lower than in most countries."
There are also other benefits of choosing Canada as an education destination, as students could work part-time and if they have spouses or partners, they could also work.
"After completing two years of full-time study, they will get a work visa for three years. This will help students bring back not only education but valuable work experiences."
According to the Ambassador, their visa process system is streamlined which makes application easier.
Canada's relationship with Bhutan is strong and they want to see it grow.
"Our relationship in the education front is deep-rooted since the times of Our late Father Mackey. We want to see this progress."
Meanwhile, the Ambassador's meetings followed the signing of a Memorandum of Understanding last December. It helped to establish a new consultation mechanism to expand bilateral cooperation between Global Affairs Canada and the Ministry of Foreign Affairs.
This article first appeared in Kuensel and has been edited for Daily Bhutan.
---