Birds Of Bhutan
Bhutan is considered one of the top birding spots in the world.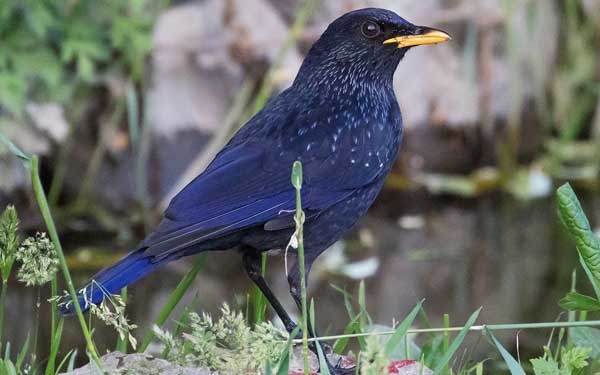 (Source: Ihtisham Kabir)
By Ihtisham Kabir | Bhutan Times
The year is 2013 and Bangladesh Bird Club is hosting a group of Bhutanese birders. I accompany them on their tour of bird-rich Tanguar Haor in Sunamganj.
Afterwards, I ask them about the most interesting bird they saw here.
"Purple swamphen", they reply without hesitation. Our common kalem pakhi is exciting to Bhutanese eyes.
When I arrive in Paro, Bhutan – my first trip here - this encounter is on my mind. Which bird common to Bhutanese eyes would capture my heart?
This Himalayan nation is known for its pristine mountainous beauty and Gross National Happiness, but for me the main attraction is its birds. Indeed, Bhutan is considered one of the top birding spots in the world.
Two weeks are needed to delve into Bhutan's birds, but I try to make the most of my short stay.
After checking-in, I walk to the bank of the fast-flowing Paro river. A loud titi-titi-titi call sounds familiar. After some searching I find the source of the noise: a river lapwing camouflaged among the rocks.
Seeing me, it tries to hide in a small depression among the stones, takes tentative steps toward the water then flies off.
Where to go for birding sites in Bhutan
The next day, I am off to Thimphu where I will have one full day to look for birds. From the web, I find a birding guide who can accompany me. Where to go? Some famous birding sites, such as Phobjikha, are a long drive from Thimphu.
Nearby, our choices are the Cheri Monastery with a national park, the river near Babesa (a Thimphu neighbourhood), and Chelela Pass near Paro. We can cover two in a day and I ditch Chelela Pass due to distance.
The guide arrives early morning and we head out. On the outskirts of Thimphu, we spot a beautiful dark blue bird – a whistling blue thrush, very common in Bhutan.
The road winds through miles and miles of pristine forests of pine, cypress, oak and other large trees. Admiration comes with a touch of jealousy: they have conserved well. But then, they have only 700,000 mouths to feed.
My guide is an excellent spotter, and we stop repeatedly as he sees yellow-billed blue magpie, white-throated laughing thrush, European jay, and rufous sibia.
White-throated Laughing Thrush. (Source: Ihtisham Kabir)
Plumbeous Redstart. (Source: Ihtisham Kabir)
Red-capped Tit. (Source: Ihtisham Kabir)
White Wagtail. (Source: Ihtisham Kabir)
Spotted Nutcracker. (Source: Ihtisham Kabir)
River Lapwing. (Source: Ihtisham Kabir)
Whistling Blue Thrush. (Source: Ihtisham Kabir)
My driver and guide stop for breakfast at a village shop. I wander over to a single-lane bailey bridge over a fast-moving mountain stream. Its guard rail is lined with prayer flags, a common sight.
Below, a dark bird with a red tail flits from boulder to boulder, catching insects. A larger bird, a brown dipper, takes a bath and proceeds to vertically climb a boulder. A blue thrush joins momentarily and disappears. I am immersed in the scene until my entourage returns from breakfast.
Spotting birds at Jigme Dorji National Park
At the end of the road is Jigme Dorji National Park, named after Bhutan's third monarch.
Climbing up the park's trail, we see colourful forest birds including Mrs Gould's sunbird and fire-capped tit.
In the afternoon we drive to Babesa. On a park near the river, several men are playing archery, a popular sport. Their arrows fly silently several hundred feet to the bull's eye at the other end.
On the river we search for an unusual bird called ibisbill.
After a long, tedious walk along the river, my guide spots one sitting on an island, blended in with the boulders – a satisfactory conclusion to my day.
At the end of it all I wonder about the whistling blue thrush. Just like our kalem had enthralled my Bhutanese friends, their common bird had cast its spell on me.
Ihtisham Kabir is a bird photographer. His works can be found on http://www.facebook.com/ikabirphotographs or on Instagram as @ihtishamkabir.
---