Bhutanese Architect Bags US$10,000 UN Environment Sustainability Grant
Deependra Pourel's wish is to contribute his knowledge and experience to support Bhutan's vision for a more efficiently built environment.
(Source: 4 billion dreams)
By Staff Reporter | Business Bhutan
An environmental architect from Thimphu has won a US$10,000 grant from the UN Environment to help improve energy efficiency in Bangkok, Thailand last month.
As a winner of the Asia Pacific Low Carbon Lifestyles Challenge in the Energy Efficiency category, Deependra Pourel will also receive business and marketing training from global experts. Moreover, he can also pitch to win an additional US$10,000 prize to augment his efforts.
Fighting climate change in Bhutan
The UN Environment's Director for the Asia-Pacific region, Dechen Tsering said, "Improved energy efficiency is key to reducing greenhouse gases. For consumers to act, they need reliable information about their own impact. With efforts like Deependra's, we can hope to see better awareness in Bhutan of exactly what we as individuals can do to fight climate change."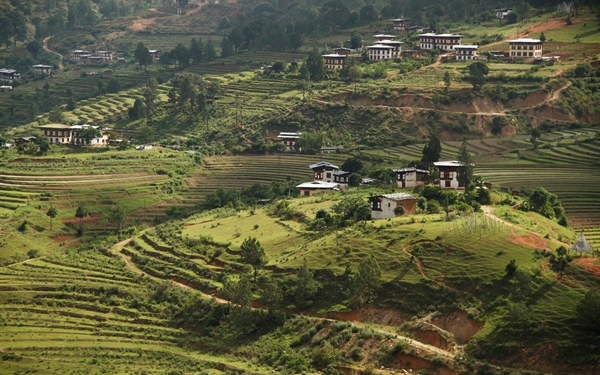 The pristine environment of Bhutan.
Source: DrukAsia
Bhutan's construction boom and increasing income are driving a rise in energy consumption. Yet energy bills do not offer consumers insight into what can be improved.
There is a need to change consumer behaviour, including encouraging the purchase of more energy efficient appliances. Due to a lack of data, there are also no minimum energy consumption standards for buildings.
Merits of installing smart energy meters in Bhutan
Deependra Pourel's ambition is to install smart energy meters in homes, offices and hotels to provide building owners insight into their energy usage. The smart energy meters offer real time and socket-specific information on energy consumption and cost.
By purchasing the smart meters, owners stand to save significantly on energy costs by analysing where reductions can be implemented. Pourel will also offer consulting services on how to become more energy efficient and use the data to provide analysis of energy usage patterns to the government.
He said, "As an entrepreneur and responsible citizen, it is my wish to contribute my knowledge and experience to support Bhutan's vision for a more efficiently built environment.
"My start-up will empower building owners to invest by providing personalised information about their energy usage. I hope that the data generated can also be useful for policymakers to frame rules that support the greening of the building and energy sector."
Background of Deependra Pourel
Deependra Pourel is an environmental architect who specialises in environment and energy modelling. He has worked in the building sector for the last decade and has experience in energy auditing, sustainable consumption as well as production practices and approaches.
Deependra has audited 40 industries for resource efficiency and energy consumption so far. He is also the technical expert for Sustainable and Efficient Development - an EU-funded project. An active researcher, he has presented his works in numerous conferences and journals.
Aims of the Asia-Pacific Low-Carbon Lifestyles Challenge
Meanwhile, the Asia-Pacific Low-Carbon Lifestyles Challenge aims to mobilise and support young people with business ideas on how to foster energy-efficient, low-waste and low-carbon lifestyles.
12 winners each received US$10,000 to support their business venture which focus on one of the three different categories: mobility, plastic waste and energy.
The initiative was funded by the Ministry of Environment Japan, as part of SWITCH-Asia's Regional Sustainable Consumption and Production Policy Advocacy Component, the Asia-Pacific Regional Roadmap on Sustainable Consumption and Production and One Planet.
This initiative is carried out together with the Institute for Global Environmental Strategies, the Thai National Science and Technology Development Agency and the Sasin Entrepreneurship Centre.
This article first appeared in Business Bhutan and has been edited for the Daily Bhutan.
---