Bhutan To Be First Country To Achieve Universal Health Coverage: Prime Minister Dr Lotay Tshering
The ultimate objective is to provide access to health care for all people.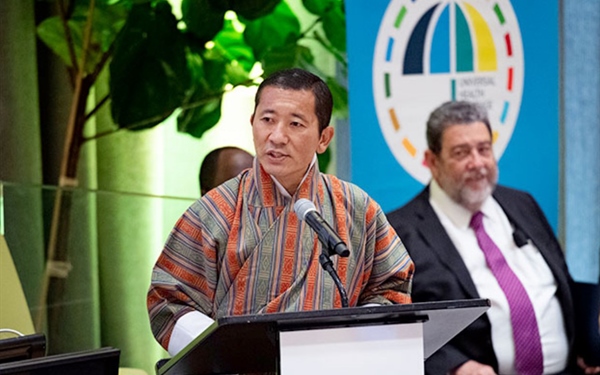 (Source: Kuensel)
By Tshering Dorji | Kuensel
Bhutan will be the first country to achieve all the commitments related to the Universal Health Coverage agenda, Prime Minister Dr Lotay Tshering announced at a high-level political forum on Universal Health Coverage (UHC).
Themed - Universal Health Coverage: moving together to build a healthier world, the meeting brought together heads of state, political and health leaders as well as policy-makers to advocate for health for all.
Aims of the Universal Health Coverage in Bhutan
The ultimate objective is to provide access to health care for all people without having to worry about financial hardship. This entails garnering financial and political commitments from countries and sustaining health investments.
Lyonchhen Dr Lotay Tshering reiterated the government's commitment when his party, Druk Nyamrup Tshogpa came to power on the back of the health agenda, promising reforms in the health sector of Bhutan.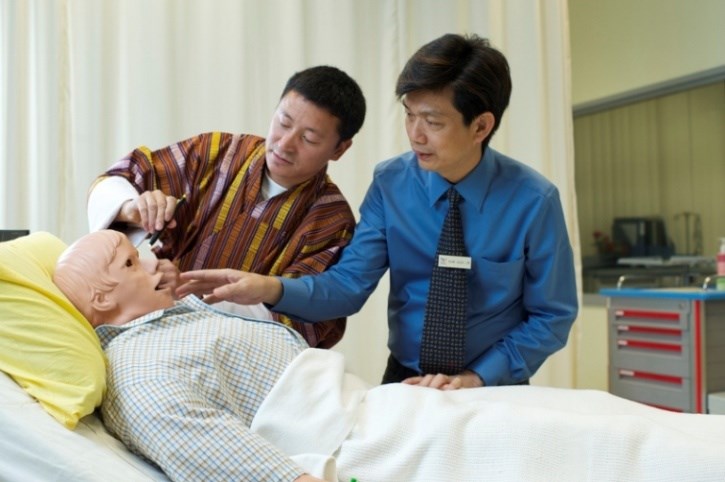 Photo: Dosed
"Our leaders insisted that there cannot be a more sustainable way than investing in people's health and education," he said adding that the philosophy of Gross National Happiness amplified the country's intent to ensure quality healthcare for all generations.
This, the Lyonchhen said is embedded in the Constitution, which mandates free access to basic health care services for all Bhutanese. 
For services that are not available within, he said that referral costs too, are fully borne by the government.
Challenges faced
However, he said a poor nation like Bhutan is confronted with the challenge of sustaining its free healthcare services and ensuring its quality at the same time.
Moreover, the rugged geographical terrain, scattered settlements and inadequate public health infrastructure of Bhutan, made it difficult and expensive to provide health services on time.
"Early onset of NCDs, climate induced diseases and disease importation from the international mobility of people are issues we continue to grapple with," he said.
Source: Youtube/BRIGHT SIDE
The Prime Minister sought the support of international community and developing partners to realise UHC's quality healthcare commitment and to ensure free and equitable healthcare.
"With your support, I can assure you that Bhutan will be the first country to achieve all the commitments, and offer its people the best of health services," he said.
The UN Secretary General, Antonio Guterres, in his address congratulated member states on arriving at a consensus.
"The Political Declaration in front of us is the most comprehensive agreement ever reached on global health – a vision for Universal Health Coverage by 2030," he said.
This is a significant achievement that will drive progress over the next decade on communicable diseases including HIV/AIDS, tuberculosis and malaria, while addressing non-communicable disease and antimicrobial resistance through robust and resilient primary healthcare systems.
While many countries are on the path towards achieving health for all by 2030, the secretary general said that others will need to accelerate their efforts so that no country, community or person is left behind.
"We urgently need to change the financing paradigm and step up the pace of investment in health for all."
This article first appeared in Kuensel and has been edited for Daily Bhutan.
---